October 2021
Crystal of the month
Choosing Your Own With A Crystal Pendulum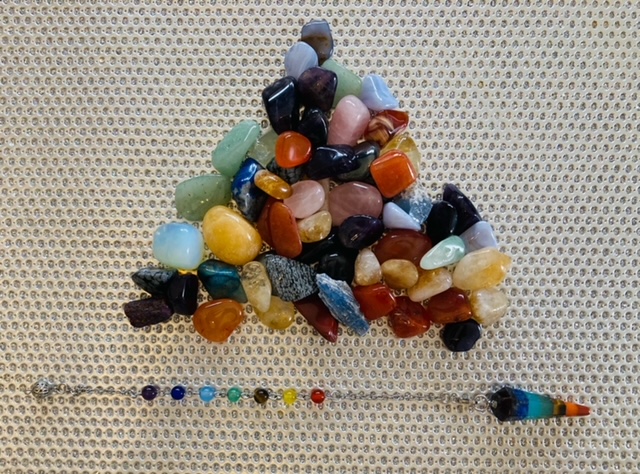 Crystals of the Month
October 2021
Choose your own with a crystal pendulum
You may already be aware that as we move into October we will have a total of SIX planets in retrograde. Mercury began a period of retrograde on the 26th September, joining Pluto, Neptune, Saturn, Jupiter and Uranus. The six planets will continue their group retrograde session until 6th October when Pluto goes Direct. Saturn will turn direct on the 10th, Jupiter on the 17th and then Mercury will go direct on the 18th. Neptune and Uranus will be in retrograde throughout the whole of October going direct in December and January respectively.
We had a period of intense planetary activity similar to this back in 2020 and, I think it would be fair to say, that 2020 was a pretty transformational year for us all in many different ways. So, I am expecting October to be a month where we all experience transformation on either an internal or external level.
With so many different retrogrades influencing the flow of energies to us, I found it almost impossible to choose one or two crystals for this month which would be beneficial to everyone. I felt that everyone will be requiring something very specific to them as we move through this month and I couldn't narrow it down.
It then occurred to me that I wouldn't be choosing just one crystal for myself, so why would I write that in an article? In the past, the crystals I have written about have sat happily with me on my bedside table or have been included in part of my own crystal healing routine. But, this month, I'm going crazy with crystals and using whatever I am drawn to and I wanted to share with you how I do that and give you the opportunity to do the same.
One of my most trusted crystal 'friends' is my Pendulum. In my opinion, it is an essential part of any crystal kit and if you haven't got one then I would urge you to get one as they are an amazing tool. A pendulum tunes in with your own vibrations and can work with you to help find answers and the right crystals to work with.
To tune into your pendulum hold it loosely in your hand and let it drop freely. Ask your pendulum a question that you know the answer is 'Yes' to and take notice to the movement that your pendulum makes. Then ask your pendulum a question that you know the answer is 'No' to and watch the pendulum's movement. These are your 'Yes' and 'No' moves that your pendulum will show you when you ask.
Should you have a question that requires a yes or no answer, why not give it a try? But, a word of warning, keep asking it the same question over and over again or expecting an exact date to be revealed to you will cause your pendulum to play tricks with you – it will either start spinning all over the place or just shake on the spot not spinning at all as it is overwhelmed by the level of interrogation!
To use your pendulum to help you choose a crystal for the month, you will need to gather all the crystals that you have in your collection and evenly space them apart on a flat surface (as shown in the photo below). Take your pendulum and hold it loosely in your hand and ask the pendulum to reveal which crystal (or crystals) would be most beneficial for you to have with you throughout October.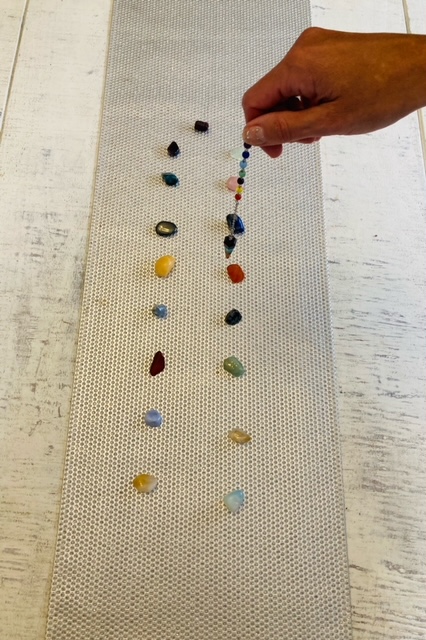 Allow your pendulum to slowly hover over each one in turn, if it spins 'No' then move on to the next crystal however, if it spins 'Yes' then take that crystal and put it aside. Allow your pendulum to move over all of your crystals taking all the ones that it spins 'Yes' to for your monthly use. You may end up with one, five or even more but allow yourself to trust that these crystals have been specifically chosen to help you navigate the energies throughout the month.
This is quite a fun activity to do and helps you connect on a deeper level to your crystals and inner self. I have just completed the exercise myself and was amazed to say that out of all the crystals I stared with the only crystals that were chosen for me were blue in colour except for one Hematite crystal. So, perhaps this month I will be working on issues relating to my throat chakra? I will be interested to see how that plays out.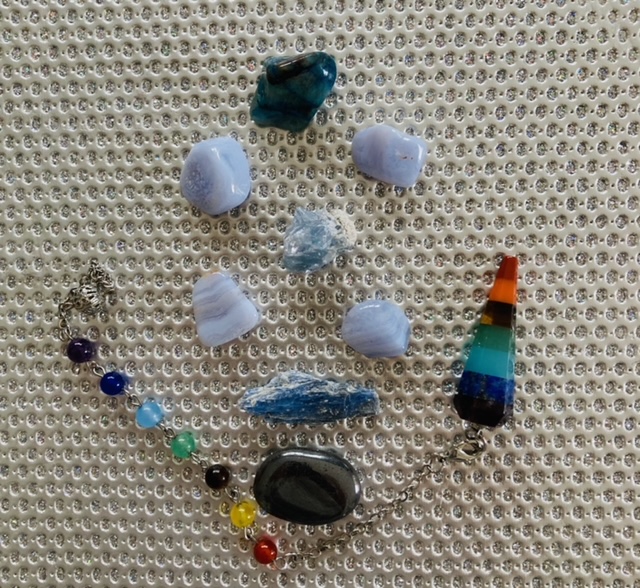 Alternatively, if you do not have many crystals or feel this would be a good time to add some more crystals to your collection, why not take your pendulum to your local crystal shop and allow it to hover over the various crystals on offer to see what is chosen for you? Another word of warning though – I do not think that pendulums look at price tags!
Whatever crystals are chosen for you, I hope they give you healing, comfort and guidance on your own path.
---
Copyright © 2021. ClaireChilvers.com. All Rights Reserved. Privacy Policy.
Website Designed & Hosted By C@rrie – 07710443223.