March 2021
Crystal of the month
Lapis Lazuli and Orange Calcite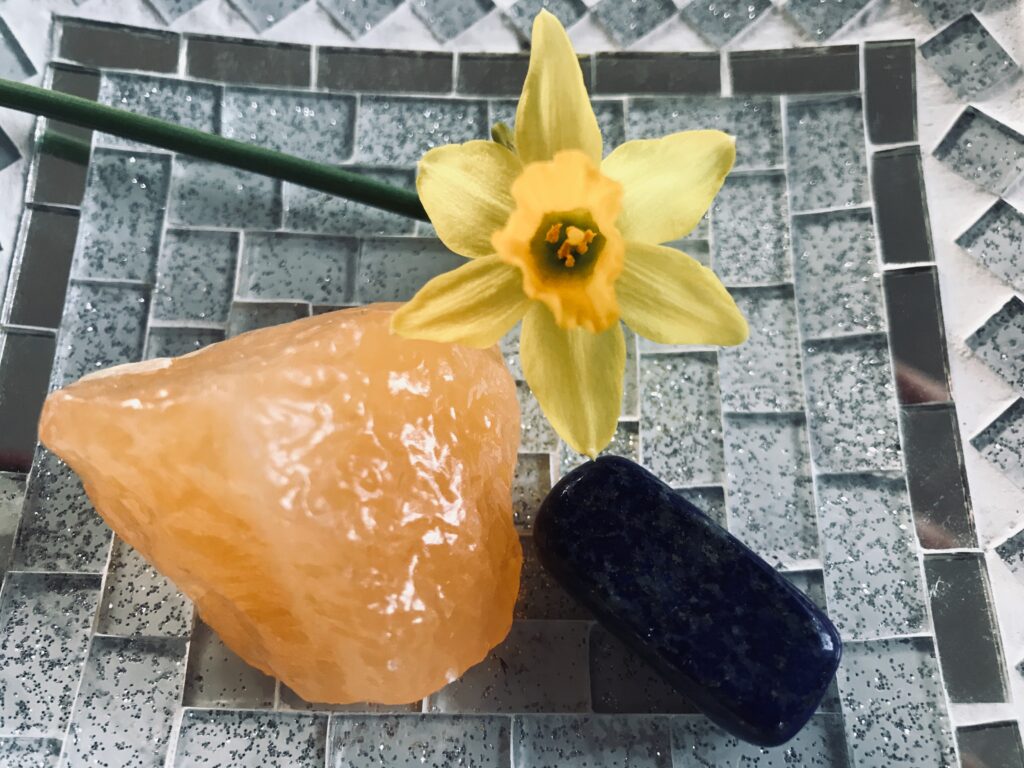 Crystals of the Month
March 2021
Lapis Lazuli and Orange Calcite
I have chosen these two crystals for March as I feel they highlight the energies that are happening within our universe at this time and it would be a good time to remind ourselves that when the sun moves from the sign of Pisces to the sign of Aries (as it does every March), we are finishing the end of one astrological cycle and the beginning of another.
I certainly do feel like this is more of a significant turning point than our normal New Year which we celebrated on 31 December – mainly because the UK were in a strict lockdown and we were unable to celebrate anything at all.
I feel this would be an excellent opportunity to work with the universe and make this the time for our Old Year reflections and New Year intentions.
And, for that reason, I have chosen the crystals Lapis Lazuli and Orange Calcite. Firstly, Lapis Lazuli is an excellent stone to meditate with, it can bring a sense of peace to us and help us tune in to our inner voice and spiritual connections we have. At the end of this astrological year, I feel we are being called upon to reflect what we have learned throughout this last twelve months and how we have grown in all aspects of our life.
Now, I know the last twelve months have not been easy, but, no matter what has happened in our own lives we have learned an awful lot – and not just about ourselves either. We have learned how fragile our world is, plus we have all been connected with not only sadness and anxiety, but, an enormous amount of love, care and community spirit and we have all grown stronger and wiser because of it.
Lapis Lazuli is an excellent stone to help us speak our inner truth and to communicate in ways that can help us move to a higher consciousness. If you would like to work with this crystal why not try to hold it in your (non-writing) hand whilst journaling about the twelve months. Or place it on your forehead to activate your third eye chakra whilst you meditate. As you let your mind and feelings express themselves freely, you may be surprised at what conclusions you make about this difficult but transformative period of your life. Lapis is a wonderful stone that can aid clarity and as we move to the new astrological year on 20th March 2021, how perfect to have a clear vision of how we have arrived at the start of this new chapter.
As the sun moves to the sign of Aries that would be a perfect time to bring in my second crystal, Orange Calcite.
Personally, I love Orange Calcite, when I first saw this particular stone shown in the photograph, I felt I had to have it. It seemed to beckon to me with its' vibrant colour urging me to take it out of its miserable underground surroundings and put him in the sunlight where he belonged. This is because when I first 'met' this crystal it was for sale in a gift shop at a Secret Nuclear Bunker in Brentwood, Essex (OK it's not that secret, it has tourist signs and everything!). As interesting as the place was, it was also pretty depressing with its apocalyptic message and seemed the total opposite of all the happiness and joy this crystal stands for – no wonder he was screaming out for me to take him home!
Orange Calcite does indeed bring us energy and joy, it is also a wonderful cleansing stone which is helpful as we cleanse away an old era and move into a new one. Interestingly, this move to a new astrological year also combines with moving into a completely new age. From this point we will be entering the 'Age of Aquarius' – the last time we entered a similar period was back in the 1960s. This new age promises one of significant changes within our world. There is a promise of more humanitarian efforts and for more community focused activities. On a personal level we are all being asked to look within ourselves and ask for spiritual guidance (similar to the hippy movement of the 1960s, although I am not condoning some of their methods!)
Any orange crystals can be used to work with our sacral chakra, which drives our passions and creativity. Orange Calcite is also a good stone to use to ignite our imagination and inspire us to remove our fears and strive to be the best that we can be. Towards the latter part of this month, take some time to connect with the inspirational qualities of Orange Calcite. Allow yourself to dream of how you imagine the very best version of yourself to be. Where do you work? What clothes are you wearing? Where do you live? Who are your closest companions? How do you feel? What inhibitions or worries have you lost? If you allow yourself to imagine your best life (and don't thwart yourself by worrying about the practicalities of how and when it will all happen) then you can start to draw on the vibrant energies of this crystal and begin to believe that anything is possible. This is a new era for all of us, and we managed to get here despite incredible challenges, so embrace this new age with the positivity and joy that is the essence of this crystal.
---
Copyright © 2021. ClaireChilvers.com. All Rights Reserved. Privacy Policy.
Website Designed & Hosted By C@rrie – 07710443223.