June 2021
Crystal of the month
All about Malachite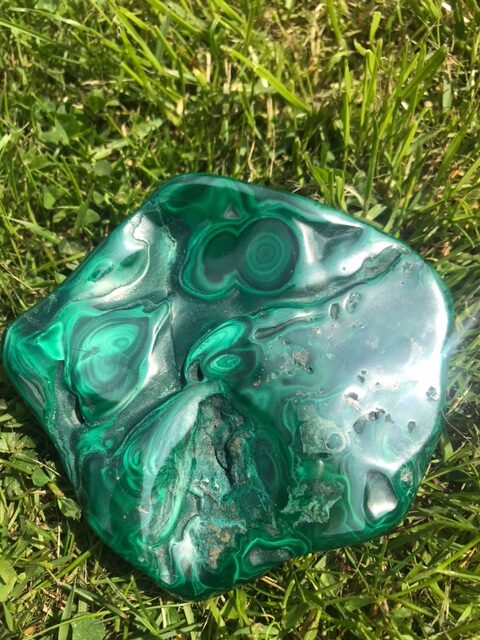 Crystals of the Month
June 2021
All about Malachite
I have chosen Malachite to be our crystal for June because I didn't want to choose Malachite, which doesn't make sense, does it? Allow me to explain…
Last weekend I attended the Level 2 Crystal Healing course for Practitioners with the amazing Philip Permutt and Nicci Roscoe. The course took place in their shop/studio in St Albans, Hertfordshire – if you are lucky enough to live nearby I would recommend a visit to their wonderful shop which is packed full of every type of crystal you could ever imagine.
The course was incredible, giving me some new techniques in crystal healing that we were able to practice during the weekend. I shall be sharing with you my certification, once I have completed all my home study tasks and practical assessments.
But, back to the story of Malachite…whilst in the shop I wanted to buy some crystals to take home (as EVERYONE does when they are in this magical place!)
The choices were endless, of course I took home all the crystals that I had been working with during my healing sessions, and a couple that I knew were missing from my ever growing collection. However, I sensed that there was a crystal in the room that I NEEDED to work with and set out to find it. As I glanced at each shelf, the display of Malachite caught my eye, and the crystal shown in the photo seemed to have two eyes looking at me, willing me to take him home.
I did previously have a Malachite crystal but, strangely, it had broken into pieces and I could no longer find the largest part of it (that often happens with crystals– they disappear and reappear in your life for a reason).
To be honest, I didn't want to take the Malachite crystal home and walked passed it hoping to find something else to catch my eye. But, I felt his crystal eyes on me and knew this was wrong and returned to his shelf. I felt reluctant to pick it up – wary of it in some way. I had remembered on my Level 1 Crystal Healing course last year, Philip had suggested that sometimes we can feel repelled by or have a deep dislike for a crystal which often means that they are tapping into something within us that we would rather not deal with or are finding difficult to come to terms with. Philip re-iterated this as I explained how I was feeling, "You must have this crystal," he confirmed. "It needs to teach you something important that you are blocking in some way".
And so, trusting that during this transformation time of Eclipses and retrogrades, I have set the intention to journal my findings as I meditate with Malachite throughout June.
So, perhaps you would like to do the same?
Malachite is a powerful stone (and unpolished it is toxic so please buy polished versions and be careful!)
Its deep green colour is associated with the heart chakra – which is where we bury our deep rooted emotional stuff that needs to be drawn out. I have taken to placing it on my heart chakra each morning and meditating with it for fifteen minutes which is something you could try, or, another good practice is to put it under your pillow as it is renowned for interpreting dreams, as well as helpful in meditation.
Working with Malachite brings the promise of emotional balance, which could certainly be why it set off unnerving emotions within me. Crystal healing works in many different ways. Placing a crystal on your body or carrying it with you can manifest many different reactions. With a crystal which is helpful in providing emotional balance this could mean we find ourselves thinking of past unresolved situations that have given us pain or held us back on our own spiritual journey. We may feel a need to work on the issues which arise in a variety of different ways. We may feel the urge to do something fun and bring laughter and excitement into our lives, or a surge of emotion that causes a sudden but refreshing bout of crying to clear bottled up feelings. Sometimes to aid with emotional balance does mean confronting things that are within us; issues that we don't even see as a problem and have just unconsciously "carried with us" for years, such as learned behaviour from our childhood or unresolved trauma from an upsetting event or period in our lives. We often dismiss these as "one of those things", where in fact we need to allow ourselves to accept it happened, heal and move on.
Malachite, as with all crystals, work on a higher level than we can ever fully understand. But, it is my belief that working with it will be of benefit and life enhancing.
I do not know what my June journal of my Malachite meditations will bring up. But, if you choose to join me and work with this crystal remember its aim is to bring calmness and balance to our lives and to get to the bottom of what makes us sad or anxious and help us deal with these issues and move on.
Sending you lots of love throughout this transformational month of June and wishing you lots of light and healing with whatever crystals you choose to work with.
x
---
Copyright © 2021. ClaireChilvers.com. All Rights Reserved. Privacy Policy.
Website Designed & Hosted By C@rrie – 07710443223.