July 2021
Crystal of the month
All about Clear Quartz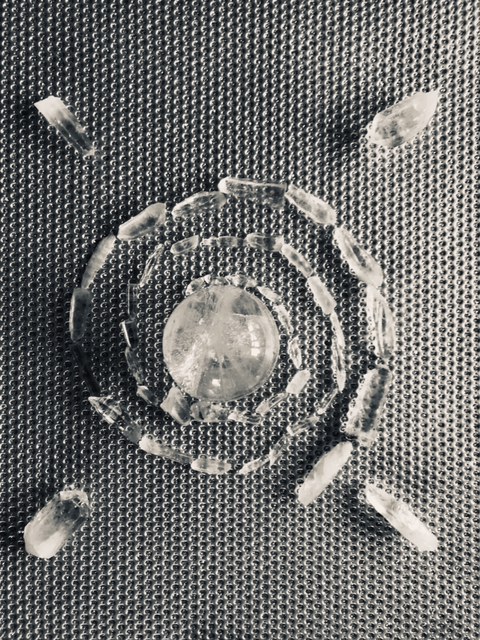 Crystals of the Month
July 2021
Clear Quartz
In my June Crystal of the month article I encouraged you all to join me on a quest to delve deep into our inner selves with the powerful crystal Malachite. Which I did, with enthusiasm, and felt my life turn upside down as I did so!
I am not sure how you found June, but, the planetary activity was intense and with it came some powerful energy which may have affected you in a variety of ways. Whether you have reached the end of June feeling enlightened or enraged, transformed or in turmoil, the important thing to remember, as we move into July, is that whatever you have learned about yourself, your situation or your spiritual path, it is ok to not have all the answers; it is ok to spend time seeking clarity for your mind or validation for your feelings; and, it is ok to not know what the next step is in your life.
As we start a month which has the promise of healing and homely energy, my chosen crystal to accompany us is Clear Quartz.
Stating the obvious, this crystal is transparent and I feel that a symbol of clarity and transparency will serve us well as we process how our lives have changed in the first half of 2021.
Clear Quartz is a versatile crystal. It works in unison with all the chakras and is particularly useful in the crown chakra and helping us connect with our spiritual self or spirit guides.
Placing a Clear Quartz crystal above your head will open your crown chakra to receive healing energy and this may even be accompanied by messages of some kind, be it in visions, words or dreams that will help provide clarity on issues that you seek.
Astrologically, July is set to be an ideal opportunity for us to work with our spiritual side. Between the 3-7 July we have energy activated between the Sirius star and the Earth. This is called the Sirius Gateway and is an opportunity for us all to tune into a higher vibration. Using Clear Quartz within this time will certainly help us achieve this as its energetic vibration is very strong. Why not carry one in your pocket (or your bra!) during these few days?
Quartz can be found in many forms, in the photograph that accompanies this article I have placed a number of crystal points arranged in a labyrinth leading to my clear quartz crystal ball which is also a wonderful healing tool. Of course, many associate crystal balls with fairgrounds and fortune telling, but, they are so much more than that. Holding a Clear Quartz crystal ball in your hand and allowing your mind to empty as you stare into its many intricate patterns can bring a sense of inner peace. Also, concentrating on a problem or person that is causing you pain whilst sitting holding a crystal ball can help bring healing and closure to, not only you, but the other people who are connected to that situation. If you practice this on a daily basis the issue will seem to resolve itself and eventually you will naturally feel as if you no longer need to do this as healing will have had the required result.
Another wonderful property of Clear Quartz is it can amplify the healing of other crystals around it. By itself or used with other crystals, it gives us a much needed boost and July is the perfect time for a re-charge. In the northern hemisphere we are experiencing summer and should take time out to enjoy the sunshine and rest, and in the southern hemisphere as winter is in full swing it is an ideal opportunity to snuggle at home and have a pamper session. For most of July we are embracing the nourishing and homely energy of Cancer Season, Clear Quartz is a stone that helps us feel better 'all round' and there is no better time to do it.
Towards the end of July (22nd), we will move into Leo season and we should feel a big shift in energy as we do. Leo season is a time of action and excitement and we need to feel at our best when this comes. Of course, keeping Clear Quartz with you throughout this last week of July will amplify any exciting new feelings or creative ideas that we begin to channel at this time, and hopefully if used beforehand it will give us a well-deserved bit of respite too.
Whatever you are doing throughout July, I hope that Clear Quartz can provide you with clarity, comfort, contentment and creativity for the whole month.
---
Copyright © 2021. ClaireChilvers.com. All Rights Reserved. Privacy Policy.
Website Designed & Hosted By C@rrie – 07710443223.