August 2021
Crystal of the month
All About Titanium Quartz and Tourmalinated Quartz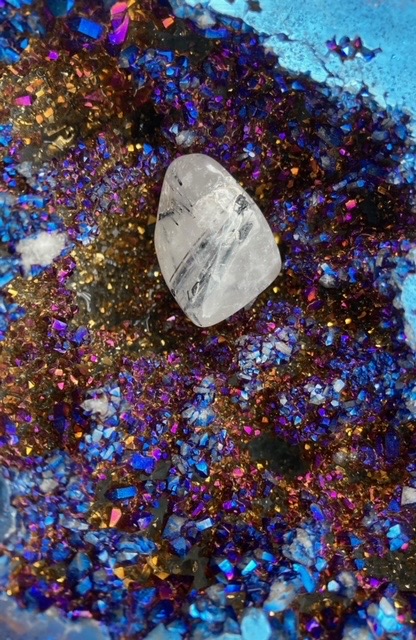 Crystals of the Month
August 2021
Titanium Quartz and Tourmalinated Quartz
August has some supportive and loving energies to offer us this month. One of my personal favourites is the Lionsgate Portal which happens on the 8th August and this year it has the added boost of coinciding with the Leo New Moon. The Lionsgate Portal is said to be a time of high frequency energy and a wonderful time for setting intentions (and doubly so with the New Moon in attendance!) However, too much energy working with us and around us can lead to a little tension or feelings of exhaustion or anxiety which is why I have chosen my first crystal Titanium Quartz.
Titanium Quartz is simply beautiful. Its rainbow colouring has the ability to cheer up anyone, and I am certainly very happy whenever I see my geode greeting me on my bedside table in the morning. Crystals work on many different magical levels, and their colour is often an indication of the chakra that they can be of most use to. But this beautiful crystal has so many colours shimmering within it that it is helpful to all chakras and for cleansing the aura too. If you are in need of a boost or feeling a little sluggish this crystal will be a wonderful addition to your collection. Especially as we negotiate the magical energy that surrounds us at the beginning of the month.
August is also a month where there are many planets in retrograde. At the start of the month we have the trio of Jupiter, Saturn and Pluto already in retrograde and on the 19th August Uranus joins them. Retrogrades are always a time when we are urged to slow down and process events that have already happened within our life. I feel the combination of using Titanium Quartz and Tourmalinated Quartz would be great to work with during this time.
An extra quality that Titanium Quartz has is the ability to open our minds to different points of view. As we look back at past events and make sense of how we have arrived at this point in our lives, seeing things differently or from other points of view may be the lightbulb moment we need to make sense or give clarity to past or unresolved issues. The addition of Tourmalinated Quartz would bring extra harmony to all the chakras as it combines its' grounding energy of the black tourmaline that is encased within the healing and powerful energy of the clear quartz.
These two opposites of light and dark within the tourmalinated quartz can often be reminiscent of the polar energies that are always within us. Therefore it can help turn our own darkness into light which will help throughout the events mentioned above and also help us when we move from the fiery energy of Leo to the balanced, earthly energy of Virgo on the 22/23 August.
Whatever you are doing this August, I hope you are happy, healthy and that you manage to find a little sparkle in your month.
---
Copyright © 2021. ClaireChilvers.com. All Rights Reserved. Privacy Policy.
Website Designed & Hosted By C@rrie – 07710443223.