Free Weekly Tarot
my gift to you
Your cards for the week commencing 9 May 2022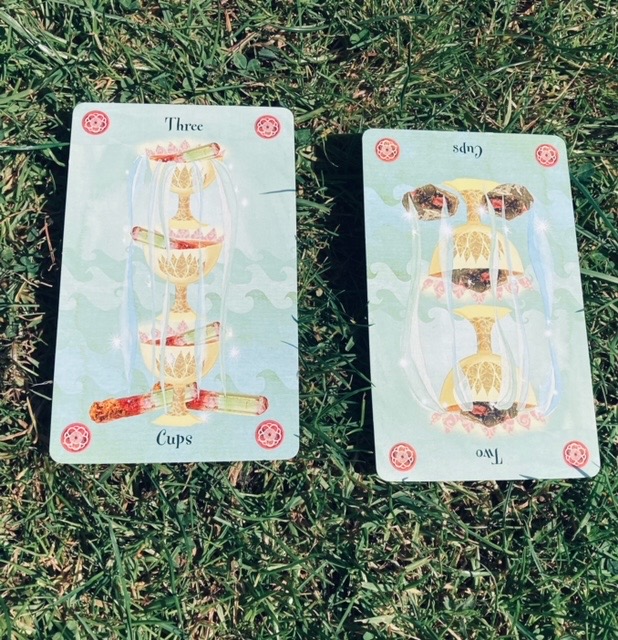 Three of Cups and Two of Cups (reversed)
I don't always take notice of cards when they come out upside down as, usually, that is just a sign that I have dropped the deck of cards before I began a reading! But, having these two cups cards side by side, like a mirror image, seemed very relevant.
Both these cups cards signify how our emotions can overflow when we are surrounded with the energy and love of other people in our lives. The Three of Cups can denote growth in our emotions and can often symbolise exciting news such as a marriage, birth or any kind of celebration which brings people together. The Two of Cups is linked to partnerships and the emotions we gain from learning to trust others and how we can enjoy a relationship based on mutual respect and give and take, but, for our reading this is reversed, which suggests to me rather than emotions overflowing in this area they are being poured out and lost.
Oh dear. What does that mean? I hear you cry! How can you have one card full up with happy emotions and one being drained and spoiled? If we are honest with ourselves, this is often exactly what relationships are about – a combination of the two. Relationships are not all happy celebrations, holding hands as we skip along the beach laughing without a care in the world or always having joyful experiences together.
Sometimes we have to deal with an awful lot of upsetting emotions in our relationships; differences of opinions can cause disagreements, dynamics changing within a family unit can cause tension and anxiety, illness or an unexpected accident can throw even the most solid relationship into turmoil. When we choose to love and invest our time in people, the emotions can be fulfilling and draining at the same time, as these two cards show us. But, it is worth remembering that the card which is upright is the number three and the card that is reversed is number two, which feels like a message to us all – if we were to shine a light on every one of our relationships then, overall, the good emotionsshould be able to outweigh the bad. If you feel this isn't the case, now may be a very good time to ask yourself why and what you can do to change it.
This week we begin another retrograde in Mercury which can often shake our lives and cause a little chaos. We also have a super powerful Blood Moon eclipse which is promising some dramatic endings to situations that no longer serve us. As these cards suggest, some emotions may well spill out that we usually contain within us and this may cause you to examine why they have and what is at the centre of any emotional outbursts – be they good or bad ones!
Questions you may want to ask yourself whilst navigating this eclipse and retrograde energy are; what brings me joy? Where is my 'happy place' where I feel the most content and at ease? Who can I rely on to make me smile or brighten my day? And, am I allowing myself enough time to spend time with the people or pursuits that make my life feel fulfilled?
If you are feeling that the balance of emotions in your life are not in your favour, then perhaps deeper questions are needed; how do my emotions affect my daily life? When do I feel most upset or sad? Are there traumas in my life that I haven't managed to heal from? Is there someone in my life who is regularly making me unhappy? These are tough questions, but, again, the message in the cups is that overall our positiveemotions should outweigh the negative and we should allow ourselves the time to heal, change or address anything that is stopping that from happening.
I couldn't finish this article without drawing reference to the fabulous Channel 4 programme I watched this week, hosted by Davina McCall, about the menopause which can cause so many of us to feel like our emotions are in a constant state of up and down, just like these cups show. I know that many of you who read these articles are, like me, women of a certain age who are dealing with either peri-menopausal or menopausal symptoms. And if, like me, your life is ticking away quite nicely but, through no fault of your own, your emotions are akin to the ups and downs depicted in these cards, then the advice on the programme was not to suffer in silence. It can be very isolating to have mood swings, anxiety or depression and have no answers to why it is happening or feeling like you are going a bit mad. It was discussed in the programme that the emotional ups and downs can be easily sorted by talking to others around you or health professionals and finding some practical solutions. If this resonates with you, know you are not alone and there are millions of people going through the same thing. As I mentioned above, our emotions can be triggered by external forces and other people, but, when they are triggered by our own bodies (seemingly working against us) it can be incredibly frustrating, especially as we try to live the best life attuned to our soul.
However your emotions show up in this powerful week of energy, know that I am sending you all lots of love and healing.
xx
---