Free Weekly Tarot
my gift to you
Your cards for the week commencing 09 January 2023
Welcome to this page which is packed full of complimentary tarot readings for everyone to enjoy. I hope you find these resonate with you and are helpful in some way.
If you would like your own personalised reading from me, I can provide readings via email or video links. Please click here for more details.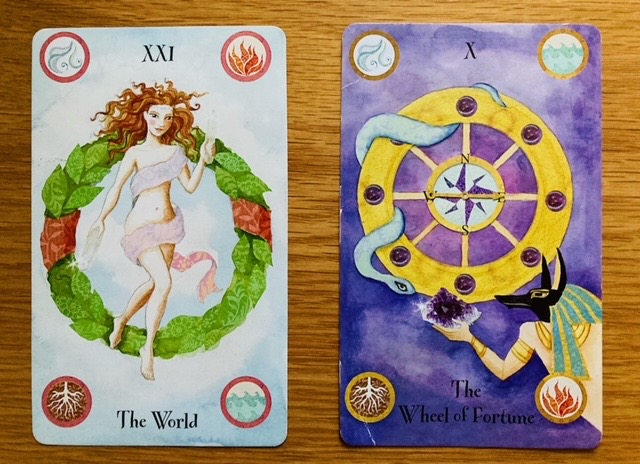 The World and The Wheel of Fortune
I've been talking all week, on my YouTube Channel, about the lack of momentum as we have begun this New Year, due to the combined effects of the Mars and Mercury Retrogrades. Many people who I have spoken to have felt as if they are confused, stuck or not quite sure what the next stage of their life will bring. There is also a very strong feeling of being aware of endings that have occurred towards recently, but, accompanied with a sense that a new start hasn't quite been activated.
As I look at the two Major Arcana cards that have come out for us this week, I am comforted by the reassurance that they are giving. To see two cards which represent the cycles of life, seems to confirm that we are all experiencing something normal and I feel the message is temporary stops and pauses are all part of the cycle.
The reason I feel this way is because as I look at these cards, my Spirit Guides are putting an image of the London Eye into my mind, (which is a large Ferris wheel on the south bank of the River Thames, for those of you who are not familiar with its name.) A few days before Christmas, I went with my family on a day trip to London and we went on the London Eye. It is not until you are standing underneath it, that you realise the immense size of the structure and that the pods which contain the visitors dangle precariously over the water. But, despite this, it is a very enjoyable experience which I would recommend. As we entered our pod there were the usual safety messages that you would expect, but, as I write this to you, one of the safety messages is repeating in my ears, which I feel is relevant for our week's theme:
"Do not worry if the wheel stops momentarily, this is necessary so we can help fellow passengers on board and is perfectly normal."
Retrograde periods can feel like we are being forced to slow down, stop or alter the pace that we normally work at. But – as this announcement reminds us – we are not the only person on the wheel! The universe sees the whole picture, whereas we only see the universe from our point of view. Perhaps you are beginning to work with others on a project or beginning a new job and need to slow down to work in unison with the new people who have come into your life. Or, (much like the film Sliding Doors), perhaps you have missed a train, meeting or plane connection because it was important that you had a few unexpected hours free to quieten your mind or process some feelings in order to clear some much needed headspace for whatever is about to come into your life.
Our wheel-based tarot reading this week is reminding us that our life does move in cycles. Both these cards come up in our lives when we are finishing one stage of our life and beginning another. However, it seems interesting to note neither are giving anything away about what that new start is.
Our Retrograde period will continue for a few days yet. Mars will go direct on the 12 January, and Mercury will follow on the 18th/19th (depending on your time zone). I have felt very strongly that we are not meant to know about the new opportunities, projects, people and cycles that are coming into our life, because we are being given a chance to slowly accept and say goodbye to one aspect of our life and be given the space, time and freedom to allow the passing completely. Perhaps we should appreciate and enjoy this as we don't always get the chance to move gently from one situation to another, and are often catapulted into new situations without warning or preparation.
So, for the next few days, whilst we can, let's all take a moment to be present and enjoy the view that surrounds us, as we take a momentary pause on the Ferris Wheel of life.
---