Free Weekly Tarot
my gift to you
Your cards for the week commencing 09 August 2021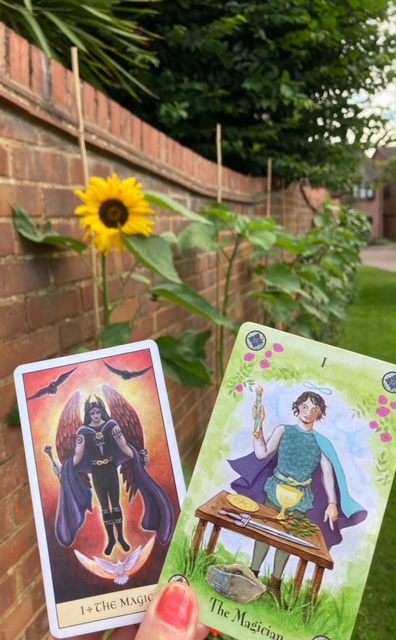 The Magician and The Magician
It is rather magical when the same card gets picked from both tarot packs in these readings. And who better to perform this magic trick than The Magician himself? With him around anything is possible and we can allow ourselves to be amazed and enthralled as magic appears before our eyes (just as I did this morning when the second Magician jumped out of the second tarot pack to greet me.)
These two magicians are bringing two separate messages which both represent an element of their characteristics. Magicians wow us with their skills, but, in truth they are just incredibly hard working perfectionists that leave nothing to chance. They have an idea in their mind of what they want to achieve and they use everything at their disposal to make it happen.
The first message they are sending is that nothing is impossible and we can put our minds to anything. It may take hard work, dedication and possibly a few mistakes along the way, but you can set your mind to make anything happen if you really want to.
The timing of these two magicians is very significant. August is full of higher vibrational energy and we have just experienced the Leo New Moon and Lionsgate Portal (both on 8th August), which is a magical time for setting powerful intentions. Both our Magicians show the infinity symbol; one as a belt around his waist and the other has it hovering above his head. This symbol shows us that life is not linear but moves in cycles. Every action we take sparks another action, and as the cycle rounds on itself we see the consequences and outcomes of every thought or action that we have taken manifesting in front of us. But for this to work we do have to take action on the thoughts and ideas that we have.
This reminds me of an article I wrote to you all at Easter time, when the message was about planting seeds. At the time I had some sunflowers in a packet that I wanted to plant. Due to a hectic schedule, I had very little time but I desperately wanted to have sunflowers to display in the summer and knew that if I didn't take the time to act at that point they would never materialise. I made myself find the time to plant them, the months passed and some didn't quite make it, but, now I have giant sunflowers climbing up a previously unloved, neglected wall of my newly purchased house.
The Magicians are now advising us that it is now time for us all to plant seeds again. Whether they are the seeds of exciting new ideas, the seeds of change or just the seeds for next year's floral displays we need to get on with it. Time will pass regardless of what we do with it.
It is not too late to tap into this powerful energy that is around us at the moment and decide what seeds you wish to plant now that you can enjoy in the not too distant future.
So ask yourself what do you want to happen in your life in the next six weeks, six months or six years? Allow these thoughts to germinate like seeds in your own mind and then conjure up a magical way of making them happen. Because – anything is possible.
---
Copyright © 2021. ClaireChilvers.com. All Rights Reserved. Privacy Policy.
Website Designed & Hosted By C@rrie – 07710443223.