Free Weekly Tarot
my gift to you
Your cards for the week commencing 08 March 2021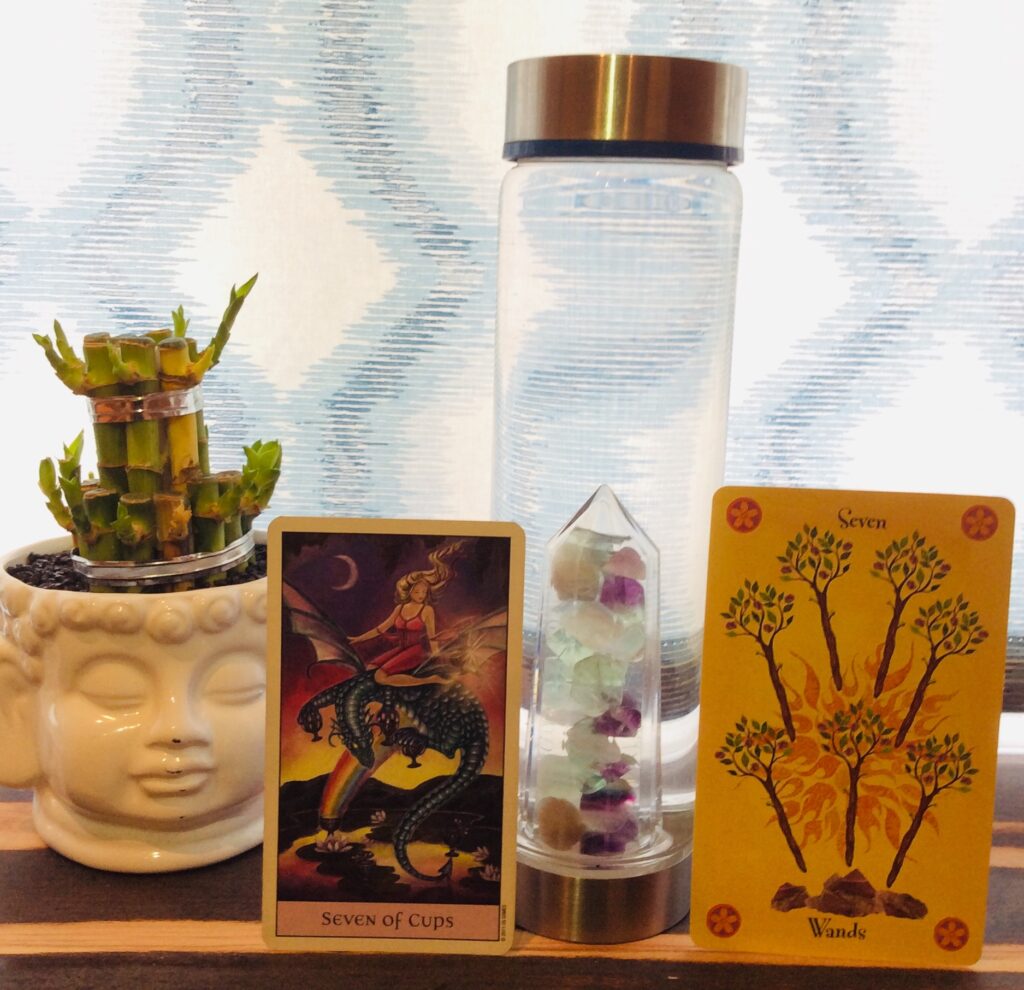 7 cups and 7 wands
We have a pair of sevens today and, although in the tarot, sevens can often present challenging times and needing to endure difficult situations, I feel today's message is that we should not forget that seven is also a lucky number.
When I picked the first card, I began to sing a song by a UK artist called Gabrielle, 'Dreams' The first line of the chorus 'Dream can come true' began to play in my head as I looked at the card. I began to focus in on the cup that the beautiful woman is looking at, which is being held in mid air by a fairy and being offered to her. The other six cups in the picture being held by the dragon and sitting on the lily pads did not hold the same attention for me. Sometimes when we are given this card it can suggest we are confused about our emotions and unsure of the path to take, but, today I strongly felt this was NOT the case.
We can all follow our dreams and we can all strive to pursue our journey no matter what others think or what negative emotions stir up within us to try to cloud our judgement.
Dreams can come true. And for the week ahead, I feel our message is to remind ourselves of that daily. There are seven days in a week, and quite often, each day can bring a different set of challenges or emotions. But keep focused on your dreams – seven days a week regardless of what else comes along. I feel the message here is not to get sidetracked.
Which brings me on to our second card, the seven of wands. And it is interesting that today I chose to use my Crystal Tarot cards by Philip Permutt They do not depict characters in the minor Arcana. In other tarot packs I use this card shows a person struggling against the odds – with one wand in their hand and the other six wands being pointed towards them by an unseen mob. Consequently, when we see this picture it can reveal that the querent is often held back by having to stand up for what they believe in or having to deal with challenges from others that are stopping them from using their energy for their own purpose.
But, in this card we only see the wands and the fire they have collectively created. We are not sidetracked by the 'story' of the card, but drawn in by the pure energy it is showing to us.
March is a month full of energy, there are no planets in retrograde which is urging us to push forwards and encouraging us to continue on our paths and with our dreams.
These cards together are showing as the immense power of 'seven' and the power we have within ourselves too.
Ironically, the crystal shown in the seven of wands card is Fluorite which is a crystal I use every day in my rather fancy water bottle shown in the picture. On the crystal insert is written the word 'Power', just to reinforce the idea to us once again.
So our fantastic message this week is to focus on our dreams and know we have the power to obtain them.
Good luck!
---
Copyright © 2021. ClaireChilvers.com. All Rights Reserved. Privacy Policy.
Website Designed & Hosted By C@rrie – 07710443223.