Free Weekly Tarot
my gift to you
Your cards for the week commencing 7 November 2022
Welcome to this page which is packed full of complimentary tarot readings for everyone to enjoy. I hope you find these resonate with you and are helpful in some way.
If you would like your own personalised reading from me, I can provide readings via email or video links. Please click here for more details.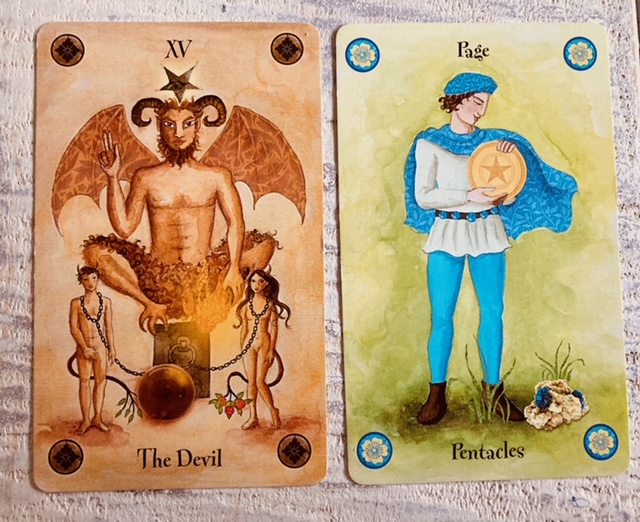 The Devil and the Page of Pentacles
For the first time in a very long time I was irratated by my tarot cards today. Because this week sees the end of an incredibly intense eclipse season, culminating in the full moon eclipse on Tuesday and, to honour this poignant moment, I was expecting a card that would reflect the momentous inner work, soul searching and transformational energy work that we have all be undertaking. But, what do I get for us? The Devil! It wasn't what I wanted at all. So I sulked…and thought about not writing an article this week. That would show him wouldn't it? Then I started thinking…would anyone notice? Would anyone care?
And as the suggestion that no one really would be that bothered began to take root in my mind, I reached for the biscuit tin and began munching on the contents. I suddenly felt very tired and overwhelmed and couldn't understand why. I have previously suffered with low moods, and as I looked out at the drizzly rain and grey clouds I began to feel quite down.
Where had this mood come from? Why had I gone from being my normal positive self to covering myself in a blanket, not bothering about creating something that I am normally passionate about and blowing my diet – again! And then it hit me, what was the catalyst for this happening? The Devil card. Once again he had lured me to inaction and feeling miserable whilst he looked down on me from his elevated perch. By me not doing the very thing I loved I wasn't teaching him a lesson, I was playing right into his hands…or I nearly was..because thanks to this eclipse season I had changed.
'Not this time my manipulative friend', I said looking in the general direction of my tarot cards. I jumped up from my seat, opened my laptop and, well, here I am! I didn't even know what the message was when I started writing this, I just started typing about how I was feeling and now – BAM – it has hit me. There are always going to be those "Devil" moments in our life – no matter how much inner work, soul searching, grounding or meditation we do. We can carry a giant piece of black tourmaline in our pocket (or bra!), sage ourselves silly or chant protection spells, BUT, what we cannot do is have control over the external factors that come at us.
There will always be someone or something that can trigger us into negative thought patterns, unhelpful behaviour or damn right self-sabotage. And, if we are not careful we will unwittingly start dancing to their tune. Or at least we used to – but, I feel that the Page of Pentacles is coming in to remind us that there is so much more to us then being a puppet to a pupper master. With a bit of training (and self-awareness), we can recognise the signs and decide what to do and, more importantly, what NOT to do when these triggers occur.
Take a look at the Page's energy, he is surrounded by green – the colour of transformation. He is dressed predominantly in blue – the colour which symbolises wisdom, integrity, imagination and freedom. He is holding a coin and staring lovingly at it – which I feel symbolises the idea of self-worth and a dep knowing that we now should be investing in what we truly believe in and not what other people want us to do or just following the same old learned behaviour which no longer fits in our world.
Against this self-assured young man, The Devil doesn't stand a chance. The Page is standing right next to The Devil, but, he isn't even looking up to notice him. And that is a sign of power that we are all being offered now. Imagine a scenario when you no longer have to "choose" to ignore those triggers, but, you literally don't even notice them because you have evolved so much.
This eclipse season combined with the Scorpio season has been hard work, but the Page is showing us the reward. He is reminding us that from this point on we can do whatever we want, be whoever we want to be and no longer allow others or situations to hold us back in fear. The message of this card is a warning that all those situations, people, comments, judgements and insults that we used to react to have not gone away. We may have elevated to a higher level of consciousnes by accepting the offerings of the eclipse and doing the necessary work – but not everyone has! And I feel this is soething that we are going to notice a lot in the coming weeks.
Having now finished this article, feeling my zest for life has returned and a renewed enthusiasm to continue working on my tarot career to gain a wider audience – I know what I will be choosing to do. And I hope you will join me as we move passed the eclipse season into our wonderful new future and all the amazing things it will bring us.
---