Free Weekly Tarot
my gift to you
Your cards for the week commencing 6 September 2021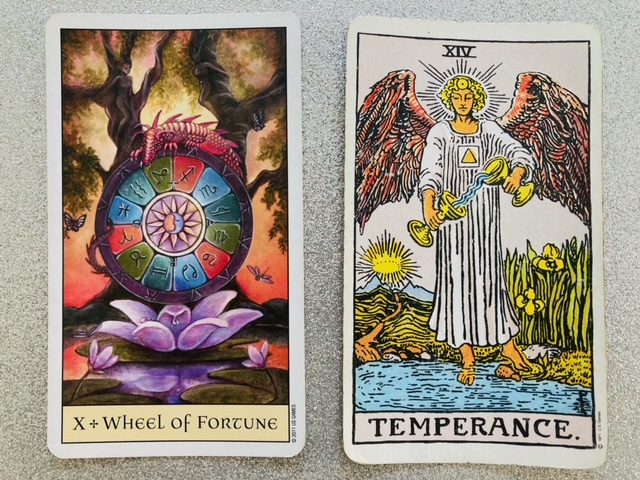 The Wheel of Fortune and Temperance
'Keep calm and carry on' was the message I felt when these two cards appeared today. This week begins with a new moon in Virgo, and although Virgo is an earth sign which encourages us to be patient and grounded, there is a general feeling that life is changing and we have no idea what is in store for us which could make it hard to tap into that soothing grounded energy.
If you are feeling that life is a little out of control and that you are not quite sure what is going to happen next, then know you are not alone and that everyone feels like that at some point in their life.
We do not always have the answers and none of us know exactly what is going to happen in the next week, month, year or decade ahead.
When I look at the Wheel of Fortune card, I am reminded that this was also the name of a game show in which you could either win a lot or loose it all on a spin of the wheel. Contestants could have an experience that was life changing or one they would rather forget. That really is the nature of The Wheel of Fortune; none of us really know how the next spin of the wheel is going to affect us in the long term.
We could spend our whole lives worrying about that but the Temperance card is urging us not to. We are reminded that living in the moment and not spending too much time obsessing about the future is a guaranteed way to make us feel a little bit more in control of our lives. In the distance of the Temperance card is a golden light that is in the shape of a crown, signifying a rich and enjoyable future, but, she is not concentrating on that, rather the task at hand of pouring water diagonally from one cup to another. Wait a minute…pouring water diagonally…is that possible? No wonder this angel is so transfixed as she is achieving something that defies the laws of nature! Perhaps there is a message here for us to? The idea that anything is possible springs to mind!
These cards do not want to give too much away to me today and I feel that their message is short and sweet. So, until next time, keep repeating the mantra I mentioned above, 'Keep calm and carry on' and next week will arrive with new cards to guide us.
Wishing you a wonderful week whatever you are up to.
x
---
Copyright © 2021. ClaireChilvers.com. All Rights Reserved. Privacy Policy.
Website Designed & Hosted By C@rrie – 07710443223.