Free Weekly Tarot
my gift to you
Your cards for the week commencing 6 June 2022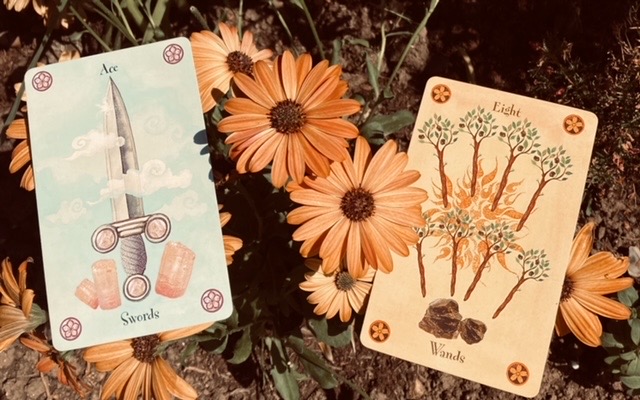 Ace of Swords and the Eight of Wands
A fresh and exciting new energy seems to be the promise of these two cards this week. Mercury is now direct and this always provides a resolution to anything that was leaving us a little confused, uncertain or muddled.
The Ace of Swords feels like it is offering a gift of clarity and the opportunity of a brand new idea or thought process. This card feels exciting and as if it is giving us the message that it is finally time to put the past behind us and start paving our way for a fantastic new future.
Sometimes when we are given the Ace of Swords in a reading it is – quite literally – a double edged sword. The positive attributes are cutting through red tape or belief systems that are holding us back and presenting a chance for a fresh start, however, the negative attributes may be finally realising that in order to reach your goals you will have to cut ties with either people, places or a career that no longer fit with the person that you want to be and that can be hard to do, but, it is necessary for your own growth.
The Ace of Swords makes a bold statement as it is thrusts into the clear blue sky and, as you tap into its energy this week, you may well find yourself making bold statements too. Perhaps an announcement to your family or friends will bring shock, surprise or encouragement or you may decide to leave a job, or put your house up for sale. Of course, your bold statement may be a more personal one that you make whilst looking at yourself in the mirror. Last week I talked of being kinder to ourselves and ridding our mind of unhelpful comments about our appearance or personality, maybe, this has had a positive affect and you are starting to recognise your own awesomeness and decide to take on a new course of study or join a gym or weight loss programme, perhaps you may even make a conscious decision to ditch the negativity in all aspects of your life be they from your own mind or the minds of others.
The Ace of Swords promises a new start for your higher self and is accompanied with the Eight of Wands which brings with it a fast moving, energetic creative force that will pick you up and carry you along with it. It feels to me that whatever you are wishing for or whatever changes are appearing in your life, the speed in which these happen will be far quicker than you expected. I feel there is a link to the Gemini season that we are currently in and sense that when we have a Full Moon in Gemini towards the end of this year, you will be looking back and seeing that this week was the catalyst which has moved you far away from your old self and sees you sitting comfortably and happy as the new self that you have become.
So, take some time this week to gather your thoughts and clearly set an intention for how you want the Ace of Swords to bring new opportunities in your own life. And, then feel the energy rising within you as you make great strides to move forward and making it happen.
Good luck!
x
---