Free Weekly Tarot
my gift to you
Your cards for the week commencing 6 February 2023
Welcome to this page which is packed full of complimentary tarot readings for everyone to enjoy. I hope you find these resonate with you and are helpful in some way.
If you would like your own personalised reading from me, I can provide readings via email or video links. Please click here for more details.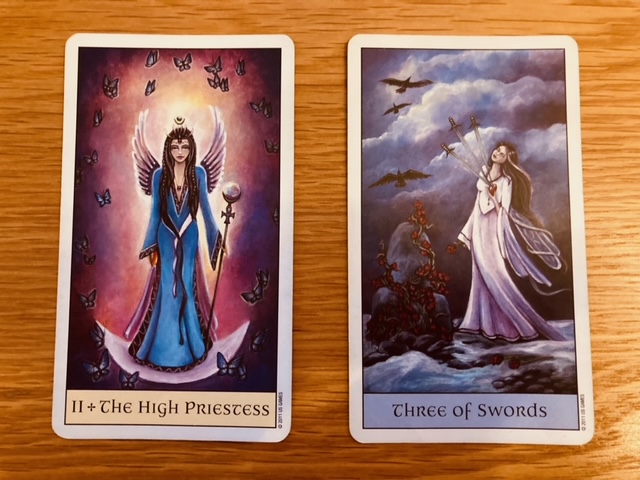 The High Priestess and Three of Swords
I felt a shiver go down my spine when The High Priestess came out of the pack today. Without giving it too much thought, I picked the second card and it was the Three of Sword. It immediately occurred to me that the lady in the second card could well be The High Priestess in an earlier guise.
I then got a very strong message come through. So strong, in fact, that I am going to write it in capitals. "YOU ARE RESPONSIBLE FOR YOUR OWN HEALING".
Ouch! That was harsh ( I thought to myself!), and then followed more statements which seemed to be coming from The High Priestess, who was staring intently at me.
"Everyone has been hurt in one way or another."
"We all become stronger when we have experienced pain or upset."
"I was like this once, before I learned who I truly was."
I feel, these messages have come from the deepest, most spiritual place of the tarot. Sometimes, we can feel coincidences in the pictures of the cards, or synchronicities with the scenes that are being played out and what is going on with our own life. But, these statements and encouraging (yet forceful) words of healing are coming from a powerful place that is incredibly aware that we are human and sometimes need an awful lot of guidance.
The biggest message that I get from this is seeing the scene of the Three of Swords and knowing that EVERYONE has felt this intense pain in their heart in many different ways. It could be a person who has caused us heartbreak, a situation that has left us feeling upset or it could be physical pain and illness that has caused us to feel at the end of our tether and broken. But, I feel that the swords stay around a lot longer than the actual event or person who passes through our lives.
How many of us are still dealing with unresolved childhood traumas? How many of us are still grieving for a loved one who has passed? How many of us still fear hospitals or going to the Doctors because once, a long time ago, we had to deal with an unpleasant time in our life when we were ill? Have you told yourself you will never love again? Or even feel disillusioned with the world and the endless conflicts and chaos?
We are all going through something. But, as humans, we all need to find a way to heal and move on. This is what The High Priestess is urging us to do – once and for all.
This feels like one last big purge to clear us of all the old wounds that have held us back for so long that we haven't even realised. However, The High Priestess has not just come out to give us a message; she is making us do some homework too!
It is time to delve deep, deep into our heart and take a really good look at those swords that are still piercing our heart. It is time to take them out. It is time to heal.
How you do this will be a very individual and personal process. Counselling, meditation, taking time out to have a cry, deal with some anger or even take physical exercise may be the answer for you to start feeling that you are healing yourself.
Healing might require talking, listening or maybe even shouting. But, during this quiet astrological period of February, we are being given the space to make ourselves the priority and to get rid of those uncomfortable feelings in our mind, body and soul so that we are ready to move forward into the next chapter of our lives.
Like I said, The High Priestess shouted a message that we are responsible for our own healing. We cannot waste time blaming others or making excuses anymore. If you are aware that you could feel better either mentally or physically, or, if you feel that you are not aligned with your soul's path or living the life that you should be. Then, now is the time to address that. But, only you can do it.
I feel like this has been a very harsh message and, believe me, I am taking heed of the warning too. But, I truly hope that my badass High Priestess is sending you the same vibes as she is me, and I hope that it helps you find the way forward.
---