Free Weekly Tarot
my gift to you
Your cards for the week commencing 6 December 2021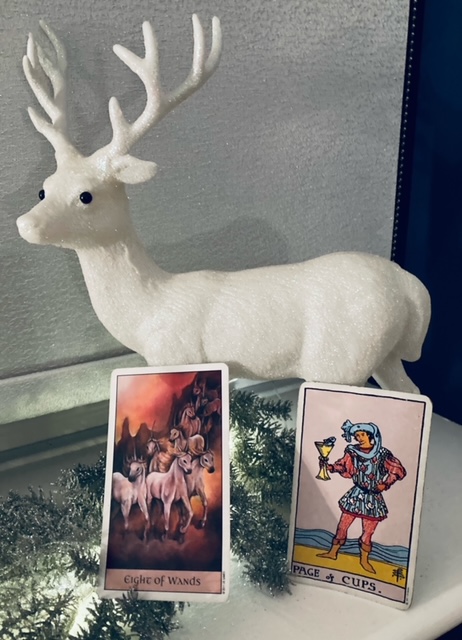 Eight of Wands and the Page of Cups
This is our first full week in December and it certainly feels like we are rushing at a furious pace to the finish line of 2021. Where did this year go? Most of us spent half of the year reeling from the effects of 2020 before we even realised that we were living through another year!
The Eight of Wands is one of the most energetic cards in the tarot. The picture shown in these cards is of a stampede. Many of you will resonate with the feeling of getting caught up in the rush as you mentally note how many more shopping days or sleeps before Christmas arrives and this card is certainly a reminder that this can be an exhausting time of year.
However, this card is also an acknowledgement to the planetary activities that are at play in December. We began the month with Neptune going direct and a solar eclipse and some of you may be feeling the energy that is associated with those factors. Once a planet goes direct it can feel like a gear change. Neptune is often associated with our spirituality, so if you have been feeling extra sensitive or picking up on signs and symbols this could be helping move you in the right direction. The solar eclipse that occurred last week was also a huge wake up moment designed to get things moving, so if there are areas of your life that you are hoping to revive, change or explore then it's time to get going.
The energy for this week is gathering even more momentum and it will continue to build over the next few weeks. On the 11th December, Venus and Pluto will be working together to fuel our energy even more. This dynamic duo will be highlighting areas such as love and money. And then we have the fantastic date of 12/12, in numerology the number twelve signifies perfection and entirety. It would seem that the energy of the universe is calling all of us to examine every aspect of our lives and strive towards making it perfect and wholesome.
The Eight of Wands doesn't give much time for thinking or procrastination and sometimes in life we just have to go with the flow (or the sprinting unicorns in the case of this card). But, that can be terrifying, especially if you enjoy being in control!
That is why the Page of Cups is the perfect companion for the hurried, restless, forward moving energy of his paired card. He is one of my favourite court cards, mostly because he is ruled by Pisces and reminds me of my own son who is also a Piscean. The Page of Cups is ruled by his heart and is incredibly loving, emotional and honest. He feels his way through life, which makes him a little vulnerable and because he is a Page he is only young and, consequently, he is just beginning to realise how his personality can be his strength as well as his weakness. By being truthful and honest he lives a pure and kind hearted life, but can get incredibly hurt, and he has had to learn the hard way that not all people have the same moral code as he does. But, as he learns by these harsh lessons he begins to realise that his ability to trust is not a weakness and is, in fact, an incredible superpower. Because above everyone he trusts himself and once he harnesses that power he will not go wrong.
Trusting your own instincts is easier said than done. We so often allow our mind to talk us out of doing something we instinctively feel we should (or shouldn't) do. Not to mention how we also allow others' words, actions and behaviour to change our perception of what we believe to be right and, in turn, change the course of our soul's journey.
The Page is so intuitive that he feels the truth in his heart and in the butterflies that flutter in his stomach. He feels the encouragement of the universe when he gets excited about a new adventure and acknowledges the caution when he feels nervous about something he knows he should avoid.
It is time for us all to take on the Page's superpower and trust our instincts and intuition. There is a surge of energy coming to move us all on an exciting new path and also to move us away from an outdated, unhelpful or unhealthy path too.
Take some time to tune into your own energy this week and listen to your soul as it steers you in the right direction. Where, how and when you move will be very much your own story, but, as we race towards 2022, it seems very clear that times are changing and we are being asked to change with them.
---
Copyright © 2021. ClaireChilvers.com. All Rights Reserved. Privacy Policy.
Website Designed & Hosted By C@rrie – 07710443223.