Free Weekly Tarot
my gift to you
Your cards for the week commencing 5 September 2022
Welcome to this page which is packed full of complimentary tarot readings for everyone to enjoy. I hope you find these resonate with you and are helpful in some way.
If you would like your own personalised reading from me, I can provide readings via email or video links. Please click here for more details.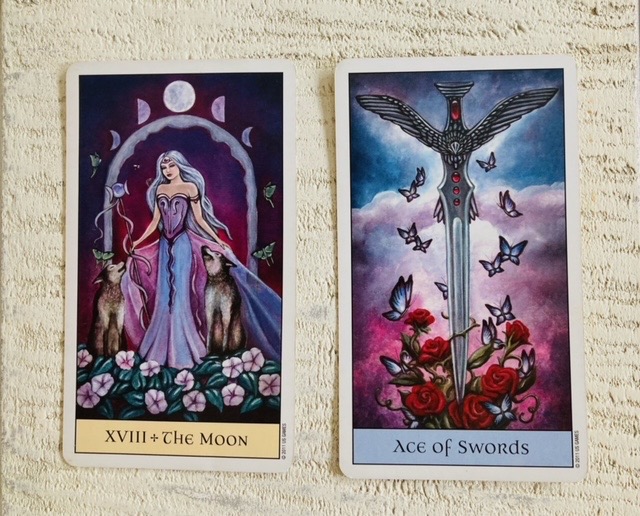 The Moon and Ace of Swords
As I was shuffling the cards today, my eyes were drawn to my calendar and the planetary events that are taking place this week. There is a Pisces Full Moon on Saturday 10th September and, as I saw this, a card flew out of the pack and hit my computer and yes, you've guessed it – it was The Moon (I do love it when the tarot gives us these little coincidences and synchronicities).
Before I had a chance to think any more about this, I noticed on the calendar that the next Mercury retrograde begins on the 9th September, at this point I stopped shuffling and was given the Ace of Swords; another very fitting card to compliment the season.
Sometimes in tarot we can be blind sighted by the obvious. It would be very easy for me to say "Oh we have a full moon, which is why The Moon tarot has appeared". The tarot is multi-layered and has so many more hidden meanings and secrets to whisper to us, we can be overjoyed and sometimes quite taken aback when a card we half expected to appear pops out to greet us and, although this gets out attention, there is more to the message than just showing us how spooky and clever the cards can be.
When I look at this card I am charmed by the wolves looking up adoringly at the Moon Goddess. We have all seen pictures, documentaries (or some of you may have seen in real life) of a wolf baying at the moon. But these wolves are silent and relaxed. What can we learn from this? Will we gain something from finding stillness and calm when everyone else is falling under the spell of full moon madness?
This being a Pisces Full Moon it is bound to be a little emotional and dreamy. I have a soft spot for Pisceans, because my son is one of them, but if you are familiar with their traits you will know how hard it is to get one to make a decision! Similarly, the Moon card can often depict a time of confusion, uncertainty or indecision, but, as these happy wolves show us, we needn't be fretful and can just sit calmly whilst this occurs.
So, if the world around you doesn't seem to make any sense or you are caught up in circumstances that are making your life a little dysfunctional or difficult, know this is temporary and it will not last forever. As the phases of the moon play out in the night sky we can suddenly look up and notice how much it's appearance has changed in just a few days and, so have we.
To add to the theme of confusion our Ace of Swords is reminding us that Mercury Retrograde is spinning into our world this week and so comes the time we often associate with losing possessions, missing appointments and losing our memory (either within our own mind or that of a computer or phone!). Yes, the Mercury Retrograde does get a bad reputation but the Ace of Swords is reminding us that we do have the strength and resilience to keep our minds strong and focused as we navigate the three and half weeks whilst this takes place.
Have you noticed the crow in this picture? He is actually part of the sword and is staring right at us – hidden in plain sight. It reminds me that sometimes the answer we are looking for is right in front of us. It also reminds me that we can be right in front of someone and desperately want to tell them something or clear the air regarding a situation but never find the right words. As I look at the symbolism of this card and notice the butterflies, which are a sign or transformation, and the red roses, which symbolise love, the message here seems to be; "Let's try this a different way".
The Ace of Swords appears when we are being offered a chance to create a new mind-set, or cut ties with an old way of life. When a retrograde period gives us uncertainty, chaos, drama or miscommunication, yes, it can be frustrating, but, it can also be a wonderful opportunity to do things differently. Are you fed up of repeating the same old cycles from your past? Do you wish you didn't keep falling into the same old routines, behaviours or arguments that have kept you in the same situation for too long? Are you feeling a need to start something fresh or learn a new skill?
Having a glimpse of an idea that something bigger, better, more exciting or more life enhancing is a possibility, can start a chain reaction of event that catapults you out of your current impasse. But, I feel the message comes with a warning not to run before you can walk. The energies that accompany this card are the aforementioned painfully indecisive Piscean energy of the Full Moon and the confusing chaos of the Mercury Retrograde. I feel that knowing that you want change to come into your life and knowing that you have the strength of mind to make it happen is all you need to work with right now.
In the stillness of the Full Moon we have this week, you may gleam glimpses of where you are heading, but, just like our beautiful wolves stay calm and patient and wait for the shadows to pass before making any brave steps forward…all in good time.
---