Free Weekly Tarot
my gift to you
Your cards for the week commencing 30 January 2023
Welcome to this page which is packed full of complimentary tarot readings for everyone to enjoy. I hope you find these resonate with you and are helpful in some way.
If you would like your own personalised reading from me, I can provide readings via email or video links. Please click here for more details.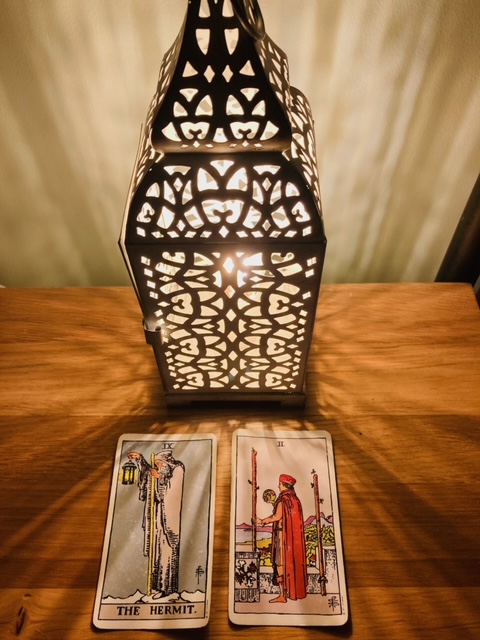 The Hermit and Two of Wands
These two cards have many similarities when you compare them, side by side, as they have shown themselves today.
Both men hold a wand in their left hand, and an object in their right. The Hermit's lantern has an illuminated star lighting his path, yet, as if to better that, our Two of Wands man has the whole world in his hand!
They are both facing left and wearing a long cloak. But our Hermit is not interested in the vantage point he has from his cold, lonely mountain and his gaze is fixed to the floor. Our Two of Wands man is looking out at his view, seemingly deciding on his next step but, interestingly, neither of them are taking a step forward.
The most striking difference is there difference in ages. The Hermit is a man of advancing years. His number in the tarot is nine, which suggests he has had many more cycles of life than our young man standing underneath his number two.
This message comes at a time when all planets are now direct. It is the first time this has been the case for many months, and like these two characters, we may also be feeling like we have been standing still for some time and now are beginning to plan our future.
But, as I am looking at these two gentlemen today a worrying thought has been in my mind, which I cannot seem to shift. What if they are the same person? What if the Two of Wands card is the story of a man who had the world within his grasp but chose to stay within the confines of the castle wall that he stands behind? What if, many decades later, he becomes the Hermit and is looking sorrowfully at the ground as he cannot bear to look at the lantern that is keeping his light captive? His star that could have shined so brightly, is nothing but a trapped, tiny light that only he can see?
I don't know why I feel so pessimistic about these cards because they have so much symbolism and positive aspects to them that I often resonate with. But, I feel, they are giving a cautionary tale to us today.
I feel the message is 'We are never too old; it is never too late. And, we all have a light to shine on the world.' But, I also feel an overwhelming urge to remind myself and all who read this, that we shouldn't waste the gift of life that we have been given.
The wands show up in our readings when we need to take action. Whereas The Hermit is a wise and intellectual figure who encourages us to acquire knowledge. But, The Hermit has also withdrawn from the world, which is the exact opposite of the message from the Two of Wands.
Action, adventure and new horizons are the opposite to retreating, isolation and reflective meditation. They both have a place in our life and, I am sure, when we all reach the wise, old age of The Hermit we would like to have our memories of when we have experienced all of those things.
I do not like the feelings that I am getting from The Hermit of regret and missed opportunities. Perhaps, this is a time in my life (when I am old and wise enough) to not let them happen again?
Perhaps we all need to feel uncomfortable with the idea of not letting our light shine brightly in the world.
It would seem this week would be a good time to think about allowing that to happen.
---