Free Weekly Tarot
my gift to you
Your cards for the week commencing 3 October 2022
Welcome to this page which is packed full of complimentary tarot readings for everyone to enjoy. I hope you find these resonate with you and are helpful in some way.
If you would like your own personalised reading from me, I can provide readings via email or video links. Please click here for more details.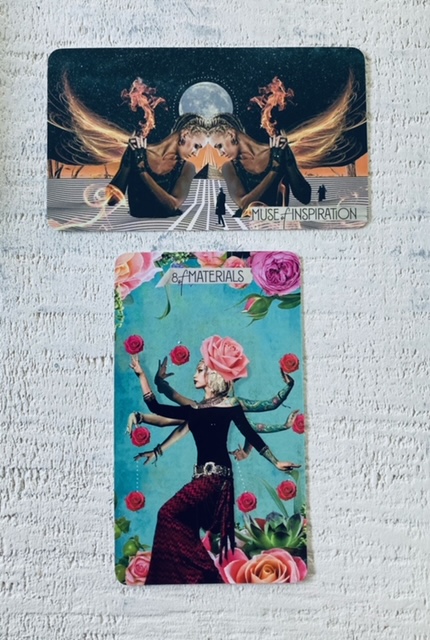 Eight of Materials and the Muse of Inspiration
I felt drawn to using The Muse Tarot by Chris-Anne this week, and (as if my magic), The Muse of Inspiration is one of the cards that has joined us this week. The pack is very much centred around finding one's own muse and tapping into the creative talents and unique abilities that are your gift to the world.
This Muse of Inspiration card shows fire coming out of the two ladies' finger tips and streaks of flames which look like angel wings behind them. It is reminding me that we all have angels looking over us willing us to fulfil our purpose and be the best version of ourselves that we can be.
In between the two mighty women is a lone figure, walking along a path which looks a lot like a running track. Except this track is not going round and round in the way we are used to, it is going onwards – higher and higher – which feels like a message that we all are striving to raise our vibrations and work at a higher level of consciousness where we can be exactly who we want to be and in line with our soul's purpose.
In the ideal world, we would all be resonating with this card and knowing, instinctively, that we are moving ever closer to a higher vibration, our goals and a feeling of completeness. But, our soul is not always working in conjunction with our human self and the card below it seems to show why.
The Eight of Materials shows one lady, but four pairs of hands. The roses they hold feel to me as if they represent various parts of her life that she is trying to juggle at the same time. Three of the pairs of hands do not seem to be hers, yet, they are all around her demanding her attention. Do you resonate with this? How many of us fall to our bed exhausted when our whole day has been a series of jobs, chores, responsibilities and actions? Yet a part of our mind tells us we haven't quite achieved what we wanted or had any time for ourselves to pursue the creative and imaginative pursuits that make us happy? And then we do it all again the next day!
We began October with six planets in retrograde and that energy cannot fail to make us feel bogged down with life or feeling like we are wading through treacle and not getting anywhere. In fact, in some cases it can leave us with a feeling that our life has somehow become very different to what we had planned or wanted. But, the good news is, starting with Mercury which stationed direct on the 2nd, these planets will start moving in the right direction again and, consequently, so will we.
There are times when are lives don't feel like our own. There are times when we have to deal with situations, projects, people or unwelcome changes that take up our time and energy and leave us feeling a little lost. But, when this happens, it is important to remember that these times are temporary and eventually we should be able to get back in line with our own intuitive side and get "back on track", just like the person in the Muse of Inspiration.
However, if you don't feel that is true and you honestly believe that the Eight of Materials shows you completely and truly feel as if nothing will change, it may well be a good time to ask yourself why? Retrograde energy – especially the recent Mercury retrograde – does provide us with the opportunity to go within and work out if there is imbalance in our lives. It provides the opportunity (by disrupting and changing our plans) for us to examine our everyday life and whether it is really suitable for us or in line with our inspirational vision of who we want to be, where we want to be and what we want to do.
I can't say that retrograde energy is easy, or even welcome, but, it can kick start changes that help the muse inside of you re-emerge and once that happens, the burning desire to take action will be an incredible force that no one can stop.
---