Free Weekly Tarot
my gift to you
Your cards for the week commencing 3 May 2021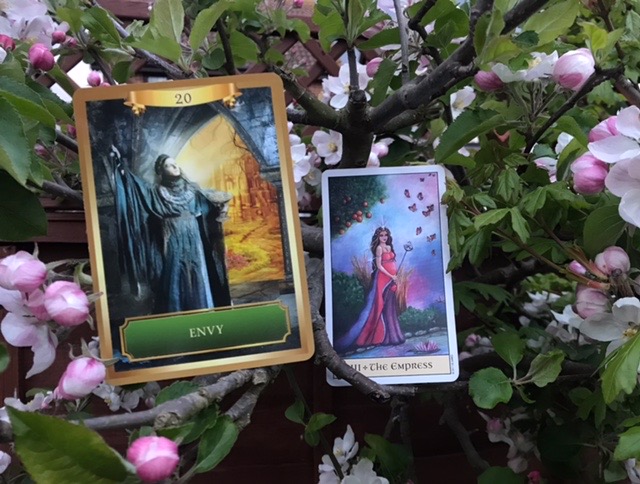 Envy & The Empress
I was drawn to pick one of my energy cards this week, they are fairly new to me and I haven't acquainted myself with all of them yet. I was quite taken aback when this dark, sinister card came out and was certainly not that pleased to see it. Quickly shuffling my tarot cards for an antidote I was given The Empress who couldn't look more different, so content and happy in her vibrant, welcoming garden.
But, this immediately reminded me that we are all capable of having these two very different emotions within us. My displeasure at seeing the envy card is because it makes me feel uncomfortable to admit that I have this feeling within me and sometimes it can eat away and make me as dark and sorrowful place.
If we are honest with ourselves, we can all remember a time when we have been the lady in this first picture. We have all looked on at someone else's beautiful palace or golden life that looks so much better than ours with a touch of envy – we wouldn't be human if we didn't! I even feel this lady looking over to The Empress, envious that the grass is clearly greener over on her tarot card.
But, look closely at this envious lady, she has a shining orb and pendulum in her right hand, which tells me she is aware of her spiritual side and the universal love that is all around her. Similarly, in her left hand she holds a dish full of gold and silver jewels. And, of course, she is in her own castle which we cannot see but could be every bit as grand as the brighter one she longs for.
I feel this week we have a choice to see how we view our life and how we want to feel inside. Darkness, bitterness and envy are choices we make for ourselves. Whereas The Empress shows us abundance, contentment and a reminder of the part we play in the universe to be a meaningful part of nature and the world around us, we can choose to feel this too. But we can't do both. Well, not at the same time, anyway.
One of the most difficult things about life is not knowing what our future holds. If we have plans, dreams or visions of our future self we do not know whether they will come to fruition. These two cards show us the choices we have in times of uncertainty. We can yearn so much for a better, different future that nothing we have gives us pleasure, or, we can be content that our present circumstances are enough and our future is being nurtured and cared for by the universe and will be revealed to us at exactly the right time.
As we move into May there are some challenging energies around us. This week we have changes promised as the 5th May, has the numerology 555 (5th day, of 5th month of 2+0+2+1=5). Changes can be welcomed in with positivity and negativity, which shows up in the duality of these cards. Quite simply, we can be one or the other.
Remember whatever happens to us we have the choice of how we react to it. The only thing we can really control is our own thoughts and emotions, the rest is just stuff happening around us – like the golden palaces being built in the distance or the apples ripening on the tree in our own garden.
I feel this week will be a time when we need to look within and decide which of these women we want to represent us. It seems a cautionary tale for us all, but a very important one.
Sending you all lots of love and positive vibes this week, don't forget to pass it on!
---
Copyright © 2021. ClaireChilvers.com. All Rights Reserved. Privacy Policy.
Website Designed & Hosted By C@rrie – 07710443223.