Free Weekly Tarot
my gift to you
Your cards for the week commencing 03 April 2023
Welcome to this page which is packed full of complimentary tarot readings for everyone to enjoy. I hope you find these resonate with you and are helpful in some way.
If you would like your own personalised reading from me, I can provide readings via email or video links. Please click here for more details.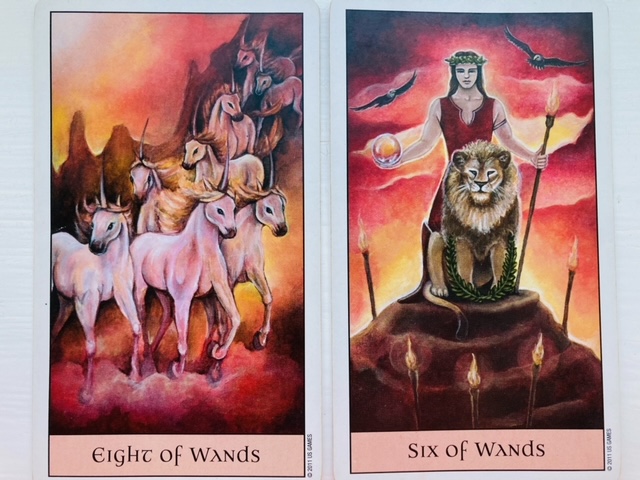 Eight of Wands and Six of Wands
As we begin our first full week of April, I feel the stampeding unicorns that are running towards us signify the fast-moving energy that was with us for the whole of March.
Did anyone else feel like March went far too quickly? I, personally, feel like I blinked and it was done, although when I look back, it is surprising how far I have moved forward and what I have achieved in those few weeks – perhaps you can see this in your own life, too?
I do love the Eight of Wands card, it gives the impression of excitement and getting caught up in a frenzy of activity. We all need periods in our life when this happens, especially if we have had a period of stagnation or a time when we have retreated for a little bit too long than is healthy
As I write this, I am getting a message regarding invitations or joining in with outdoor pursuits. As we celebrate Easter this week and most people will have more free time than usual, perhaps this is a great opportunity to get active, and outdoors and experience a freeing sense of adventure. But, however, this card manifests itself for you, I feel it will be like a breath of fresh air and a much-needed change of pace.
It is interesting that the second card, the Six of Wands is from the same suit. Adding to the forward motion of the eight, it can signify success, victory or achievements. I certainly get an overall feeling that there is going to be a boost of confidence, or a task completed which will give a feeling of accomplishment this week.
As I look at this man, standing at the top of a mountain and wearing a laurel wreath of success, I see that he wholeheartedly owns his triumph – which is often the exact opposite of what we do and reminds me that we (all too often) do not take time to celebrate our achievements. I feel the message of this card is that we should and, in the words of Heather Small, I ask you; 'What have you done today, to make you feel proud?'
Perhaps, as we take a break over the Easter holiday, it is a good time to reflect on what has happened in the first quarter of this year that you are proud of. We can all find at least one thing, I am sure.
I am excited by the energy that these two cards are bringing, it feels as if they are acknowledging that we are going to have a short break this week (perhaps to stop and take a look at the beautiful full moon that is appearing on the 5th), but, I feel it is advising us that we will not be stopping for too long as we have a very exciting road to travel which will require us to have stocked up on self-belief and enthusiasm.
So enjoy the brief pause this week and prepare to head into the unknown!
---