Free Weekly Tarot
my gift to you
Your cards for the week commencing 28 November 2022
Welcome to this page which is packed full of complimentary tarot readings for everyone to enjoy. I hope you find these resonate with you and are helpful in some way.
If you would like your own personalised reading from me, I can provide readings via email or video links. Please click here for more details.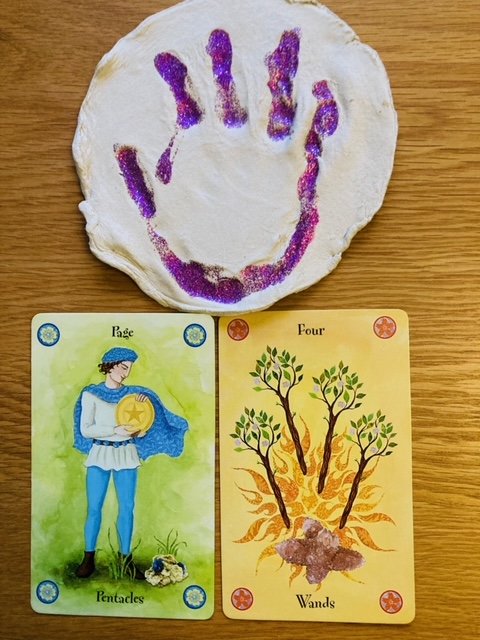 Page of Pentacles and the Four of Wands
The Page of Pentacles seems preoccupied as he stares at the large pentacle he is holding in his hands. He has a small smile on his face and I feel that this symbolises the thought processes that are being carried out in his mind as he realises that he is at the start of something magical.
When I look at this card I am drawn to the word 'potential', however, as soon as I typed it on this page I became aware that there is a duality with this word that can fill us with excitement or overwhelm – depending on your own circumstances.
This card reminds me of two situations in my own family. At the moment, my son is deciding what to do in the next step of his education. Will he go to college? Stay on at sixth form? What subjects does he want to study? What does he want to do with his career? He is in a fortunate position, like the Page who has appeared today, as he has the 'potential' to get good grades and, therefore, has a variety of options. But, he is overwhelmed with the questions, decisions, and choices and we have to tread carefully when discussing it with him as he can quickly shut down and change the subject.
In comparison, I have recently started up my own YouTube channel and every day I upload a short video giving a two card reading to help, guide and inspire others. I am aware that this is the start of something and I have no idea what direction it will take me in, but, I am excited and looking forward to the journey and I am happy to just trust the process and carry on working on the project and see where it takes me.
So, which are you most resonating with; the overwhelm or the excitement? What do you hold in your hands which has the potential to take you to a new level or stage in your life? Is it the offer of a new job? Or are you looking to move to a new location or downsize to free up some cash so you can use it for a business or personal goal? Or, is the pentacle symbolising your own self-worth? Perhaps the talents you have been hiding for many years are now starting to surface and you wish to incorporate them into your life.
We all have potential to improve our life, and if you still don't feel that is true, take a look at the second card we have this week, the Four of Wands.
Fours in numerology symbolise a stability and structure, whereas wands come into our readings when we have taken action, achieved something or need a little fire energy.
I feel the message of this card is to remind you of how much you have already achieved. It is taking us to a point where we can stop for a little while and reflect on all the amazing things we have accomplished to get to this pivotal point.
For the last month we have been moving through a Mars Retrograde energy and this will continue until 12 January. I feel the Four of Wands is connected to this energy because it is a pause in our normal life and this pause will give us time to embrace the energy of the Page of Pentacles and to take a good look at our potential and find something to smile about.
These last few months have been challenging for many, but, there is a new era dawning and you have the gifts within you to make any changes necessary to enhance your mind, body, soul, surroundings and situation.
I can't tell you where you are going next, (unfortunately, these cards are not giving out spoilers!) But, all I can tell you is that you have the potential to do anything you want. That's right ANYTHING! You don't have to know what that is, you just have to ensure that you are not overwhelmed by the endless possibilities and embrace the excitement of your own potential.
---