Free Weekly Tarot
my gift to you
Your cards for the week commencing 28 June 2021
Welcome to this page which is packed full of complimentary tarot readings for everyone to enjoy. I hope you find these resonate with you and are helpful in some way.
If you would like your own personalised reading from me, I can provide readings via email or video links. Please click here for more details.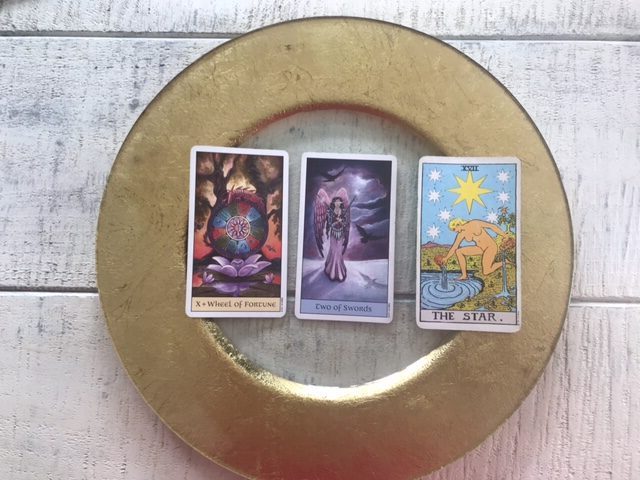 Wheel of Fortune, Two of Swords and The Star
There are all sorts of sayings whirling around my head as I begin this article.
"All Change", "Keep calm and carry on" and the reassuring, "Don't worry, it will all be ok."
It has been an intense month hasn't it? And now we are through the eclipse season, out of Mercury Retrograde and have experienced the immense power of our recent Super Moon in Capricorn, you may feel like you are still spinning from what has come of it all.
Unfortunately, the messages I have been given here do not wave a magic wand of clarity and provide us with all the answers.
But, the Wheel of Fortune feels like a confirmation or explanation to us. A message that if you feel like your world has been turned upside down, or certain revelations or discoveries about your life or yourself have created a game-changer for you then do not despair. This is all part of the plan and will all work itself out in the fullness of time.
I also feel reassurance in the two of swords. Normally, I would feel a little uncomfortable at seeing this lady. Her predicament is obvious, being blind folded she cannot see her way forward and the two swords are the duality within her mind causing her to doubt her own thoughts or her way forward. But, our message is it is ok to feel this way sometimes. We don't always have the answers. We can't always see the obvious path. And, sometimes we do have to wait and just trust that our intuition will kick in and guide us when the time is right. As you can see in this card, the sun is just starting to peek out from behind the mass of dark clouds and light will soon be shining down again on us.
And The Star, which many people see as the Wish card and an indication that happier times are ahead, is certainly nice to see at this topsy turvey time. But, I am sensing the over whelm and vulnerability that this card can also bring. The universe always puts us in the right place at the right time; even when we are learning harsh lessons they make us stronger, braver, wiser and more resilient. Things always have a way of working out in the end. But, our little human selves that are courageously treading our confusing path through life do not have access to the whole picture and it can lead us to feel like shouting at the universe, "How did I get here?", "What on earth is going on?" or "What is going to happen?"
These cards do not have the answers that we seek and are a validation that sometimes we are just not meant to know what is going to happen next.
But, they do give us the confirmation that the universe is there and always has our back. So, take solace in the messages these cards bring us this week. Keep calm and carry on. And if you are experiencing changes in your life give yourself a break if you don't quite know the way forward at this present time. 
Everything will be ok.
---
Copyright © 2021. ClaireChilvers.com. All Rights Reserved. Privacy Policy.
Website Designed & Hosted By C@rrie – 07710443223.