Free Weekly Tarot
my gift to you
Your cards for the week commencing 28 February 2022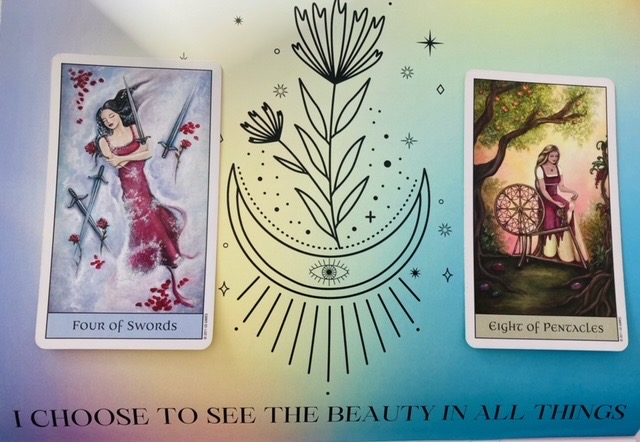 Four of Swords and the Eight of Pentacles
I resonate very much with these two cards as I picked them for us this week, as, for me, this week has been incredibly busy (which is a key theme in the Eight of Pentacles) and I could very much do with some rest like the lady in the Four of Swords.
So, consequently, I am going to take my own tarot advice and this reading is very much shorter than the ones that I normally send out.
This week we have the last New Moon of this 2021-2022 astrological year, usually this is a time to reflect on the past year and what we have achieved and how we want our following year to be, but, it seems the message of the Eight of Pentacles is that we may not all have the time to do that as we continue to work hard and focus on what needs our immediate attention. The world seems to be in chaos at the moment as we loom from one crisis to another and that does not leave much time for reflection.
You may resonate with the Four of Swords and feel the need for peace, stillness, meditation and contemplation – not just in your own world but the wider community. Or you may resonate with the Eight of Pentacles and feel the struggle of everyday life becoming more and more intense.
However, it is important to note that the world is in a transformational stage and if you feel that you are bouncing from one drama to a next, you are certainly not alone.
As I write this to you, the cards are resting on my Forever Conscious Moon Calendar and the caption for the month of March is 'I choose to see the beauty in all things'.
If, like these cards suggest, our minds are a little frazzled or you are working too hard and are feeling physically exhausted, then seeing the beauty and positivity around us is hard to do. Consequently, I feel the message this week is that we all take the time out to allow ourselves some much needed self-care. We do have a new astrological year ahead, which starts on 20th March with the Sun moving into Aries, and we all need to be ready for what promises to be a game-changer of a year.
And, on that note, I will leave it there and go and get some much needed respite for myself and hope that you all do too.
I shall be putting some dates on my website soon for some more Facebook Live readings and keep a look out as I may do some more ten minute tarots on Facebook too in the next few weeks.
Sending you all much love.
Claire X
---