Free Weekly Tarot
my gift to you
Your cards for the week commencing 27 September 2021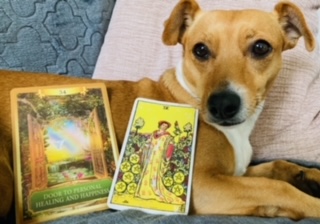 Energy Card, "Door to Personal Healing and Happiness" and the Nine of Pentacles
This week, Mercury has just started a retrograde period (it began on the 26th September) which will make a total of SIX planets in retrograde in these last few days of September and beginning of October. The other five planets it joins are Uranus, Neptune, Jupiter, Saturn and Pluto and the six retrogrades will continue until 6th October when Pluto goes Direct, closely followed by Saturn (10th), Jupiter (17th) and then Mercury will go direct on the 18th. (For info – Neptune goes direct in December and then Uranus is in January 2022).
The reason I am mentioning this is because people can find these intense periods of retrogrades quite unsettling, emotionally draining or in extreme cases traumatic. Situations can arise that can feel like your world is a little out of control or we can also find ourselves needing to revisit past experiences or emotions that we had thought long forgotten or buried deep into our sub-conscious.
It was so lovely to see this energy card show itself for this week's reading; Door to Personal Healing and Happiness is a poignant reminder that there is a positive side to retrograde periods. They give us a chance to slow down and reassess our past; they give us the chance to deal with anything that we have been hanging on to for too long. We can often think we are over something and then have a very startling realisation that we are not. Retrograde periods are often a time when these little reminders appear in our lives bringing that very point to the forefront of our minds and urging us to look again and deal with it properly. It could present a person reappearing in your life who brings up long forgotten trauma or pain, or it may be finding yourself in a situation where you sense that you have 'been here before', such as a new round of redundancies at work or an unexpected bill that flaws you. Even an unforeseen event can occur which suddenly makes you feel like you need to re-assess and re-evaluate your whole life.
When these moments arrive it can be very easy to feel like a victim (and in some cases perfectly justified too). But, quoting the words of JK Rowling, "sometimes bad things happen to good people". However, those things do not define who we are, but they can act as a catalyst for us to want to make changes in our lives to make sure that they never happen again. These unsettling times can literally open the 'door' to the abundance that is on offer in this energy card which is offered to us this week.
And, accompanying it is the Nine of Pentacles, which is the perfect companion to show how this energy would impact on us as individuals. The Nine of Pentacles shows a woman who is totally self-reliant and in complete control of her destiny. We do not see the preceding eight cards that have got her there, but, it is safe to say she has worked very hard to get there and has experienced some ups and downs along the way.
This card portrays a lady who is self-assured, confident and fully aware of her own worth. She is more than capable of dealing with any situation that comes her way and is not fussed by events happening around her – not even retrogrades!
If we harness those qualities ourselves through this week and beyond (no matter what happens), we may start to see how important and helpful these retrograde periods can be to us.
Sending you all much love and healing through these next few weeks. Don't forget, I am available for readings should you need some guidance, please click here Calendly – Claire Chilvers to access my calendar and book a session.
Claire x
---
Copyright © 2021. ClaireChilvers.com. All Rights Reserved. Privacy Policy.
Website Designed & Hosted By C@rrie – 07710443223.