Free Weekly Tarot
my gift to you
Your cards for the week commencing 27 March 2023
Welcome to this page which is packed full of complimentary tarot readings for everyone to enjoy. I hope you find these resonate with you and are helpful in some way.
If you would like your own personalised reading from me, I can provide readings via email or video links. Please click here for more details.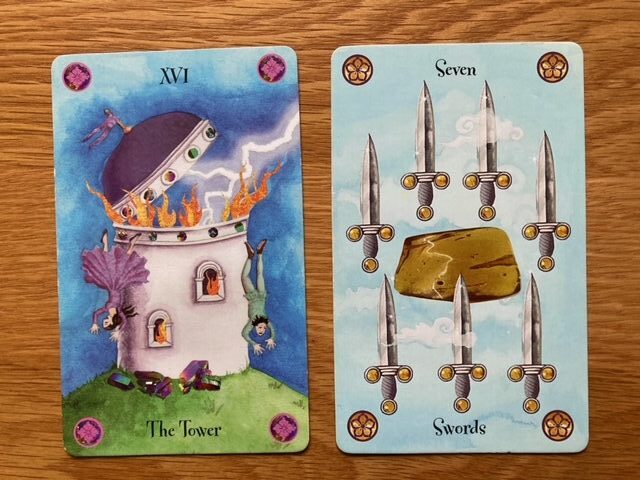 The Tower and the Seven of Swords
Adapting to change is never easy, which is probably why so many of us hold on to people, situations, jobs and ways of life for a lot longer than we sometimes should.
The Tower is coming into our reading this week to remind us that this month is a time of great change. Whether we like it or not, this month is heralding the start of a new era and, whilst this can bring excitement to some, it can also bring fear and anxiety to others – especially if the unknown future is so different to what you are used to. 
What do you think when you look at this tower? Personally, I feel like the two people, who have been so unceremoniously thrown from it, have had a lucky escape. The tower has been struck by lightning and is now on fire. Even if it was the most luxurious of homes, now, it is not fit for purpose. However, when the tower card comes into our life it can signify events that are out of our control and consequently we feel cheated, even though we may not see that we are moving on to something better, This can show up as a redundancy, a sudden need to relocate due to a home emergency or landlord forcing a sale of a property. Or, the change could come in your friendship group or relationship. It could even be on an inner level with your emotions and mind freefalling and leaving you feeling powerless to do anything about it. 
But, (even though we don't always feel it at the time), this monumental shake-up puts us perfectly placed for a better way of life. 
Have another look at the card. Where have they landed? They are on the top of a hill which has lush green grass which should help cushion their fall. In front of them is a stack of crystals – these are titanium quartz – a crystal which can help make sense of difficult situations and provide support through difficult times. How perfect that this is here waiting for them! And this coincidence ties in nicely with the positive theme of this card. No matter what happens in your life, if you take a moment to see what is at your disposal, you can find support and clarity and make the best of it, which brings me nicely to my second card the Seven of Swords.
Have a look at the contrast in skies with these two cards. Our second card has a lighter blue sky and a couple of wispy clouds, which would indicate to me that the storm shown in The Tower is over and the sun is starting to shine. All seven swords are pointing upwards, which I feel shows (that with a little effort from us) we are able to sort out our minds and think straight regarding what happens next. This is the equivalent of assessing the damage that has occurred in the lightning strike of the previous card and seeing what can be salvaged and what needs to be discarded.
The number seven in numerology can symbolise endurance and hard work, but, it can also symbolise magic and good fortune. I feel this isn't a case of having one or the other, it seems to me that all of these are going to be present in our lives this week. If we push ourselves out of our comfort zone and work hard, then magic and good fortune are possible. Or similarly, if a bit of good fortune and magic puts you in a great new job or a promising new situation, it may be the start of a period of time where hard work is essential to get used to the circumstances.
The crystal that is accompanying the Seven of Swords today is amber, which is fantastic for helping to manifest your dreams and aspirations. So, it seems that there is already a little magic given to us by having this card appear.
In their own special way, both cards are teaching us that anything is possible. And, although this may give a cautionary tale to expect the unexpected, it is also a clear message that we are more than capable of finding a favourable solution when it does.
---