Free Weekly Tarot
my gift to you
Your cards for the week commencing 26 July 2021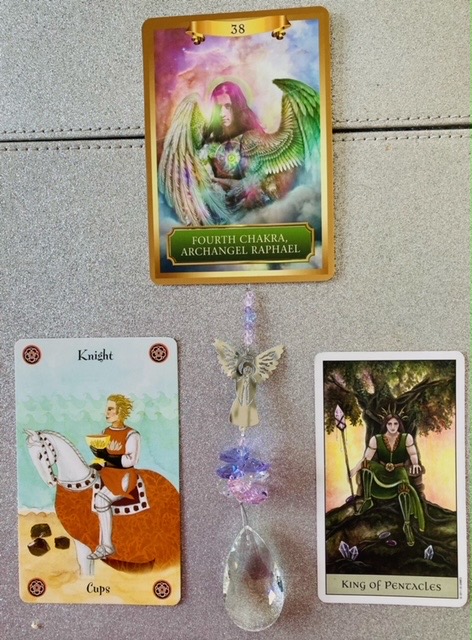 Knight of Cups, King of Pentacles and Archangel Raphael
I chose an energy card to accompany our two tarot cards this week as we are moving into Leo Season and with it will come a change in energy for us all.
Archangel Raphael is shown in the energy card and he is known to appear to offer healing to the mind, body and spirit. His appearance compliments the messages that we have received over the last couple of weeks regarding making positive changes to our lives to encourage a little more happiness. He is presiding over the Fourth Chakra which is located by our hearts. The heart chakra is often associated with love, but is also connected with change and transformation. If positive change comes from this central part of our body then it can radiate through to the other chakras and enhance our mind, body and spirit just as this angelic figure is inspiring us to do.
I was intrigued to see two court cards in this tarot pick today. Court cards can signify situations, people in our lives or aspects of our own personality. All tarot cards are neutral and have both positive and negative qualities. And, I feel, that by looking at these qualities within the two characters could give us an indication of how we are being urged to change our inner selves to a more content and happy way of life.
On the surface the Knight of Cups does not look as brave as his Wands and Swords counterparts who can often be seen charging fearlessly (or recklessly?!) in to situations, but, I often think the Knight of Cups is the bravest knight of all as he is not afraid of revealing his true essence and soul. The cup he is holding in his hand reflects his own emotions and feelings and he seems content to share them with others. His trusting and loving nature is a beautiful aspect of his character and it is one that many of us do not feel we have – especially as we get older, having learned to hide away our true feelings or reject love in our lives due to hurt and disappointment in our past which may have taught us not to be so open and trusting.
The Knight of Cups reminds us of the unconditional love that lives within all of us, but, when he arrives in a reading it suggests that it may be time for us to step outside our comfort zone and show this hidden side of ourselves too. One thing to note is he is protected by his armour which suggests that he is not quite as vulnerable as first thought, and neither are we. He represents a younger or inexperienced person, and some could say his qualities are naïve or foolish, but, imagine a world where everyone was loving, caring and kind to each other. Is that such a foolish, naive thing to want to be a part of?
In comparison, the King of Pentacles is showing a more mature person. His clothing and surroundings are green – the colour of the hearth chakra. He is portrayed as someone who has obtained all that he desires in his world. This can be seen negatively in the characteristics of people who like to have the finer things in life or those who place their happiness in riches and material goods – whether they can afford them or not. But, our King of Pentacles in this particular card clearly has his feet on the ground and seems to be in touch with the earth. The presence of crystals, especially his clear quartz staff that he holds in his hand, makes me feel he has his priorities in order (any man that shows an interest in crystals is ok in my opinion!)
Staying with the theme that these two court cards are working with Archangel Raphael to show us ways we can heal and enhance our heart chakra, the King's message is to be content with and value what we have. To find true contentment and appreciate all the good in life is not something we often do as there is always something more to strive for or other people to be envious of.
The King of Pentacles is asking us to imagine a world where we are truly happy with our self, our achievements and our place in the world.
Collectively, Archangel Raphael, the King and the Knight are sending a message to allow love and contentment into our hearts. And to do this may take some changes and the need for healing within our heart chakra, but, this card combination is allowing us to dream that it is possible.
Imagine that!
---
Copyright © 2021. ClaireChilvers.com. All Rights Reserved. Privacy Policy.
Website Designed & Hosted By C@rrie – 07710443223.