Free Weekly Tarot
my gift to you
Your cards for the week commencing 26 April 2021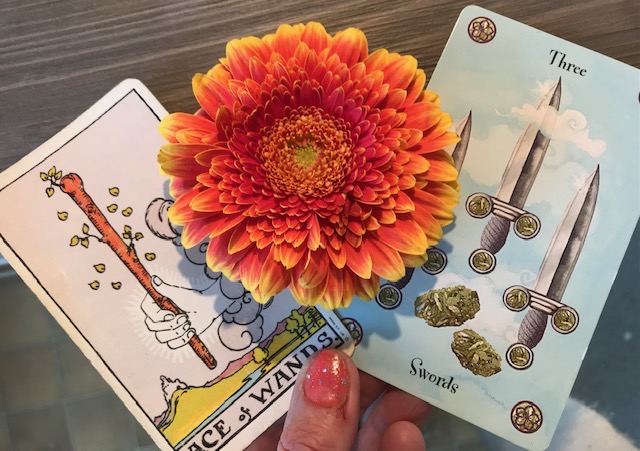 Ace of Wands and the Three of Swords
We have an incredibly powerful Super Full Moon in Scorpio this week, which is the first Supermoon of 2021. For me, I feel the Ace of Wands is representing this energy that this shining down on us. The hand in this picture is shining brightly in the sky and passing on to us its pure energy. If we tune into this energy it will give us focus and determination to concentrate on what is important to us and how we want to use our own energy. I am also drawn to the castle on the hill in the distance of this card, which feels like a reminder that we all have one eye on the future and what we want to do with our lives.
As we approach the end of the first third of 2021, this week will be an excellent opportunity to review what we have been working on through these last four months but, also, the Ace of Wands is reminding us to concentrate our energy and not spread it too thinly. If we have a vision of our own version of the 'castle on the hill' then we still have a way to go to get there, so full moons are always a good time to let go of what is not serving us and slowing us down or holding us back.
The message for us with this first card is to channel our energy, whether that is to tune into the moon or to prioritise your projects, workload or daily routine to concentrate on the things that are most important to you. This is an important exercise for all of our well-being.
Our second card this week is the three of swords, which seems to follow on from our five of swords that was present last week. Swords represent thought and what is going on in our minds. This is the second week that we have been encouraged to slow down as we journey through Taurus season and, I am sure a lot of you will agree, it has been a welcome change of pace to the busy energy we were working with beforehand.
Consequently, when we slow down we have more time to think things through which can be a good or bad thing. If you need time for your mind to catch up and process all that has happened this year, it can feel like a benefit and welcomed. However, if you are prone to overthinking, worrying or anxiousness then thinking time can be somewhat of a hindrance especially if you can dwell on regrets, mistakes or focus your mind on what you haven't done instead of what you have achieved.
One thing to bear in mind is that threes in the tarot are a time of growth and when it shows up in the swords it can signify a period of expansion of the mind. Whether you enjoy thinking time or not, I feel that for all of us there will be a "Eureka" moment or a breakthrough in our thought patterns which can help us for the future.
Combining this growth of mind with the energy that we are being offered by the universe is a fantastic combination this week for us to regroup and pursue our dreams.
I hope you have a wonderful week and don't forget to tune into my Facebook page @clairechilverstarot on Monday for the Super Moon Facebook Live tarot reading at 7.30pm (UK time).
Bye for now
---
Copyright © 2021. ClaireChilvers.com. All Rights Reserved. Privacy Policy.
Website Designed & Hosted By C@rrie – 07710443223.