Free Weekly Tarot
my gift to you
Your cards for the week commencing 24 October 2022
Welcome to this page which is packed full of complimentary tarot readings for everyone to enjoy. I hope you find these resonate with you and are helpful in some way.
If you would like your own personalised reading from me, I can provide readings via email or video links. Please click here for more details.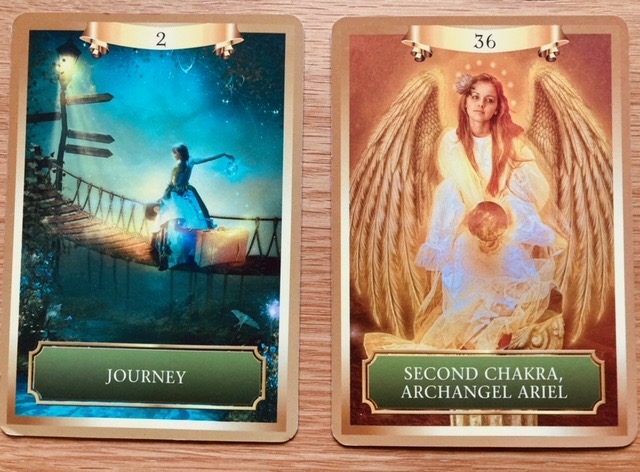 Journey and Second Chakra, Archangel Ariel
I chose Energy cards to pick our message for this week and when I saw the first card it made me think of old fashioned Fortune Tellers in little huts by the seaside.
"You're going on a journey…" said the mystical, old lady voice in my head as the card stared back at me. And, my immediate response was, "Well, any place is better than here!"
Don't get me wrong, I love my home and the people in it, but for me (and I think the collective) times have been a little hard of late. There is the low vibrational energy that is spilling into our everyday life of anxiety, worry and doom which is often magnified by the news, social media and the uncertainty of the world at the moment. On a personal level as well, there seems to be a lot of very definite endings that are taking place which are difficult to deal with. For me, I am dealing with the loss of a loved one, whereas many of my friends are dealing with struggles in their own personal life be it health issues, relationship break ups and redundancy. I also know, from the many lovely comments that you leave on my Facebook page and YouTube channel, that many of you are going through some huge "stuff" at the moment too; it certainly is a very challenging time in many ways.
And here is a card, inviting us to pack up our troubles and take to the road. Shall we? Where would you go? Would you make a physical move to a new location? Would you take the current people you live with along too?! Would you take a break from your current routine and go travelling or visit family and friends back in a place that you once called home?
Have a look at the lady in the picture, where do you think she is going? At first, I thought she was walking to the left, but, then I realised she is looking at the signpost and deciding her next step before she moves to the right. The three signs pointing to the right where she is going say, 'Crossroads', 'Scenic View' and 'Curious Town'. Which one resonates with you the most? Are you stuck and not sure of your next step? Are you just coasting through life enjoying the scenery? Or are you wondering what life would be like if you were somewhere else?
Take a moment to ponder which of those options you would avoid and why? Do you evade making decisions that would take you in a different direction? Do you rush through life and never take time to stop and enjoy the view? Or do you close your mind of to the possibilities of new experiences?
We often make our decisions based on what we are most comfortable with but this card is suggesting we have options. So which option will you take?
It is comforting to know we are not alone whilst deciding this, as an angel is standing by to accompany us. Archangel Ariel oversees the protection and healing of not just humans, but all the animals and plants on the Earth – never was an Archangel needed so much at the moment.
Ariel helps us connect with nature and to find ways to appreciate and preserve it too. She is also known for encouraging us to be "all that we can be" and I feel in her dreamy expression that she is thoughtfully piecing together a brilliant idea of how we should enhance our lives. Perhaps that is the purpose of the journey she has been assigned to escort us on?
This card is also linked to the second chakra, the Sacral Chakra, which is symbolised by the orange ball Ariel is holding in her hand. The Sacral chakra is linked to our pleasures and enjoyments in life. In these turbulent, transformational and traumatic times it can be easy to forget that we also can experience pleasure and enjoyment, but, of course we can. We can find pleasure and enjoyment in the smallest of things and I feel the message here is that we can often remember who we are when we journey away from our normal environment – even if it is only for a day.
The reality is we are on a journey from the moment we arrive on this planet. None of us know how long the journey is, where it will take us or when it will end. But our angels are looking over us and protecting us and encouraging us to try new experiences and be the best version of ourselves as we go along our path. They even give us little signposts to help us along the way and we need to be in a positive frame of mind to take notice of them; we need to be as carefree and adventurous as the lady in the Journey Energy card – otherwise we can very often find ourselves going down the wrong road.
So, whichever signpost you choose I hope that it leads you to experience happiness, excitement, adventure and fulfilment as you experience your unique and special journey through life.
---