Free Weekly Tarot
my gift to you
Your cards for the week commencing 24 April 2023
Welcome to this page which is packed full of complimentary tarot readings for everyone to enjoy. I hope you find these resonate with you and are helpful in some way.
If you would like your own personalised reading from me, I can provide readings via email or video links. Please click here for more details.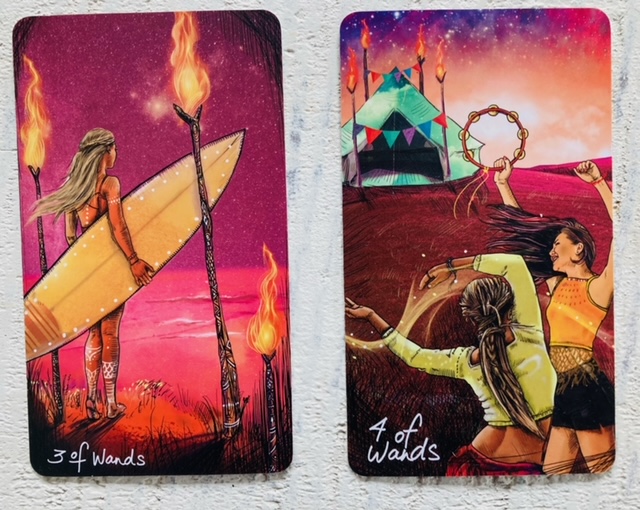 Three of Wands and Four of Wands
Despite shuffling profusely before picking two cards, we have the perfect order of the Three and Four of Wands this week. I feel that gives us the message that we are heading in the right direction and there is a certain order to our lives too.
I am also 'fired up' by the fire in these two cards and as I began to type these words I heard the Take That and Lulu version of, Relight My Fire start playing in my head, specifically the lyrics;
'You gotta be strong enough to walk on through the night
There's a new day on the other side
You gotta have hope in your soul
Just keep on walking.'
As I look at these two cards now, I am imagining the ladies in the Four of Wands singing this to the lady in the Three of Wands! My imagination is showing a scene where the young surfer is about to push herself out of her comfort zone and attempt something daring that she hasn't done before. Beside her stands her peers, loved ones and all the people who love her cheering her on, saying 'You can do it! Good luck!' These people have also put the bunting out, ready to celebrate when she returns.
So, this week, take these cards as the universe cheering you on and excitedly watching you push yourself forward.
I am becoming to realise, more and more recently, that we are never really on our own. The support that I am feeling from the universe and how it is materialising in my every day life through messages, songs, random posts on social media or chance meetings and conversations, feels like I am seeing sign posts everywhere to 'just keep on walking' (as Lulu said earlier!).
And this is the message that I want to pass on to all of you this week. Trust that you are being guided and that (even if you feel alone) you are supported, loved and an important part of the universe. There is a sense that change is coming, but, on a collective level it seems that many people are waking up to the fact that they have so much more potential than they previously thought.
Passions, purposes and pathways are opening up for each individual and in the wider world. This seems like an exciting time ahead. Although, none of us truly know where our future lies, it seems that hope is guiding us to bravely go forward and find out. These smaller numbers in these cards signify that there is far more to come for us and this is only the start. But, don't forget that life is all about enjoying the journey – not rushing to the end destination – so enjoy each step.
I am wondering whether the Three of Wands is showing someone who has never picked up a surf board before in their life and is trying something new? I can certainly resonate with this as I will be taking part in my very first yoga class this week. What will you be doing this week for the first time? And, if the answer is 'nothing', then maybe you should have a think and see what you are being called to do. And, of course, don't forget to celebrate when you do it!
---