Free Weekly Tarot
my gift to you
Your cards for the week commencing 23 January 2023
Welcome to this page which is packed full of complimentary tarot readings for everyone to enjoy. I hope you find these resonate with you and are helpful in some way.
If you would like your own personalised reading from me, I can provide readings via email or video links. Please click here for more details.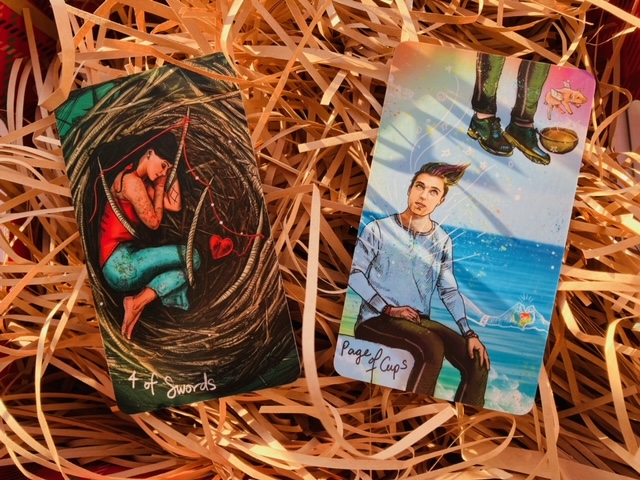 Four of Swords and the Page of Cups
For the next couple of months, all planets will be stationed direct which suggests that we are going to start moving forward and our lives will pick up pace a bit more than they have been. Personally, I feel I am not quite ready to go back to a quicker pace of life as I have embraced and enjoyed the opportunity to be slower, restful, relaxed and still. And, these two cards indicate that I may not be the only one as the Four of Swords is showing us a young girl, curled up in a nest and the Page of Cups who is sitting peacefully by the ocean daydreaming. So, perhaps there is a message for us all about going at our own pace from now on?
As I looked at these two cards I got a message come through, "Allow yourself to heal; allow yourself to feel." This sums up what the retrograde period we have just navigated ourselves through was all about. And, as we emerge into the refreshing new energy that is being offered to us, I feel that we will be all the better for it as we begin to contemplate where we go from here.
One thing I love about these tarot articles is when two random cards come our which have a connection. For these two cards the connection is the heart. The young girl has a heart in her nest with her, but, it is on a string. Perhaps this is why she has needed to retreat and rest – have too many people been tugging at her heartstrings and exhausted her? Is this something that you resonate with? We all have experiences with people who have ways of making us feel guilty, unworthy, unloved or even angry and hurt. I feel this girl has retreated in order to heal. The Four of Swords is a period of stillness and, although it often appears because our emotions or energy are spent, what we are actually healing is our mind.
This new year (of which we are only a few weeks into – although it seems like more!), is a year when we are going to learn about the repeating patterns which we get ourselves into and have the opportunity to not make the same mistakes again. When you are ready to emerge from your own comfy nest, I feel this will be very relevant for you. The reason why can be seen in our second card, the Page of Cups.
As I mentioned above these two cards are connected by the heart symbol. We see the outline of hands behind this character making the heart gesture, but, not only this there are white lights radiating from this young man's heart chakra and being sent out to the world. This Page is sending out love and positivity to the world and he doesn't even know he is doing it – it comes so naturally to him. I feel he is the sort of man that restores our faith in human nature because of his kind, caring and thoughtful disposition.
As I am writing this article, I am being drawn to the Pages imaginative mind and, like him, am drifting off to a fantasy world. I am beginning to wish that these two characters could meet as they would be so good for each other. The Page would teach our Four of Swords heroine about true love and the positive way in which people can use their emotions. Whereas the Four of Swords girl may help the Page be a little bit more grounded and keep him slightly more focused than he normally is.
There are people out there who are good for each other, and I feel this is what this week's cards are reminding us. This could be in a romantic way and these cards could be suggesting that your perfect soul mate is definitely out there somewhere, even if you haven't quite found them yet. Or, it could be a friendship, business partnership or mentor – any two people who inspire, help and are good for each other.
However, these partnerships resonate with you, it is certainly a very positive message. So, once you start tapping into the forward motion energy and feel yourself setting intentions of how you want your life to be from now on, don't be surprised if someone comes into your life to help, encourage or assist you in making that happen and, in turn, you have the ability to do exactly the same for them.
---