Free Weekly Tarot
my gift to you
Your cards for the week commencing 23 August 2021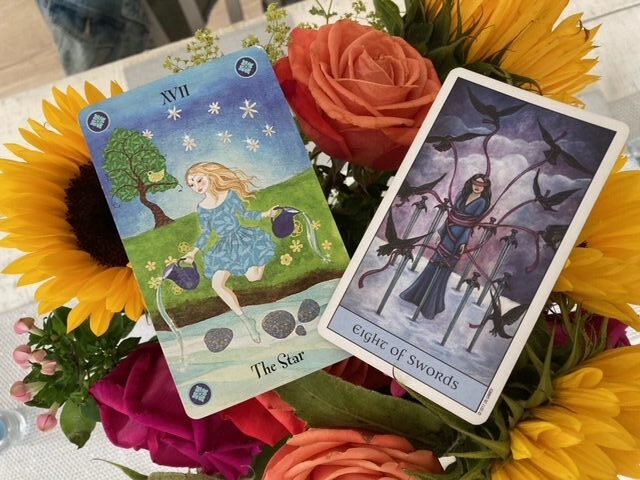 The Star and the Eight of Swords
The card pairing that has appeared this week show two beautiful women in two very different scenarios and I felt that they are both urging me to see the similarities between them.
But at first, other than the ladies being in blue dresses, I couldn't see anything that connected them. Then I noticed the eight stars twinkling like shiny flowers in The Star card and then, in comparison, saw the eight black crows that were present in the Eight of Swords.
The stars appear hanging in the sky with nothing but space and time between them. Whereas the crows are keeping themselves in a very small position because they each have a ribbon that is wrapped around the lady restricting her, but, in turn keeping them in the same little space.
The Star is suggesting our universe is limitless, whereas the Eight of Swords is reminding us that we can feel very constrained within it in our human world.
So which one is right and which one is wrong? Or is the life that we experience a mixture of the two scenarios.
I feel the message from The Star is to 'Think Bigger'. There will always be situations when our time or actions are limited and we feel that we have limited choices available to us. But it is important to remember that is just our circumstances, rather than who we are. We as divine beings can accomplish anything and overcome any obstacle if we choose to.
Take a look at the Eight of Swords lady again. If you were to offer her advice on how to free herself from this position, what would you suggest? She must here the crows squawking around her, if she shouted and jumped up and down would they flee in fear? Could she wriggle herself to a sword and use it to break the cords? You may have a different idea to me, but, the fact is there are many options available to her to get out of that situation. Perhaps in every situation we face there are many possibilities open to us, and that message is not limited to just The Star card?
One thing is for sure, the presence of The Star card this week and The Tower card last week is a reminder that our worlds are starting to shift a little. Coming up in September and October there are some major planetary shifts too. And, although the universe seems quite keen not to give us spoilers as to what's in store, it is important to hear the underlying message that anything is possible for all of us. And no matter how trapped or restricted you may feel remember that also applies to you!
I wish you all a very pleasant week and will send another message next week.
---
Copyright © 2021. ClaireChilvers.com. All Rights Reserved. Privacy Policy.
Website Designed & Hosted By C@rrie – 07710443223.