Free Weekly Tarot
my gift to you
Your cards for the week commencing 22 November 2021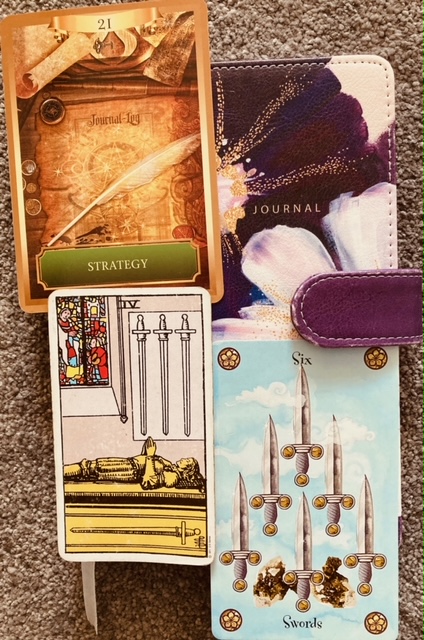 Strategy, Four of Swords and the Six Swords
We are now navigating our way through an Eclipse season, and some of you may be feeling the intense energies that these bring. Unfortunately for me, the powerful eclipse energy came in the form of a migraine and left me drained of energy and in pain for a couple of days, which was incredibly frustrating as I had so much I wanted to do that had to be put on hold.
I am not mentioning this for sympathy (although thank you to all of you who sent me Get Well wishes!), but, it seemed so relevant when I pulled the Four of Swords for us all this week. Sometimes in life, whether we plan to or not, we have to rest. It may be unplanned if we are ill or events get unexpectedly cancelled leaving us with nothing to do. It could be a chosen rest when a holiday is booked or a date in your diary to prioritise your self-care such as a spa break or maybe even just a duvet day!
We can often sense when we need a rest, and if we ignore it our body usually lets us know in its own unique way. With the Four of Swords I am drawn to the fact that there are three swords looming down on the person while they rest, and one is very much encased with them in the yellow tomb like structure he is lying on. I feel the message here is very much listening to your thoughts and allowing yourself time to rest when necessary as the swords are closing in around the person and cannot be ignored. In the window of this card is a beautiful stained glass window. It is illuminated, presumably, by the bright sunny day outside. However, this day cannot be enjoyed thoroughly if the person is not in the right frame of mind to do so.
It is interesting that accompanying our tarot cards this week is the very sensible energy card called Strategy. Within this card a journal, a compass and a quill are shown giving the message that we have to journal our thoughts to make sense of them and to help us navigate our future.
Are you able to make sense of your thoughts and plan for the future? Or do you not have time to think about all that 'bigger picture' stuff? Sometimes day to day life is so exhausting we are lucky to get a moment to think about anything at all! But the Strategy and Four of Swords are giving us the message that this needs to be prioritised too.
We all deserve time to check in with ourselves or to have a moment of meditation or contemplation to ease our minds and bodies back to balance and keep in a healthy, positive state. This week the message is to find a way for us all to do this, heck, if we made an effort we might even manage to do it every day! Now, that would take strategy for some of us, I'm sure!
But, it is important to remember that prioritising yourself is not selfish, it is necessary. We have all had that feeling when we have agreed to be somewhere or assist in a project or use our time and energy in some way and our gut feeling is trying to let us know that it is not serving us well. We have all tried to reason with our instincts and said things like, "It's OK, I don't mind, really", when our intuition is shouting at us "Yes we do mind – say NO!"
This can be a hard thing to master, but, it helps us protect our energy. For me this week I had to cancel my Facebook Live Tarot Reading which upset me as I enjoy these monthly events and do not like letting people down. But to host that event would have used up an awful lot of my energy that I just didn't have to spare and, although going to be at 7 o'clock on a Friday night isn't the trendiest thing to do, my intuition was crying out for me to do it.
Sometimes doing the right thing for you, does mean that you cannot be there for others, but, if it feels right try not to judge yourself too harshly or feel too guilty about your choice.
The last card I have pulled this week is the Six of Swords. And look at these swords in comparison to the swords of the number four card. They are upright in a clear blue sky. They are in a perfect formation and seemingly working together for a common goal. As these are the beautiful Crystal Tarot cards by Philip Permutt, they are accompanied by a crystal which is Chalcopyrite. Philip writes that this crystal "increases the flow of chi, the life force energy running through your body". How appropriate that this card should appear after the messages of rest and recovery given to us by the proceeding two cards as it is obvious that if we listen to their message our life force energy will be enhanced as a result.
Eclipse seasons are a time of inspiration, transformation, illumination and revolution. We need to be in the right frame of mind and our bodies need to ready for it. So this week listen to your mind and body and do what they are telling you to do, because, sometimes we are our own worst enemy! As we go about our lives, our intuition is tapping into the wisdom of the universe and tuned in to the immense energy that is around us. If you want to be part of this then finding some much needed time for you to check in with your mind, body and soul will be essential.
Wishing you all a lovely week and I will announce a re-scheduled date for my tarot live reading very soon.
Claire
x
---
Copyright © 2021. ClaireChilvers.com. All Rights Reserved. Privacy Policy.
Website Designed & Hosted By C@rrie – 07710443223.