Free Weekly Tarot
my gift to you
Your cards for the week commencing 22 March 2021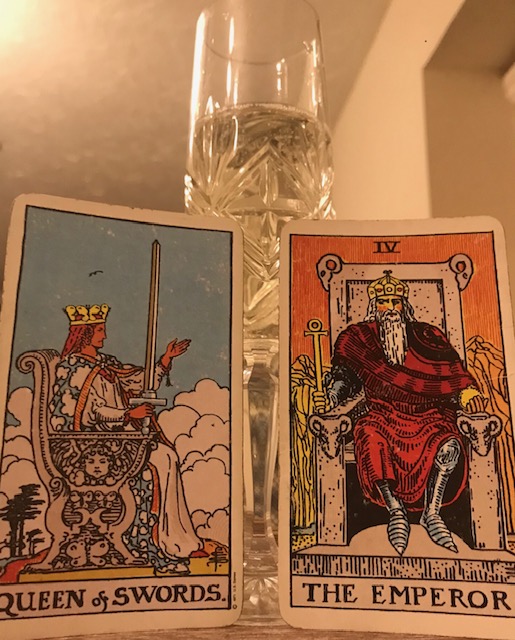 Queen of Swords and The Emperor
Wow! What an awesome pair to welcome us into this new astrological year. My first feeling was that we are certainly being pushed into action and these two combined certainly won't be listening to any excuses or procrastination.
I was drawn to the Queen of Swords' position, high above the trees and level with the clouds. Now some will tell you that this elevated position makes the Queen a little unreachable and aloof and it can suggest someone who prefers to be alone or someone who is naturally independent. And all of those attributes are certainly true of the Queen of Swords – which some see as slightly negative personality traits, but this week I see these as a wonderful inspiration for us as we move into this new 2021/2022 energy.
The reason this is positive is her unreachable aloofness means she does not suffer fools or waste time with people that do not understand her greatness or make her feel uncomfortable. She has risen to the status of Queen by believing herself to be worthy of the role and (as most of us know) on the journey to the top of the 'self-belief mountain' that the Queen has ascended to, there are often many people along the way who try to steer us of course or keep us on the lower levels where we cannot use our full power!
So what is the Queen's message to us this week?
It is to remind us that there is nothing wrong with having high expectations for ourselves. There is nothing wrong with wanting to climb to the top of the mountain and shout out to the world below how awesome we are.
We, like the Queen of Swords, have known hardship, adversity and loneliness or have dealt with others being unkind to us so we are kept 'in our place', which is invariably a place far away from our potential or dreams. The Queen reminds us that with the right mind set we can get to where we want to be. She carries a harsh sword of truth which is always upright and she never drops to her side. That truly is a double edged sword she carries, as she recognises how important it is to be true to ourselves but by swiping away the negativity from others or from our own inner demons it can mean we have to distance ourselves to focus on the bigger picture.
I've often thought that the Queen was lonely on that cold mountain, but, I can see that she has company and she is beckoning to her good friend, The Emperor, who also sits high up in the harsh terrain on his own throne. Like all mountain ranges, they seem to have their own micro climates, and whereas the Queen's sky is blue (to match her clear and vibrant throat chakra), The Emperor's backdrop is one of orange. The colour signifies the fire within him and the sacral chakra which channels our passions and ambition.
The Emperor is linked to the sign of Aries which we can see by the Ram's heads adorning his throne. It is no coincidence that we are moving into the sign of Aries this weekend. As we move away from the dreamy, creative energy of Pisces, I can feel a surge of energy that only Aries and The Emperor can give. Coupled with the fact that we currently have no planets in retrograde, I would not be surprised if you felt that life was beginning to move a bit quicker.
You may notice projects in your life that have laid dormant suddenly kick back into action, or feel an urgent need to clear out your cupboards or put your paperwork in order. Of course with lockdowns starting to be lifted, we may also dare to start planning ahead and getting organised for the months to come, whether that be meeting friends, planning a wedding that has been on hold for months or maybe just stepping outside your house for a walk for the first time in months after shielding.
The Emperor plans his life with military precision, he is the embodiment of control and order and he expects the same of his soldiers. He is reminding us that we have much to do and need to start getting on with it. This is the start of the astrological year and, as with all New Years, he is urging us to set intentions, make plans and take action. And he has enlisted his exceptional colleague the Queen of Swords, to reassure us not to worry about what others think and to acknowledge it is perfectly acceptable to aim high, in fact it is our destiny.
Now, just a word of warning before you set off…these two combined are giving off a BIG energy and giving a BIG message. The energy that we are currently dealing with can be inspirational, but also a little exhausting. And whilst some of you may well be planning to climb an actual mountain and join the Queen and The Emperor, that doesn't mean we all have to.
As we march into this New Year we must not forget how incredibly difficult and challenging the last astrological year was and many people are still coming to terms with the repercussions of this. So when you embrace this energy and make your plans, make sure they are realistic to you and not to please others. If your big plan for the week ahead is to get out of bed, have a shower and get dressed then give yourself a huge round of applause when you achieve that. We all have goals in life and they are special to us and no one else.
The Queen of Swords and The Emperor are taking us all under their wing this week and their joint message is for us to be incredibly proud of ourselves (even if that makes us a little aloof!) and never stop making plans to enhance our lives for the better. Whatever your intentions are for this week and the year ahead, I wish you lots of love and luck.
---
Copyright © 2021. ClaireChilvers.com. All Rights Reserved. Privacy Policy.
Website Designed & Hosted By C@rrie – 07710443223.