Free Weekly Tarot
my gift to you
Your cards for the week commencing 22 February 2021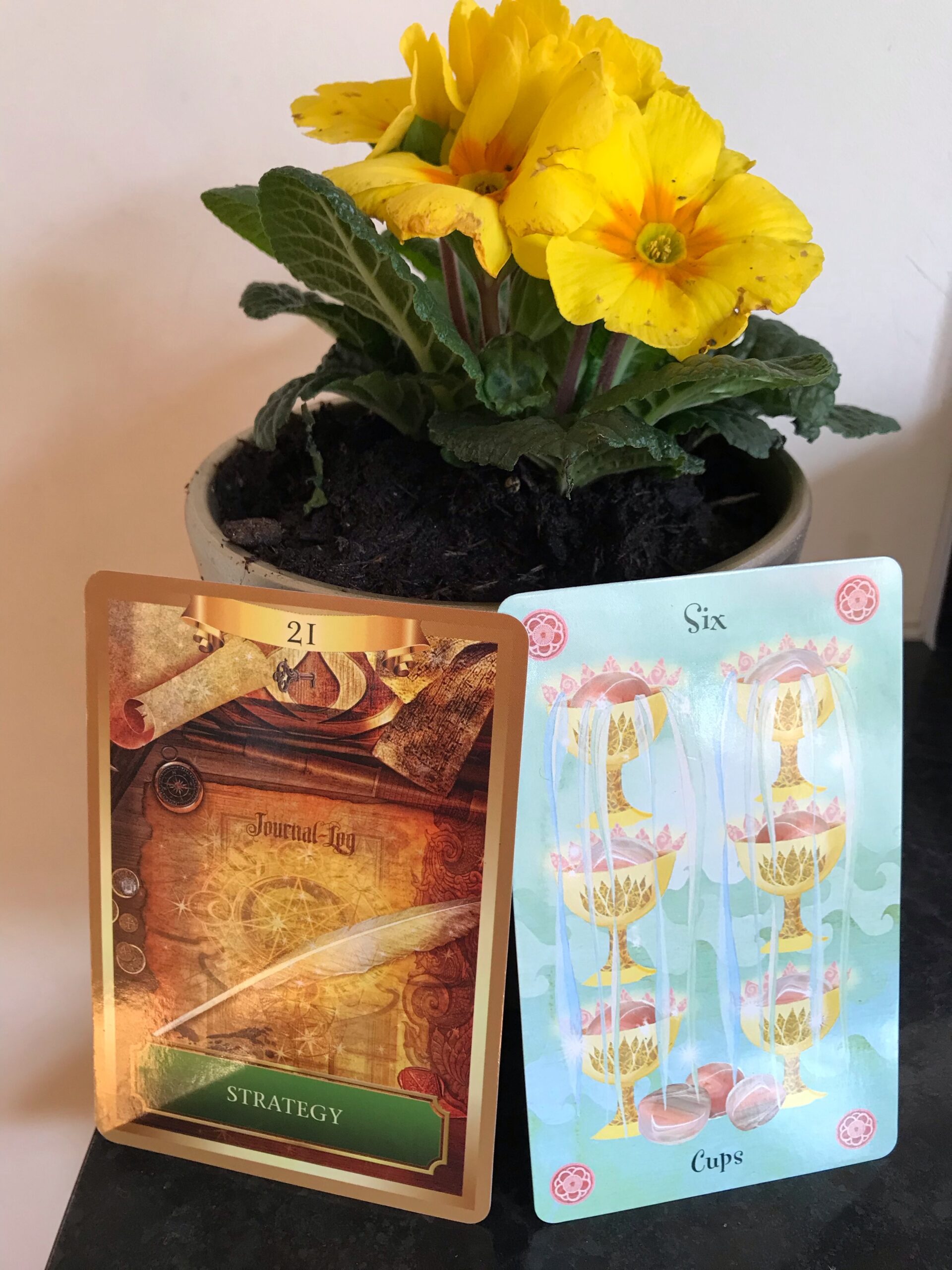 Strategy and the six of cups
We have just come out of a period of Mercury in retrograde. Mercury turned direct yesterday. It takes us a few days to process all that has happened in the weeks while it has been in retrograde (it started on 30 January), so, if like me you are needing to take some time to get your head back in order then 'Strategy' is the perfect card for you.
The card Strategy is from a pack of energy cards that I have recently started using. The card shows a journal and feather quill, a key and a compass. Over the last few weeks you may have felt frustrated by set backs in your life, or overwhelmed by the enormity of tasks that you would like to achieve. It can also make you feel a little lost and not quite in control of your own life. Retrograde period can also force us to slow down and lead us to examine areas of our past that we don't particularly want to think about and this can be painful, but, necessary. The period can make us ask difficult questions of ourselves and look at what our triggers are that cause our behaviour. We all have triggers that drive us forward or that cause us to give up and retreat, they can come from our desire to follow our soul's path or they can be shadows from past relationships or our childhood that stop us in our tracks. Learned behaviour is often challenged during the Mercury Retrograde, and this is not to cause us harm but to help us to grow and move forward.
We often come through these retrograde periods a little bruised and battered, disorientated and confused. But, this is where the strategy card is encouraging us to journal our thoughts and feelings and begin to make a new plan for the new improved version of yourself that has emerged.
The six of cups is echoing this sentiment. The watery emotions spilling out of the cups shows we are being urged to let them flow, rather than storing them up inside us where they can fester and cause us anguish. For me, the six of cups represents a point of our lives when we have examined our past in detail and are now hoping to find a place where we feel more emotionally content. This does require effort though and can be a little exhausting. When this card appears it is encouraging us to look back to move forward, this can include Past life regression, seeking counselling for past traumas or embracing your inner child. Once we make sense of our past, it helps us recognise what we want for our future and what behaviours, patterns or situations no longer serve us.
This week may take us on a journey of soul searching and answering those questions, and, if it does you are being urged to journal them which can channel you into focusing what is really important in your life.
At the end of this week we have a Full Moon. This Full Moon is the last of this astrological year. Full Moons are a perfect time for us to let go of all that no longer serves us and to create space for wonderful new energies and pathways that will be made available to us for the astrological year ahead.
So, whatever challenges or delays you may have been faced with these last few weeks, remember, it was always for the higher good and occurred to help you steer yourself in the right direction.
Wishing you all a lovely week, and, remember I will be on a Facebook Live picking cards for participants on Saturday 27th Feb at 5pm (UK time), which will be a wonderful opportunity for us to connect on this powerful and cleansing Full Moon. I hope you can make it.
---
Copyright © 2021. ClaireChilvers.com. All Rights Reserved. Privacy Policy.
Website Designed & Hosted By C@rrie – 07710443223.