Free Weekly Tarot
my gift to you
Your cards for the week commencing 21 November 2022
Welcome to this page which is packed full of complimentary tarot readings for everyone to enjoy. I hope you find these resonate with you and are helpful in some way.
If you would like your own personalised reading from me, I can provide readings via email or video links. Please click here for more details.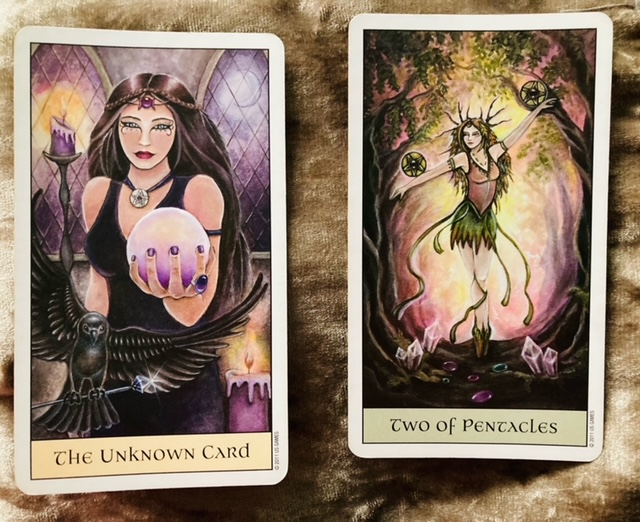 The Unknown Card and the Two of Pentacles
In this particular pack of tarot cards there is an extra card and it has put in appearance for us this week. At first, it may seem that the tarot cards are snubbing us and purposely not giving a message. But, the fact that our future is "unknown" is a given and we often have to work with surprising, dramatic, chaotic or explosive unforeseen events and navigate our way through the aftermath of them.
The first few years of the 2020s were impossible to predict and with the world hovering with so much uncertainty it is a repeated message everywhere that our future is unknown. The spiritual and intuitive amongst us can feel that more than most, and, it can sometimes be overwhelming to have to go through life sensing the unease, anxiousness and apprehension of other people and having it seep into our own thoughts and feelings, depleting our energy and moods.
The lady in the card is holding out her crystal ball and, if we take it that she is trying to predict something for us, then it could be incredibly frustrating that we are not finding out what that is. However, as I stared at this card, I was reminded of a ritual that I was told about by the renowned crystal guru, Philip Permutt, when I attended one of his crystal healing courses.
Crystal balls are a wonderful source of healing. By looking into a crystal ball and focusing on a problem you have or a particular issue you are having with a person, over time – if repeating the exercise everyday – the issue begins to fade and not be a source of anxiety in your life. Better still, you – and any person you have issue with – will also receive healing. This is something I have done many times and it works, so when I see this card I am not hung up on The Unknown, because I know even the most difficult situations that arise are only temporary and pass with time.
The Two of Pentacles accompanies The Unknown card and this lady looks beautifully controlled as she balances on the tips of her ballet shoes and effortlessly rolls two pentacles up and down her arms. We all have this juggling act in our lives at some time, and as we move into a lighter, more joyful Sagittarius season, this a message that we may still have to do more than one thing at a time, but, the message here is that we are becoming masters at it. As we can see, with practice, even the most difficult of tasks get easier. The number two in a reading often suggests the first stumbling block in a journey, but, any minor blip or stumbling block should be seen as a challenge to overcome, rather than a sign that we have to give up.
We are capable of great things and it seems that now is the time for our talents to be shown to the world. Our first card is reminding us that our soul will guide us through the unknown, if we take time to nurture ourselves and not let worries overcome us and our second card is reminding us that even when we think we aren't coping very well, someone else can look at us and think we are a skilful, beautiful, awesome person to be admired. It's about time we started thinking that about ourselves too!
---