Free Weekly Tarot
my gift to you
Your cards for the week commencing 20 June 2022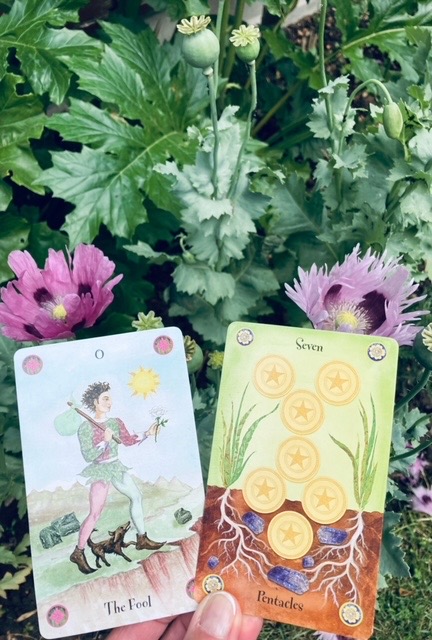 The Fool and the Seven Pentacles
Firstly, before I start this reading, I wanted to say a sincere thank you to all the people who have sent messages of love and healing to my dog, Poppy. I was so touched and overwhelmed by the level of support and have certainly felt the healing energy around as I have visited Poppy in the vets this week. Poppy is due to see an internal medicine specialist on Tuesday, so, please keep her in your thoughts and prayers as we work with the medical professionals to get to the bottom of what is causing her to be ill. Thank you.
Obviously, animals were on my mind when I picked the cards for this week and I had intended to use my Spirit Animal pack to give a reading this week. It took me a few moments to realise that these were, in fact, my Crystal Tarot pack by Philip Permutt, but, despite this a cute little dog has appeared in the reading anyway.
The dog, with its human companion, are walking towards a cliff, the dog can sense danger but the human is oblivious – which is often the way in life as humans can be too caught up in their own little worlds to see what is really going on right in front of them!
This card has appeared for us as we are about to move into Cancer season and I can't help thinking that as the human and dog take a leap of faith of the cliff they will be plunged into the watery depths of emotions that the Cancer season can often bring. I feel that the message here is that we are all entering a new era within our life and, as we swirl about in the turbulent currents which sweep us further and further away from the safety of the cliff we left behind, there will be a realisation that things will never be quite the same again.
Having a sudden and unexpected change of circumstances or events can feel unsettling and you can approach it with a yapping nervousness or feel astonished and shocked having no previous idea that it was about to occur. Regardless of how new events shows up for you this week it seems apparent that we will be plunging into unchartered territory which may make us feel a little out of our depth. One of the survival tips that is given by the coastguard in the UK if you find yourself in deep water is not to panic, but, to float on your back, keep calm, breathe and wait for help to come. Possibly this may well be a helpful hint for us all this week too – don't panic, help is on its way!
The Fool is accompanied by the Seven of Pentacles this week, which has a nice grounded feel to it. Sevens are associated with wisdom which feels as if it is a much needed support card to our naïve Fool. The pentacles are shown as seeds, the first buried deep in the ground and the subsequent ones have stacked themselves on top of it to break free of the soil and take their place in the sunshine. At this time of year I am starting to see the same occurrence appear in my own garden. Seeds that I lovingly sowed many months ago are finally being taken out of my greenhouse and planted in the ground to flourish and flower in the summer sun. These plants were just an idea back in the winter confined to a vacuum packed packet, but, with patience, time and care they are suddenly coming into their own and being the best versions of themselves – no longer confined to a small pot, they can spread their roots and grow as big as they want to.
The Seven of Pentacles gives us two messages here; firstly, that in our own lives we planted seeds of aspirations earlier in the year of how we wanted to grow personally (be it within our career, home lives, emotionally or spiritually). As the Seven of Pentacles combines with The Fool it is a reminder that for us to achieve our aims the universe has to shake up our lives a little and put us where we need to be (just as I placed the seeds from their pack to the compost). So if life is changing, it is necessary and part of divine timing and all part of the grand plan. The second message I feel the Seven of Pentacles is giving us is that in order for us to grow we also should not be restricted to a small pot and are now being moved into a bigger situation in order for us to develop and mature in ways that were not possible before.
Interestingly, last night I was disturbed from my sleep by a powerful thunderstorm, the lightning was lighting up my room and the thunder sounded angry and threatening. I felt a message come though that this was breaking the tension and changing the landscape. It should have felt scary lying in my bed alone (without even Poppy for company), but, I felt strangely comforted by this storm and the message I was given. It felt very much like it was a message to the collective – we are all experiencing the same life changing synchronicities and, consequently, can all support each other as we feel our way through this new world that is emerging.
Whatever happens in your week ahead, I wish you lots of love, light and healing.
---