Free Weekly Tarot
my gift to you
Your cards for the week commencing 20 December 2021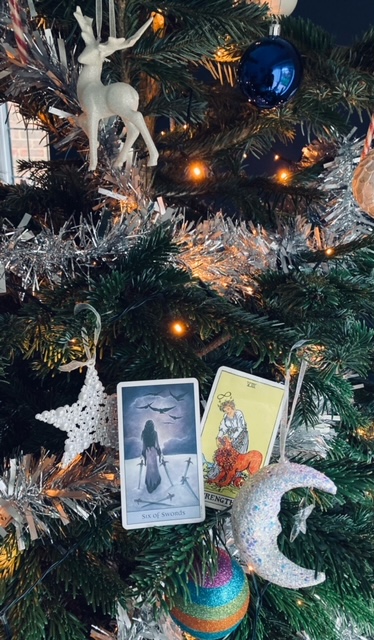 Six of Swords and Strength
Nestled between the branches of my Christmas tree are our final cards for this year, the Six of Swords and Strength.
The Six of Swords sees a lady casually dropping and walking away from a collection of swords which, we assume, she has carried around with her for some time. The landscape looks bleak and cold, the clouds dark and ominous and the crows that fly towards her seem to be soaring straight for her line of sight to draw her attention to them. But, although I cannot see this lady's expression, I can feel by her upright stance and way that she has calmly released her grip on those swords that neither the atmosphere, nor the presence of a mob of crows is going to stop her on her journey. She is focused on the light in the distance where the silver lining peeks behind the dark clouds. The horizon can sometimes seem unreachable, but, this does not faze her as she calmly and purposefully walks towards it.
Accompanying this lady is Strength which, in contrast to the cold and drab scene of the Six of Swords, is brightly coloured and striking to the eye. For me, this card signifies the inner strength of the lady in the first card. We all have strength within us, but, it does not make itself known while we are sipping cocktails on holiday or being taken out to dinner. Strength shows up in times of adversity, when we are recovering from illness or walking away from a toxic environment to start afresh somewhere new. Strength shows up when we have had a huge knock to our confidence or our dreams and plans have been crushed. It bursts in to our consciousness to remind us that we have the capability to learn from what went wrong, pick ourselves up and continue on our path and make even better dreams and plans to work towards than the ones we had before.
These cards are showing up for us at the end of two very long, challenging years. The world has changed and we have changed with it and as we all walk towards the last two weeks of 2021, it feels that we have all collectively got to the mind set shown in the Six of Swords. That idea that we have to accept and let go of the past, but have a sense of knowing that things are going to get better. The feeling that there is a brighter future for us to walk towards and we must continue forward. The Strength card is encouraging and reminding us of how courageous, resilient and determined we have been to not give in with what life has thrown at us and that we are perfectly capable of carrying on.
The year 2022 is a number six year (2+0+2+2=6), and the number is echoed in the swords card here. The number six can signify healing. And I feel the message here is that healing is coming, it is shown by the light shining in the distance. Also we see the virtually impossible task being undertaken in the Strength card of a lady taming a lion. There is also a message here that if we use our strength, anything is possible.
Most of us will be winding down for the holiday season this week, but, the universe is still giving out some huge transformational energy which doesn't break for Christmas, notably Venus beginning a period of retrograde will highlight areas in relationships and matters of the heart and financial dealings which may be grabbing your attention and, consequently, you may be feeling a little out of sorts instead of filled with festive cheer. If that is the case take comfort in the messages here that you are completely in tune with the universe and allowing yourself to feel the lessons that it is trying to teach us. We may not be quite through with change and uncertainty yet whilst we navigate the last few weeks of a number five year (2+0+2+1). But, we have more than enough strength and courage within our souls to continue on our individual paths and look optimistically towards the future knowing that there are many bright days to come.
This will be the last article that I write this year as I am now taking a break for the holidays. But, I want to thank you for taking the time to read my articles and for all the thoughtful, caring and kind comments that you post to me when they have resonated with you.
Sending you much love and healing throughout the festive period and look forward to connecting with you all again in the New Year.
Much love
Claire
x
---
Copyright © 2021. ClaireChilvers.com. All Rights Reserved. Privacy Policy.
Website Designed & Hosted By C@rrie – 07710443223.