Free Weekly Tarot
my gift to you
Your cards for the week commencing 02 August 2021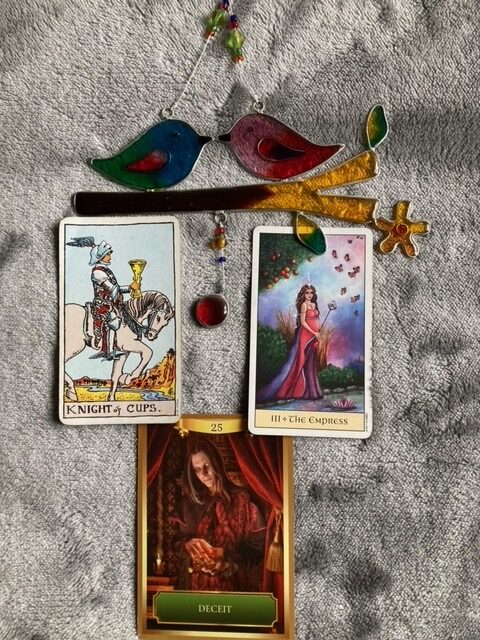 Knight of Cups, The Empress and Deceit
This week we have the Knight of Cups again – who also appeared last week reminding us about the value of unconditional love which is something that The Empress would resonate with too. She is the symbol of motherhood and as we all know motherly love has a huge impact in all of our lives (even if it is not given to us, that too has its' impact.)
Hovering underneath both these cards is the unnerving energy card Deceit. He seems a strange and unwelcome guest at the table of trust and love that is being offered by the two tarot cards. But, as we know life is not always happy and full of joy. I feel that the Knight of Cups and The Empress are symbolising the different types of relationships we have within our families and the people who we choose to love. The ideal is the love that is offered by a loyal and kind partner like the Knight of Cups or the loving maternal affections of The Empress. But, these relationships are not always perfect and there can, unfortunately, be underlying deceit within them. This could be well-intentioned white lies to spare ones feelings or mind-controlling, underhand, big ugly deceit that can make relationships come crashing down around our ears or worse continue in our lives creating toxicity.
The key word I heard in this message was instinct. As I mentioned last week, the Knight of Cups is willing to wear his heart on his sleeve, but, he also has armour protecting him. He is not so naïve that he does not keep himself safe and we are all aware of a mother's instinct that can sense danger, lies or something untoward at a hundred paces. The instincts of these two characters will consequently keep Deceit at bay.
There are some interesting energies this week. Firstly, at the start of the week, Venus and Uranus are in alignment which is a focus on our relationships. Secondly, on the 8th August we have a New Moon AND the Lionsgate Portal which are two wonderful events that combined give us an incredible opportunity to set intentions and time to think about what we want to create in our life.
If you had to manifest one of these cards in your life this week, which one would you choose? I am guessing no one would choose Deceit! This is an amazing week to allow yourself to dream and manifest what you do want and The Knight of Cups and The Empress have shown up to remind us that, with a little love, we can manifest anything. This is no time for negative emotions or for allowing people into our lives that create falseness of dishonesty.
This is a week to imagine your perfect scenario as there is magical, powerful energy in the air. If you have the power to dream it, you have the power to work with the universe to make it happen. And that is the truth!
---
Copyright © 2021. ClaireChilvers.com. All Rights Reserved. Privacy Policy.
Website Designed & Hosted By C@rrie – 07710443223.