Free Weekly Tarot
my gift to you
Your cards for the week commencing 19 July 2021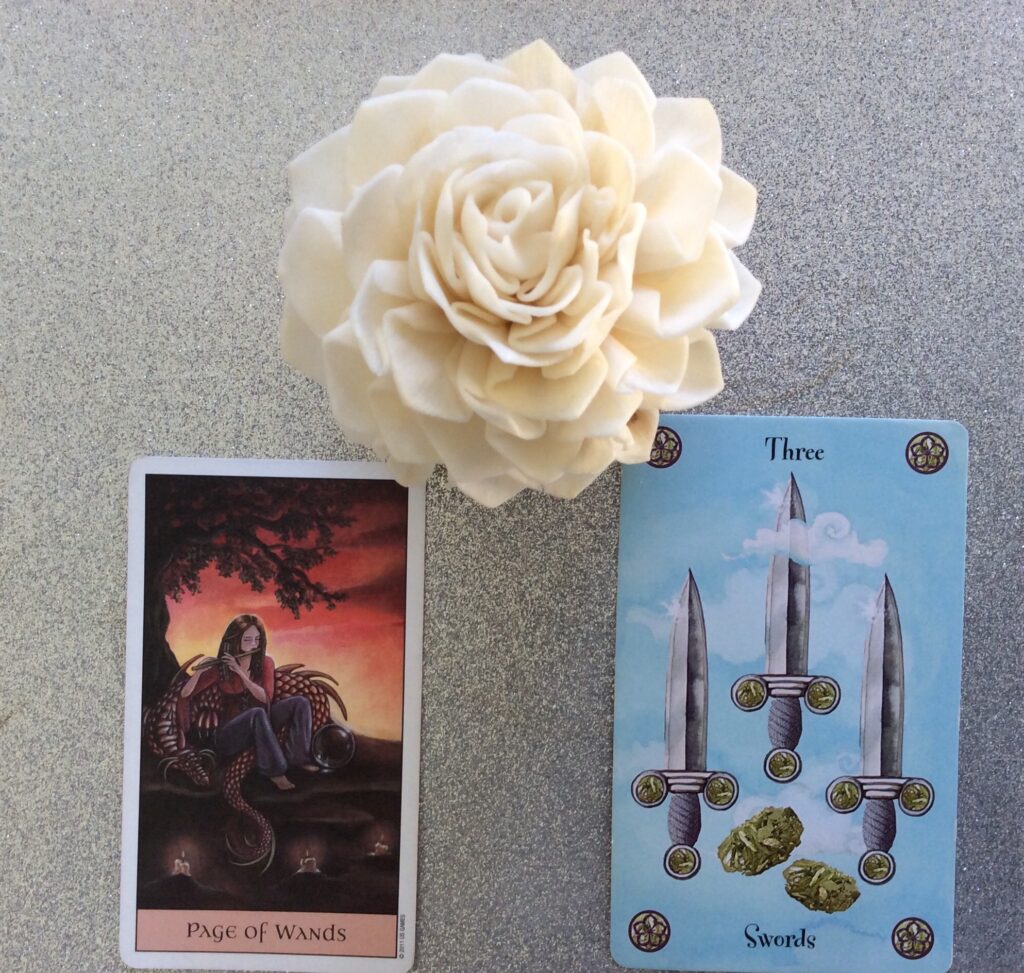 Page of Wands and the Three of Swords
Last week our message was to ask ourselves, "What makes us happy?" It would seem we are now being given the opportunity to make the dream of happiness a reality.
However, the universe does not hand this to us on a plate and the two cards that have appeared this week are reminding us that we have some work to do if we want to make happiness happen.
The Page of Wands is sitting under a tree and it would seem that she has been there for some time. The sun is setting, the candles are burnt almost to the ground and her pet dragon looks a little bored.
Wands usually denote action and the Page signifies exciting new opportunities and journeys being offered. So why is this young Page so inactive?
The wands symbolise our creative side which we can see here by the Page playing a flute. We all have a creative talent burning inside of us – even the dragon has the ability to breathe fire!
What is stopping this dragon from flying high into the sky and breathing a flame of fire for us all to see? What is stopping this young girl from finding other musicians and becoming part of an orchestra that plays to people all over the world? It feels to me, the message of this card is not to hide away our talents and waste opportunities.
It is time to ask ourselves whether we would need to use our creative talents more wisely (or more often) to enable us to find a bit more happiness.
We all have been given our unique talents and skills and it seems such a waste to not use them.
In comparison, our second card gives us the message that to find happiness does not always mean that we have to be more active or creative or make external changes. Sometimes to find happiness means changing from within, specifically our own mind set.
This version of the Three of Swords has our swords pointing up towards the sky. When swords appear in our readings it is to encourage us to find ways to move our minds and thoughts to a higher consciousness – where we are not dogged by fear, anxiety, stress, upset, regret or guilt.
But, this is a difficult thing for humans to do. None of the above mentioned mind sets are a pleasure to have swirling away in our brains, yet, we welcome them in to our mind, make them a cup of tea, offer them our favourite chair and invite them to make themselves comfortable. And, of course, they do. Sometimes they stay there for decades.
Whether we like it or not, we do have to take responsibility for them taking root in our heads. They have usually arrived due to a trauma, event or circumstances that have led us to feeling this way. But, although it is perfectly reasonable for them to come into our minds during difficult situations, it seems we do not always find it reasonable that we can let go of these thoughts and mind sets and move on, even if the situation has long since passed.
I shall give you an example of when this happened to me. Many years ago my beloved dog, Custard, (who is now happily over rainbow bridge, working with my spirit guide) was attacked; he was on the lead and the other dog was not. He went to hospital, had a skin graft and took many weeks to recover but was thankfully ok.
Three years later, (and eighteen months after he had passed), I got another dog, Poppy. The first time I took her out another dog came up to say hello. That dog was not on a lead. I had a panic attack, burst into tears and ran home with Poppy to the safety of my house.
This happened every time I took her out for the first week I had her, until I seeked urgent help. Poor Poppy must have thought she had arrived in a very strange house and couldn't understand why I was so stressed and upset and became very confused as to what was expected of her. Well, of course she couldn't understand! I was reliving something that had nothing to do with her and behaving irrationally, playing out a situation in my head over and over that was no longer relevant.
I am giving this personal example as to explain how easy it is that we all fall into this trap. We all have an example of when we have carried our negative mind set around with us and allowed it to affect our behaviour, decisions, relationships and ultimately our own happiness.
In numerology, threes are a symbol of growth. I feel it is a message that we are being asked to take our wounds, pains and traumas and turn them into strengths. It is time to stop letting them cloud our happiness and future.
Interestingly, within the last few days Chiron has gone into Retrograde and this will continue for most of the year. This is Chiron's gift to us, to help us turn our wounds into our power. And, although this week may be where we start this process, it may take time and we will be guided for the next six months to make this happen. So, keep dreaming about what makes you happy, but also start asking how you can make that happen. It may mean making external or internal changes, but, this is no time to sit under a tree and do nothing or turn your swords of fear in on yourself. It's time for us all to make a start.
---
Copyright © 2021. ClaireChilvers.com. All Rights Reserved. Privacy Policy.
Website Designed & Hosted By C@rrie – 07710443223.