Free Weekly Tarot
my gift to you
Your cards for the week commencing 19 December 2022
Welcome to this page which is packed full of complimentary tarot readings for everyone to enjoy. I hope you find these resonate with you and are helpful in some way.
If you would like your own personalised reading from me, I can provide readings via email or video links. Please click here for more details.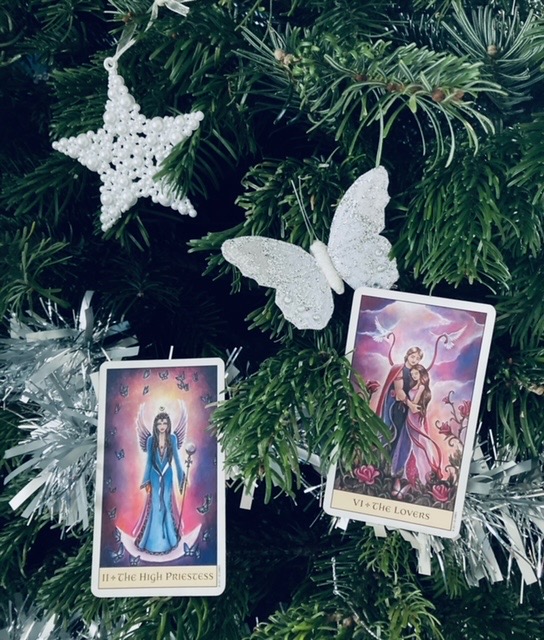 The Lovers and The High Priestess
My gift to you…your tarot cards for Christmas and the New Year
This will be my last weekly tarot article for 2022, as I will be taking a break for the holiday season. And, I wasn't disappointed by the cards that came out to guide us through the next couple of weeks. I always explain the Major Arcana cards as messages from the universe and we have two very big messages from them to hold in our hearts, which I hope will help and resonate with you in some way.
Firstly, The Lovers came out of my pack and, I hadn't noticed whilst I was shuffling, but the card had been placed back in the deck previously facing the wrong way. Consequently, it was showing face up when I picked it and I immediately felt this was a message that being a little bit different from the rest of the pack is a good way to get noticed!
When I look at this card, I am drawn to the doves and the idea of peace. During the Christmas period we often hear songs relating to Peace on Earth. In a time of chaos, uncertainty and war the messages of Christmas can almost seem ironic. Today, I read that a UK celebrity (Peter Andre), had suggested the Andy Williams' song, It's The Most Wonderful Time of the Year, be banned as for so many it isn't the case. I'm not being drawn in on whether he is right, but, he may well have caught the mood of a large proportion of society who feel that things need to change for the better.
Although The Lovers card isn't usually symbolic of changes, it is often associated with choice. We all have free will and can make choices in every aspect of our lives. And choices can inspire us to make changes – indeed they are often the catalyst of the process.
This card depicts two people lovingly holding on to each other, seemingly lost in thought. The doves hover above them, helping them to bind themselves together. It feels as if they have made the choice to be in this position and both are willingly there. The light shines down upon them, which seems a blessing for the universe that they are exactly where they should be and their choice to be together is the right one. At the bottom of the picture, camouflaged by the roses, is a little butterfly – a hint to the changes that are to come because of the choice that has been made here.
The butterfly links perfectly to our second card, The High Priestess who has been circled with beautiful blue butterflies as she stands confidently on the crescent moon which presides over her card. Again, the white light is shining upon her – another message that she has made the right choices to be where she is. But, where is she? There is no landscape to give us an idea and the purple colour gives us no clue as to whether it is dawn or dusk. I am drawn to pointing this out, because I feel The High Priestess is here today to remind you that she is within you; she lives in your subconscious thought, she is your intuition, your hunches, your gut feeling and your guide. She is who you need to turn to when you need to make a choice because she is the part of your soul that is desperately wanting you to always make the choices that are the best for you.
These two cards being partnered for us to guide us through Christmas and New Year and the end of one year and beginning of another are a powerful message from the universe that in every aspect of your life you have choices. Take another look at The Lovers card. Do you instinctively feel like you are in the right place? Or are there aspects of your life where this is not the case? Is your job leaving you feeling isolated or drained? Does your home life lack the closeness or supportiveness that is shown in this card? Do you long for peace in your family or relationships? Are you aware that if you made different choices you would be able to change your situation for the better?
Now, take a look at The High Priestess and take comfort in knowing that she is perfectly capable of helping you make the right choices. She is the whisper in your mind, flagging up situations that are not quite right and suggesting you choose another path.
Of course, our human brain is always on hand to talk us out of making the right choices, but, here's hoping that 2023 is the year when we stop doing that and trust ourselves enough to make our own personal world, and the beautiful world around us, a better place to be.
Wishing you all a very Merry Christmas and a Happy New Year and I look forward to writing articles again for you next year.
Claire x
---