Free Weekly Tarot
my gift to you
Your cards for the week commencing 19 April 2021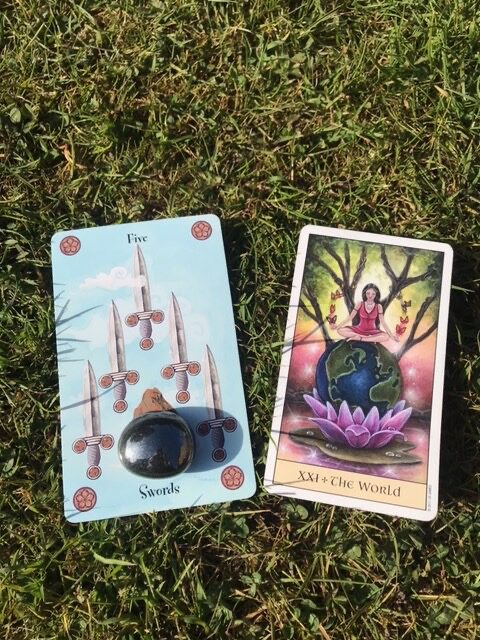 Five of Swords and The World
As soon as I saw these two cards together, I felt our main message for this week is to do with self-care.
We are now moving into Taurus season which means the fast paced energy that we have been working with since the start of the astrological year in March will start to slow down to a more gentle, reflective pace.
Taurus energy can ground us and bring us back down to earth. It can get us back in touch with nature and bring our attention to self-care routines or behaviours that we may have forgotten about as we were moving quickly ahead. That is not to say that the fiery, forward moving energy of the last few weeks hasn't been a welcome change or an opportunity for us to be brave and start new projects, plans or personal goals, but, it can also leave us feeling a little exhausted too, which is why I feel seeing this relaxing, calming image of meditation and nature and our beautiful world such great timing for all of us.
However, as I look at these two cards together I see two opposites. A five in the tarot denotes change and uncertainty whereas The World often symbolises completion of a task or success. I feel these cards combined are a reminder that we all have a plan in our mind of where we see ourselves in the future (on top of the world maybe?), but the message here – as our energy slows and we feels ourselves slowing down or perhaps even taking a short break – is we should not let our mental energy become anxious, confused or worried when we feel the change of pace.
I am so glad that the five of swords has appeared in the Crystal Tarot pack and not a different pack that shows characters acting out the familiar scene that many of us connect with the five of swords. We do not need to get caught up in the unhappy picture that this card often shows us, in fact, when I look at this card I am not even drawn to the swords but the Hematite crystal that accompanies them. Hematite is an excellent crystal for grounding and absorbing negative energy from us or the environment around us. It is also a fantastic crystal to boost self-esteem and also a wonderful crystal to help us see our mistakes as learning curves, rather than failures. If Hematite were a person, it would be that friend that knows just what to say to stop you in your tracks and make you feel more positive when you are being a bit hard on yourself. So, if the five of swords is symbolising the anxiety and worry that is within all of us when changes are occurring, then know that there is always an antidote to this way of thinking which can be found within us, or with a little bit of help from what (or who) is around us.
As we focus on self-care this week, keep in mind what would make you feel 'on top of the world'. The lady sitting in The World card seems to be producing butterflies that flutter around her. Of course, butterflies are a sign of transformation and to achieve our goals we all need to transform in some way. In the past few weeks we have been taking action, moving and creating change, but, this quiet period will be a good opportunity for us to transform on an inner level, making peace in our own minds is just as an important action to take – others may not see it but we will certainly feel the benefit.
So the bigger message for us this week is to give ourselves a break. Whether that is mentally, physically or spiritually as you travel along your path working towards your true soul's purpose. Taking a break, doesn't mean that you have given up or won't get to where you want to be. It just means you are taking a break – taking care of yourself – and that's ok!
So take a tip from our calm and contemplative lady of The World this week, and, if you don't quite resonate with her at the moment, allow yourself to believe that you are heading in the right direction and very soon that will be a calm and contemplative version of you.
Wishing you a lovely week and I will be back next week with another reading. Also, I will be announcing some more Facebook Live Tarot reading dates soon so keep a look out on my website.
---
Copyright © 2021. ClaireChilvers.com. All Rights Reserved. Privacy Policy.
Website Designed & Hosted By C@rrie – 07710443223.