Free Weekly Tarot
my gift to you
Your cards for the week commencing 17 May 2021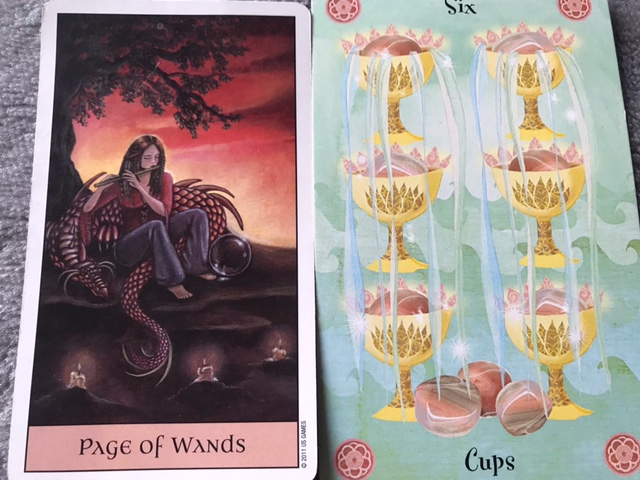 Page of Wands and 6 of Cups
It occurred to me whilst staring intently at this version of the Page of Wands that we could see this woman's journey in two ways. Personally, I have always felt this card shows this Page has been waiting under this tree for a long time. The sun is painting the sky a crimson, which I often felt was to indicate a brilliant sunset and the night drawing in. The candles are stuck to their positions by melting wax which suggests they have been burning for hours. And the Page's companion, the red dragon, seems to have curled up comfortably and is taking a nap. With her eyes so focused on her flute playing, it has often made me feel that the Page has sat here too long and has missed the majority of the day when she could have been starting off on her adventure.
But, as I began to write this a new thought popped in to my head. What if it isn't sunset? What if its dawn? What if the Page has been awake all night, whilst her dragon rested and the candles lit up the night sky? What if she is biding time until the sun comes up and she can leap into action at the start of the day?
The message for us all here is each one of us has the knowing inside us to feel when to seize the day. The Page of Wands can indicate adventures, excitement and new opportunities. But, this version is suggesting that we tune in and understand when the right time is for us.
And I feel that the Page being paired with the six of cups is suggesting that our emotions need to be in order before we start anything new and, sometimes that can be challenging and take a little time. However, sixes in numerology can signify progression in our lives. A feeling that we are making progress in our lives can inspire us to keep going. The idea that we are starting to feel better, happier, stronger, more optimistic or that we are making progress on getting clarity in our lives, doesn't suggest that we are at the end of an internal journey but, we are making steps in the right direction. This card combination is a strong reminder that we are not machines and we do need to take a little time out occasionally, along that long road of 'making progress'.
We all have aims and dreams in our lives and they can be the catalyst inside us that sparks our creativity and desire to move forward (which is the pure energy we get from the wands). But, our aims and dreams, can often be held up, stalled or put on hold when life gets in the way. Like this Page, we sometimes have to bide our time and wait.
We see waiting, or being held back as something that is unhelpful but, in truth, these pauses in our plans can often be the times when we find ourselves being at our most creative. Allowing our minds to roam free and having time to kill where we have to 'find something else to do' can lead to all sorts of exciting options we never imagined before.
And that has made me think of a third option for our Page of Wands. Imagine the six of cups as a waterfall that she faces along her path, and as the cool air from the setting sun made it too chilly to walk through it, she sits under the tree and finds a discarded flute. She has never played before and picks it up and gives it a try. After an hour or two she manages a tune, and it summons the magic dragon who sits with her and invites her to ride on his back when the morning comes. He tells her (because all dragons can speak!) that high over the waterfall there is a magical land that she would never have managed to get to by herself. She now finds herself on a whole new adventure that would never have happened, if she had just kept on going. Sometimes pauses in our lives happen for a reason, but, always trust in Divine Timing. And, this week, I feel we are being urged to remember in those pauses we are being encouraged to tap into our creative sides – you never know where it will lead you.
---
Copyright © 2021. ClaireChilvers.com. All Rights Reserved. Privacy Policy.
Website Designed & Hosted By C@rrie – 07710443223.