Free Weekly Tarot
my gift to you
Your cards for the week commencing 17 January 2022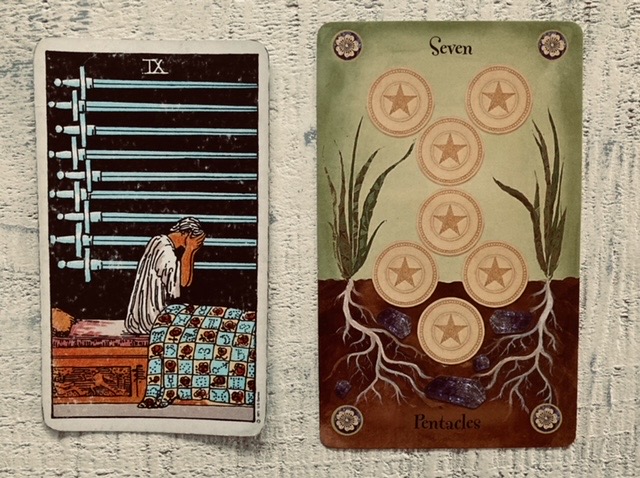 Nine of Swords and the Seven of Pentacles
Our two tarot cards this week give a good visual tale of the difficulties that we often put ourselves under when a New Year begins.
The Nine of Swords shows us a person awake in the middle of the night, crying and fretting about goodness knows what. Whilst the Seven of Pentacles shows the strong healthy roots of plants and their finger-like leaves, protecting the carefully balanced pentacles that are being stacked.
When January arrives we fill it with hope and optimism, sharing with it our intentions and resolutions. The month is often a time when we recognise what is missing or what needs changing in our lives and we make a promise that this will be the month when we start to address these issues.
But, whereas the early days of January give us the inspiration which can be a great instigator for us to start working towards our dreams, it is not the month itself that makes these happen. It is us. And to do this, we need a large helping of determination, courage, self-belief and enthusiasm.
So, as we meet the mid-point of the first month of the year, it may feel like an impossible task to achieve what we promised ourselves just a few short weeks ago. But, do not despair (like our companion in the Nine of Swords) because the universe is willing us on and the emergence of the Seven of Pentacles reminds me that every day we are growing a little more and making steady progress towards our goals (even if we don't feel like it.)
The year 2022 is inviting us to slow down a little and the planetary activity we have in January is suggesting that it is beneficial to our growth, healing and, ultimately, the pursuit of our dreams if we do try and relax our pace in tune with these slower energies.
We already have Venus in retrograde and this will continue for most of the month. In addition this week, we have Mercury now in retrograde (which will continue for the rest of January and beyond), plus a Full Moon in the super sensitive sign of Cancer. This melting pot of planetary activity feels to me that we are being encouraged to continue focusing on throwing out the old for slightly longer than usual, before we start to concentrate on inviting in the new. It also may feel a little overwhelming as a mixed bag of unwelcome emotions, negative thinking and difficult situations will be thrown at us whilst we do so.
If you are finding implementing new routines and changing old habits challenging, or maybe just feel that this New Year isn't the exciting new beginning that it promised to be, please don't write the year off before it has begun. These feelings are part of the process and not a hindrance to the process. Allow yourself to feel challenged or stuck and see how your mind thinks its way through.
One of the symbolisms that the Nine of Swords shows is the fact that our mind can run away with itself. In the middle of the night it can come up with lots of scenarios of how our life will turn out with terrifying details. We can frighten ourselves into action, or inaction, by allowing these late night/early morning worries materialise in our real world. But, it needn't be the case. We can choose how our mind thinks. The Nine of Swords only shows how we can behave, not how we have to behave.
With our second card, imagine that the coins shown in the Seven of Pentacles were seeds. You wouldn't expect these seeds to become a fully grown plant in a matter of weeks, would you? We understand that seeds need to be tended to, they have to be watered, nurtured and given the correct soil. But also, we need to be patient and allow them time to grow and develop, but, eventually the results would begin to pay off.
Now imagine all the things that you want to happen are those seeds. They are your hopes, aspirations and dreams. They will take time, hard work and dedication but you can get there. At the moment we are at the stage where we need to make sure we have the right conditions before we plant the seeds. We are not at the stage where we are going to see the flowers.
This may be a little bit more work that we had previously thought, but, the rewards are being shown to us and will be worth it. I feel the message here for us is we can worry our dreams won't come true or we can hope and believe that they will. Now think of what you wanted for this year and decide which of these will work best for you.
---