Free Weekly Tarot
my gift to you
Your cards for the week commencing 17 April 2023
Welcome to this page which is packed full of complimentary tarot readings for everyone to enjoy. I hope you find these resonate with you and are helpful in some way.
If you would like your own personalised reading from me, I can provide readings via email or video links. Please click here for more details.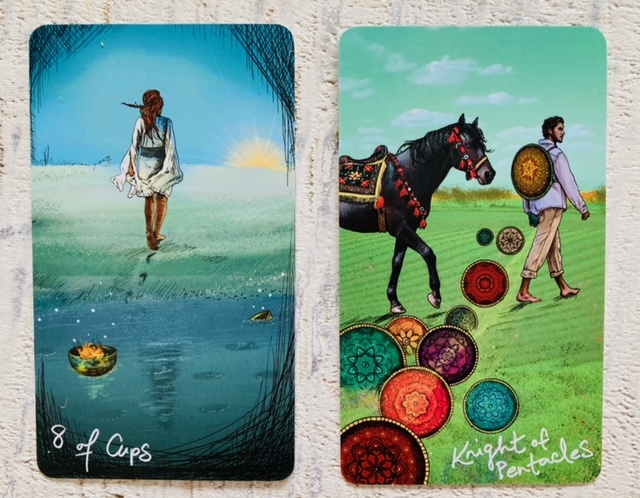 Eight of Cups and Knight of Pentacles
Do not underestimate how big this week could be for us all!
That was the message I was given as I was shuffling the cards for our reading. This week we have the second of two new moons in Aries, which also incorporates an incredibly rare type of solar eclipse PLUS a move from Aries to Taurus season – so, it would be hard to ignore the energies that are around us at the moment.
Our two tarot cards are giving us some much needed guidance to help us through the changes we may experience. The first similarity I saw in these two cards are that both people within the pictures are bare foot and walking on the grass. Can you remember the last time you did that? Unfortunately, my garden is still far too waterlogged to do this, but, as I close my eyes and remember the sensation of the grass tickling between my toes and the warmth of the earth radiating through the soles of my feet, I feel a wonderful sensation of grounding and calmness. This feels like a strong reminder that grounding will be essential this week – I will go so far as to say it will need to be incorporated into your daily self-care practice (assuming you already have one!).
I love how our two characters are walking with such purpose but, have you noticed that whilst our Knight is calmly, yet confidently, planting the pentacles into the ground for them to take roots and grow, in comparison, almost all of the cups in the Eight of Cups scene have disappeared from view? In fact, the only reason we know the cups were there at all is by seeing the glimpse of one as it sinks to the bottom of the river and noticing the dark circles and bubbles of the others which have already begun their journey to the bottom of the river bed. One cup remains – and is full of fire, but whether this sinks or floats away does not seem to be concerning this lady for she is moving towards a brighter light that is in front of her – a new dawn.
The Eight of Cups gives us images of cutting ties, walking away, letting go of what we already know is lost. Whereas the Knight of Pentacles is suggesting the idea of investing in what is around us, laying down roots and planning for the future.
But can we have two cards so different to combine one message? Can we do both? I think these cards are suggesting that we can.
The biggest and most significant times in our life are when we have transformed our lives and grown in some way. This often means we have had to move on from an old way of life and start investing time and energy in a different direction.
These cards are here to highlight that some quite big decisions may need to be made this week, yet, the promise is that any endings we have to face will automatically create new beginnings and opportunities.
An eclipse season is something that is noticed all over the world and, although it can be a little overwhelming to think of the global picture, it can be comforting to know that everyone is going through a change, ending or beginning in one way or another. Remember to bear this in mind if people you come into contact are a little distracted, distant or seem a little out of sorts. Compassion for ourselves, others and the planet as a whole seems a major theme that may well be highlighted to us again as we move through this eclipse season.
The idea of the world as a whole changing also brings me back to the original connection I saw of the humans walking bare foot on the grass. We are part of nature, our energy and the energy of everything around us is connected. Once we tap into this our potential for change and expansion is limitless. That is a very big message for a very big week.
---