Free Weekly Tarot
my gift to you
Your cards for the week commencing 16 January 2023
Welcome to this page which is packed full of complimentary tarot readings for everyone to enjoy. I hope you find these resonate with you and are helpful in some way.
If you would like your own personalised reading from me, I can provide readings via email or video links. Please click here for more details.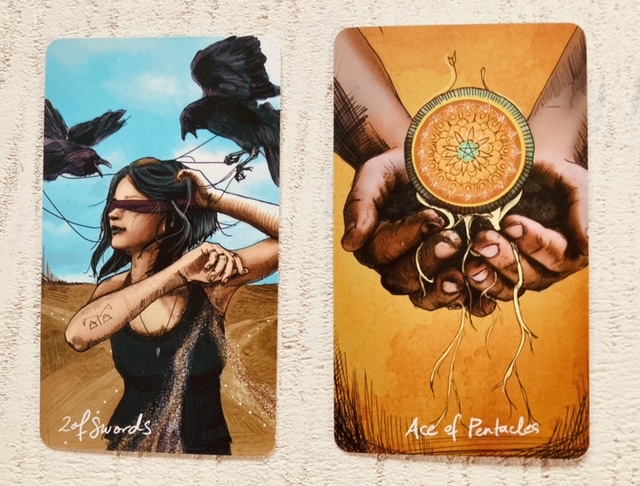 Two of Swords and the Ace of Pentacles
We have a busy week that seems to be split into two halves. The first part of the week seems to be dominated by the end of our Mercury Retrograde period, with the planet going direct on Wednesday 18th January. I feel this is symbolised by our first card, the Two of Swords. This card shows a woman who is tangled up with two crows in her hair, both of which are squawking into her ears. It would be easy to assume that the crows are a threat or not working in the woman's best interest. But, as this represents our summing up of the Mercury Retrograde, let's not jump to conclusions (as we so often can do during this time!)
Mercury Retrograde is a time when – whether we like it or not – we are often thrown into chaos or confusion. We also have issues with communication and can feel disorientated or out of our normal routine. The woman in this card is blindfolded, which means that her normal perception is altered. As she cannot see with her eyes, she may have to invoke some of her other senses to take over such as her hearing or voice. Perhaps she has called out to the birds for help and they are whispering to her to guide her along her path. Or, maybe, they are a symbol of her spirit guides who are asking her to tap into her sixth sense with one of her other senses is restricted.
One thing is for sure, we can all resonate with the sense that the Mercury Retrograde can make us feel or think differently. However, that came through for you over the last few weeks, it is now time to take any lessons you have learned and hold them with you as you move towards a new beginning.
This new beginning is symbolised with the Ace of Pentacles and, I feel, that this is going to be more in line with the second part of the week when the sun moves into the sign of Aquarius and, almost immediately afterwards, we experience the first New Moon of 2023 in the same sign.
I'm sure I'm not alone when I say that I can't help but bursting into song when we move into Aquarius (you know the song I mean, right?!). But, to quote the lyrics, this is the "dawning of the Age of Aquarius", and if you have felt that the first few years of the 2020s have been a transformational time which has moved us from one era to a next, then you would be right. So, here we are, at the start of a new age and you are a part of it.
The Ace of Pentacles show a pair of hands holding which seems like a seed, as it has roots attached to it. I am drawn to the soil that seems to be present in the person's hands and the dirt under their fingernails (possibly, because I am a keen gardener and my own hands often look like this!) But, for me, this shows that hard work has already taken place and this person is now starting to see the benefit of laying the seeds and putting hard work in. It also shows an experienced pair of hands and someone not afraid to get their hands dirty. Perhaps this message resonates with your own personality?
If the Two of Swords represents the time we have taken to tap into our intuition and invoke our senses, then with this new found knowledge the Ace of Pentacles is urging us to move forward and gain from this incredible insight and experience we have had.
I am full of hope and excitement for this Aquarius season and I hope you are too. As I look out in my garden I can see the real life examples of these new shoots appearing with the spring bulbs starting to poke through the soil. And, this is happening in us to, within our own minds and actions we are being encouraged to keep pushing through and make the breakthroughs required in our own lives to create something beautiful for ourselves.
Good luck!
---