Free Weekly Tarot
my gift to you
Your cards for the week commencing 16 August 2021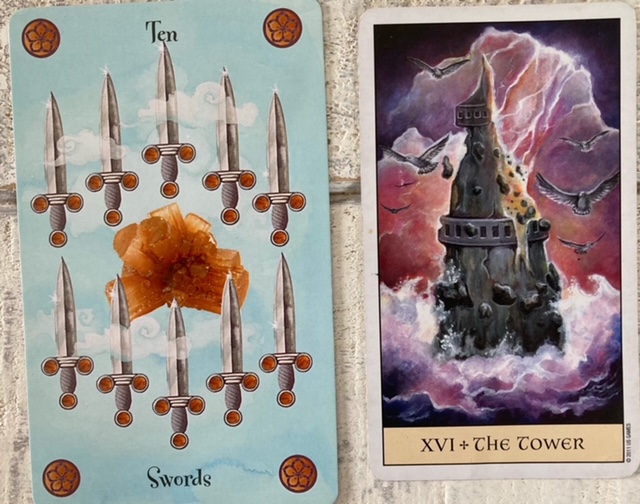 Ten of Swords and The Tower
It made total sense that these two cards should appear in this week's reading and I welcomed them both with open arms today as I saw them.
Usually the Ten of Swords paints a pretty grim picture with other decks showing a man lying stabbed with all ten of the swords in his back. But, this card is far more positive, with all the swords pointing to the sky and reminding us that we are always being encouraged to elevate ourselves to a higher consciousness.
Last week we had a double helping of Magicians who were sending the message to plant seeds for the future and to make way for new things to come into your life. Invariably this means that we have to let go of some of the old ways in our life first. The Ten of Swords is the perfect card to help with this and is suggesting that there is a natural end occurring in our lives and we should not fear it, but, be open to the idea that it is making way for brighter things to come.
The Tower gives a similar message as it often denotes a sudden or dramatic change in circumstances. As I look at this card I am reminded of how fresh and clear the air feels once a thunderstorm has passed. This card may show the eye of the storm and the damage and destruction that can occur which can feel frightening. But storms always subside and the sun returns to shine down upon us making the world bright again.
When I picked these cards I felt the message that it was time to let go of the past and move on. The fact that both a minor and major arcana card both appeared giving the same message, suggests that for many of us we are working in unison with the universe and have a deep rooted feeling that endings and beginnings are starting to appear in our lives. Alternatively, you may sense a pause and sense that life is a little quieter at the moment (a calm before the storm of change).
Unfortunately, these cards do not tell us what is going to happen next and this is why so many of us worry when they appear in a reading. Knowing our current way of life may be coming to an end can be a very unsettling but this is not a time to be concerned. Remember last week's message is that we can create a positive new future. And this is being re-iterated by the message of getting rid of what no longer serves us so that we can start something new.
During this transitional time, it would be a good time to practice self-care. This does not mean you have to disappear on a retreat for a week, but, make sure you give yourself time to help your mind switch off so it does not overthink too much. Walks in nature, journaling, reading a good book, having a candlelit bath or just getting an early night are all good ways to do this.
And, if you feel as if you are in limbo and not sure what the next step is in your life's journey, then be patient as it seems the path is being cleared for us at the moment, but, we are not quite at the place to start travelling down it just yet.
I wish you all a pleasant week. Please keep checking my website as I will be announcing some new live tarot reading dates very soon.
Claire x
---
Copyright © 2021. ClaireChilvers.com. All Rights Reserved. Privacy Policy.
Website Designed & Hosted By C@rrie – 07710443223.