Free Weekly Tarot
my gift to you
Your cards for the week commencing 14 June 2021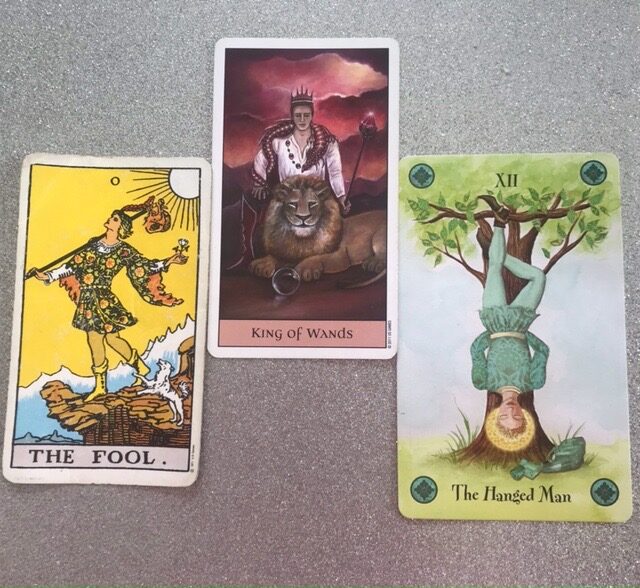 King of Wands and The Fool and/or The Hanged Man
We have just been through a powerful eclipse season and the King of Wands is the symbol of what the universe wanted us to gain from this intense lesson.
The King of Wands is fearless, confident and optimistic. He has an understanding of his self that means he knows his strengths and weaknesses. He knows when to use his energy and when to save it. He has strong boundaries and is skilled at delegation. He also has the great social skills of a good leader who has won the respect of his subjects.
Now, I don't expect the universe intended for us to feel all of those qualities, but, it would seem that we were all in line to gain something from this eclipse season which would make us feel as noble and worthy as this monarch. We have also been given the promise of a new surge of energy within us to direct our lives to a higher consciousness and to start a new chapter of our lives in a positive way.
When the second card came out as The Fool, it was confirmation of this. Now we witnessed the solar eclipse on the 10th June, something within our lives has drawn to a close and we are ready for the new chapter. But, as I looked at the two cards I felt that this was not the case for everyone and there was a bigger picture than just the energy of the Solar Eclipse.
So I picked another card, because, well I just felt like it! And I got The Hanged Man, which has such a different energy from the excited Fool about to spring into a new adventure.
And, then I saw the bigger picture. Yes we have all journeyed through an eclipse season together but we have come out of it the other side at different stages. As well as the eclipses, June has been a retrograde month with both Saturn and Mercury in retrograde; finding ways for us to slow down and take our time to get to grips with what we are learning at this time.
Consequently, it is no surprise that we are all feeling differently. Every one of us can take the King of Wands for ourselves as his positive and creative energy is being offered as a gift to all of us. But, allow yourself to be honest at which of the other cards fits for you at this moment.
Are you the excited Fool who is ready to jump into the unknown and begin a new adventure? Or are you The Hanged Man, preferring to wait a few weeks and take time out in order to get your head together and move on? Are you effortlessly putting the past behind you and striding forward with no emotional baggage? Or, are you finding it hard to cut ties and feel you need more time before you can let go of your current situation?
Whichever one you choose is absolutely fine. Look at both pictures and see which one 'feels' right for you.
To illustrate this point, these cards made me think of my partner, who is taking part in his work's annual golf tournament next week. All the participants get to enjoy two games of golf but, in the morning, they are all given different teeing off times. Some are keen to be the first ones out and arrive disgustingly early (possible so they are first back at the clubhouse!). Whereas others prefer to take things at a slightly more relaxed pace and want the last tee off time – so they don't have the pressure of others hurrying them along. This seems a good analogy to give as an example of this message. We are all being invited to take part and draw on the creative and inspiring energy of the King of Wands, but, are all going to be setting off at slightly different times. Our message is to pick the start time that suits you – but do make sure you take part and join in the fun!
So be true to yourself, begin when you feel ready and know that you are exactly where you need to be.
Wishing you all a lovely week and sending lots of love to you all.
---
Copyright © 2021. ClaireChilvers.com. All Rights Reserved. Privacy Policy.
Website Designed & Hosted By C@rrie – 07710443223.