Free Weekly Tarot
my gift to you
Your cards for the week commencing 13 September 2021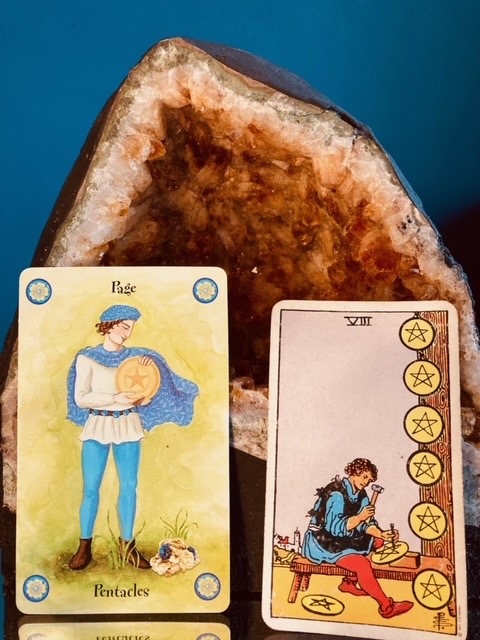 Page of Pentacles and Eight of Pentacles
It's strange how this Page looks as if he is a younger version of the man working in the Eight of Pentacles. His facial features and curly red hair are almost identical and the way they both stare down at the pentacle they hold in their hands seems too much of a coincidence for us to ignore.
The fact that there are two versions of the same person in these cards this week, reminds me that there are two versions of us too. There is our human character that goes about its daily basis and does its best to roll with the punches that life gives us along the way. Then there is our soul, the part of pure energy within us which holds the knowledge of what unique skills and talents we have, plus knowing the lessons we hoped to learn when we became human.
Imagine these two cards are representing those two parts of us. The Page of Pentacles being our soul, and the pentacle representing our own creativity, skills and all the experiences we wanted to have within our life. This Page looks contented knowing that he is going to put this pentacle to good use. The Page in this picture has not doubted his self-worth, nor given himself reasons not to start work on the ideas and projects that are inspiring him. Consequently, the Eight of Pentacles is the confirmation that he has accomplished what he wanted by remaining focused and determined to work towards his goals.
This week, these cards seem to be urging us to do the same. When you look at the Eight of Pentacles, do you resonate with the pentacles that have been displayed proudly for all to see? What achievements are you most proud of? And, how and why did those achievements become possible? I suspect the things we are most proud of took determination and hard work, which are qualities often symbolised in the pentacles suit. We are all capable of such things, and this week we are being called upon to draw on those qualities that we have within us.
So ask yourself what you love to do? What makes you proud of yourself? Are there skills or talents you have that are lying dormant and calling out to you to put to use? Is it time for a change of career? Or do you have money that you are considering investing so it can provide you with a better future? Only you will know how your own intuitive Page of Pentacles is calling to you. And only you can produce the necessary energy to bring those into action.
When we are working in ways that serve us well, we instinctively feel accomplished and proud of ourselves. And we all deserve to have that feeling in our daily life.
---
Copyright © 2021. ClaireChilvers.com. All Rights Reserved. Privacy Policy.
Website Designed & Hosted By C@rrie – 07710443223.