Free Weekly Tarot
my gift to you
Your cards for the week commencing 13 March 2023
Welcome to this page which is packed full of complimentary tarot readings for everyone to enjoy. I hope you find these resonate with you and are helpful in some way.
If you would like your own personalised reading from me, I can provide readings via email or video links. Please click here for more details.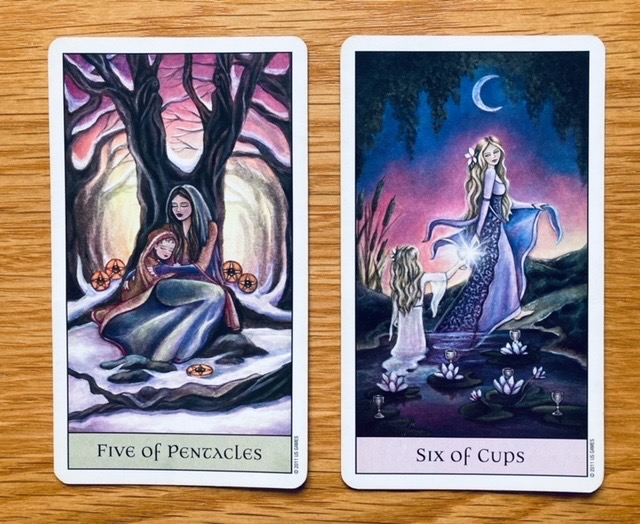 Five of Pentacles and Six of Cups
I like it when the numbers that appear in these readings are in chronological order. It suggests a structure and neatness to our lives that everything is going the way it should.
You may be forgiven for feeling that is not the case when you see the Five of Pentacles, which shows a woman and her child huddling together in the snow and lost in their own weariness. But, the second card this week shows another mother and child, and these two seem to be moving on to pastures new.
If you look very closely amongst the branches of the tree in the foreground of the Five of Pentacles, you may be able to make out two spirit beings who are watching over the pair. I get comfort from this, as it confirms what I like to think we all know deep down – even in our darkest times, we are never alone. Our loved ones, spirit guides and teachers are always watching over us and doing their best to guide us on our path. And I am quite drawn to the subtle way both the pentacles and cups are hidden in both of these pictures, as if to suggest that there are clues everywhere that are placed in our path to give us inspiration and confirmation that we are going the right way.
Has this ever happened to you? Perhaps as an advertisement that seems to have been put in just the right place at the right time? Or, a phone call or email with an opportunity or invitation that will move you away from your current circumstances or helps lift your mood? Sometimes, the subtle sign could be in nature, with a rainbow or the sun shining at a time when you have asked for guidance.
Whatever happens to you this week to help you find inspiration for the way ahead, the Six of Cups is suggesting that you may be moving away from a stage of your life. This can manifest in a physical move, but, also be an emotional tie from the past or perhaps a decision to break away from an outworn mindset that no longer serves you.
But, as I said in the beginning, because the numbers are in order this can only suggest that you are going the right way and, although you may not be exactly where you want to be at this present time, you are certainly making brave steps to get that little bit closer.
---