Free Weekly Tarot
my gift to you
Your cards for the week commencing 13 February 2023
Welcome to this page which is packed full of complimentary tarot readings for everyone to enjoy. I hope you find these resonate with you and are helpful in some way.
If you would like your own personalised reading from me, I can provide readings via email or video links. Please click here for more details.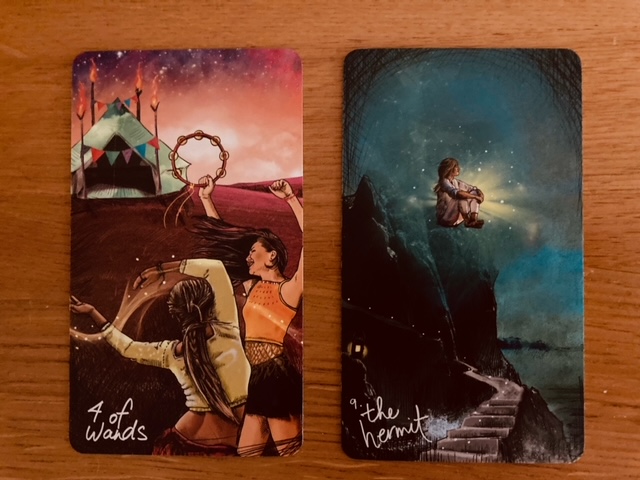 Four of Wands and the Hermit
A while ago I picked the Four of Wands out for my own, personal, tarot card of the day and decided to take a photo of it and put it on my phone as a screensaver. That was weeks ago but, for reasons unknown, I never took it off again. So, when this card emerged from the pack for this week's message, it reminded me that recently I needed a little nudge in the direction of having fun and finding joy.
I usually resonate much more with our second card, The Hermit. I love my own space, quiet contemplation and taking time to learn the teachings of my soul. But, sometimes we can get a little consumed in our private world and forget that we are also on this world to experience joy.
Consequently, I feel the message that I am to pass on to you all this week is that I can confirm that it DOES do you good to go out and have fun with friends or family and, no matter how much you wish to retreat inwards, it is not helpful to do this exclusively. Us humans (whether we like it or not) do need to be around other humans – we are not meant to spend our whole life alone.
The Four of Wands is part of a suit that represents action and creating possibilities, but, is a stable and solid number four, which gives us the reassurance that it is OK to take some time out and celebrate the achievements that we have accomplished. So, this week take a moment to consider your own achievements, or be there for someone who wishes to celebrate theirs.
I am aware that this week we have Valentine's Day, and this can be a wonderful day for some and others prefer to avoid it. But, love does not always need to be seen in the guise of a romantic partnership. There are many ways we can celebrate having love in our lives. Perhaps the Four of Wands is also encouraging us to think about this too? Do you have a loving family? Do you love getting up in the morning and going to your fulfilling job? Have you got friends that are your world and support you through thick and thin? Or, maybe you are just aware that you finally love yourself and who you are and feel the world is opening up for you now because of this.
I hope this week the Four of Wands gives you the necessary push (that it gave me) to go out in to the world with others and enjoy yourself.
As I mentioned above, the Four of Wands is a brief pause to celebrate, but, The Hermit is a period of isolation and reflection. I am very aware that February is a quiet astrological period and we are building up to monumental changes that are expected in March. The Hermit is number nine in the Major Arcana. This number arises when we are nearing the end of a cycle and, indeed we are. We are moving towards Pisces season which is the end of the astrological year. And with every ending is a new beginning.
I feel The Hermit is here to remind us to look back at our journey and tap into the wisdom and enlightenment that we have acquired so far. The message coming in with this card is the idea of levelling up. This lady is not hiding in a cave, like a normal Hermit may be shown, she has climbed up the steep steps and is high on a mountain top. She has a wonderful vantage point and the light that surrounds her is being produced from within. She has found that inner light that can guide her on her way and will always be with her.
What a fantastic point to be at when we are about to begin a new, exciting journey. The Hermit can become a hindrance if we stay in this pose too long, but, I feel the exciting energy of the Four of Wands that it has been paired with is going to make sure that we don't do that, and when the time is right we will be ready to shine that inner light we have found into the wider world and embrace changes and experiences that are coming our way.
---