Free Weekly Tarot
my gift to you
Your cards for the week commencing 12 April 2021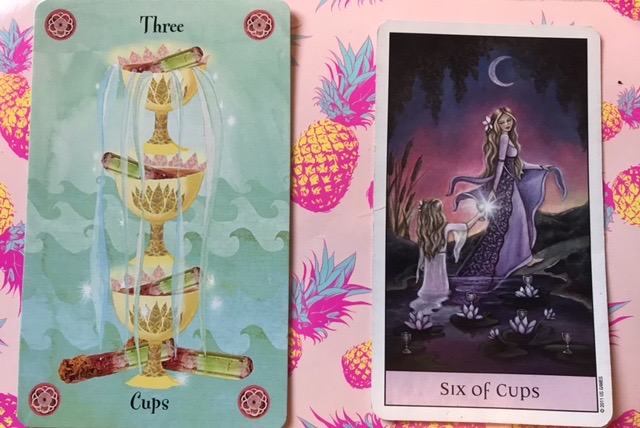 Three of Cups and Six of Cups
I feel mixed emotions is a theme for this week in our cards as we have the watery, emotional cups cards twice.
When I look at the three of cups I feel celebrations, happiness, excitement – it is certainly a time to enjoy life. The watermelon tourmaline poking out of the cups in this beautiful Crystal Tarot pack remind me of fancy cocktails and the cups stacked one on top of the other remind me of champagne fountains.
However, when I see the six of cups I am feeling the emotions that are invoked when one needs to move on, perhaps by breaking away from the past or saying goodbye to loved ones or needing to let go of certain memories in order to continue forwards onto a new way of life.
I feel there are two messages here; firstly that life should be celebrated it is an achievement, a gift and should be overflowing (like our three cups) with love and happiness. Secondly, life flows (hence the watery theme this week), and sometimes we flow with it on to new pastures. Which means the happiness and celebrations we have in one place at one time of our life drift away from us and become the past. We have the amazing capacity to hold our past in our minds, and we can look back with fondness on our childhood, previous relationships or our favourite period of time or even a different version of ourselves that we no longer recognise. But, the six of cups warns us not to spend forever looking back, the downside of this card is to linger in these memories and emotions too long. As the person shows in the six of cups we cannot keep hold of the past forever, and although she is looking back, her body is facing forward and her feet are beginning to tread a new path. Letting go is sometimes difficult but we must keep walking forward in order to make more wonderful experiences for ourselves which will become more memories to cherish later in life.
The six of cups is showing a new moon in its sky and we have just experienced the New Moon In Aries (10th/11thdepending on your time zone). As we feel the momentum of exciting new opportunities and ventures springing to life, we can draw on the excitement of the three of cups and its joyous scene of sparkling overflowing goblets, yet, at the same time, feel the sadness of leaving an era, situation or people behind us.
Emotions are funny things, you can feel two at the same time and they can be totally opposites of each other. Crying with happiness as you watch a family member get married and begin a new life or sharing a joke with a loved one when you are grieving are two ways of showing the duality of the human experience. This is the light and shade of our emotions, and I feel this will be very obvious to us all this week.
As I write this it has just been announced that HRH Prince Philip, Duek of Edinburgh has peacefully passed away this morning. This brings grief and sadness to many as any passing does, but, there are already many people reminiscing in the press and television about the huge amount of humour the Prince gave to us with his numerous gaffs and jokes he made in his lifetime of public services and the amazing life that should be celebrated. The duality of emotions that are being shown today in the UK seem to highlight the message of these cards beautifully.
As we move through this week we will be approaching Taurus season, and some of you will be pleased to learn that the fiery, fast energy we have been experiencing over these last few weeks will be taken down a couple of notches.
I wrote recently (in my 'Crystals for the month' article for April) that once that forward pacing energy subsides there will be a time when we pause and look back to see how far we have come.
These two cards give us a message that this time is near, and although there may be an element of sadness and leaving a chapter of life behind, don't forget to embrace the celebratory aspect of the three of cups to say well done to yourself for how far you have come in such a short space of time.
Threes are usually a sign of growth, whereas sixes are a sign of progression. Water may slow us down and give us an opportunity to reflect and examine our emotions, but, it also doesn't stay still. So keep going with the energy, it may be slower but it is still moving us forward. The message is to 'go with the flow' this week and don't be too hard on yourself if you experience a wave of emotions, let them flow too. And, of course, if you are finally meeting up with friends this week as lockdowns are beginning to ease there could be a lot more flowing in those three cups than just water – time to make some new experiences and great memories to cherish.
Whatever you are up to this week, have a wonderful time and I will be back next week for another reading.
x
---
Copyright © 2021. ClaireChilvers.com. All Rights Reserved. Privacy Policy.
Website Designed & Hosted By C@rrie – 07710443223.